Our visit to Orlandon Farm Cottages, St Brides
Families, friends, groups and dogs can all enjoy stays at this rural retreat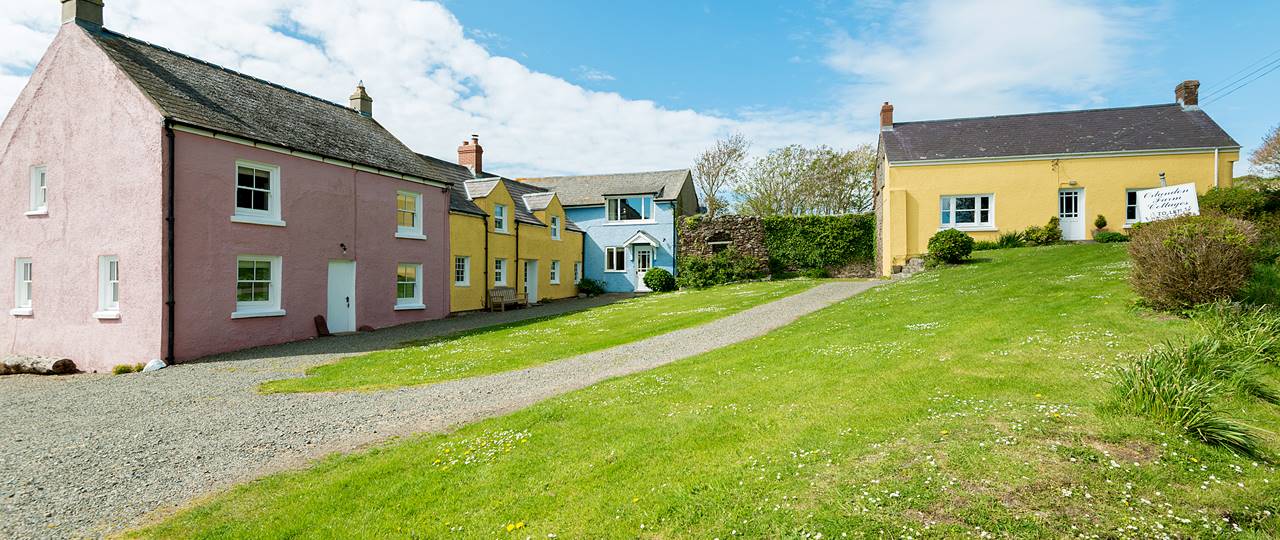 Throughout the year, our staff head out notebooks in hand to visit the holiday cottages you will find listed on our website. We do this so that we can have first-hand experience of the cottages so if you have any questions when booking, we know we can answer them.
Last week we took a spin down to St Brides on the west coast of Pembrokeshire to pay a visit to Orlandon Farm Cottages. Nestled in a fantastic rural location, these four cottages are located just a short distance from the shingle cove at St Brides and within close reach of Marloes, Dale and St Ishmaels.
We met with Sarah and Rachel who showed us around and were each brimming with ideas on how to expand and develop this cluster. Guests who stay here love to return year after year because there is always something new to be found!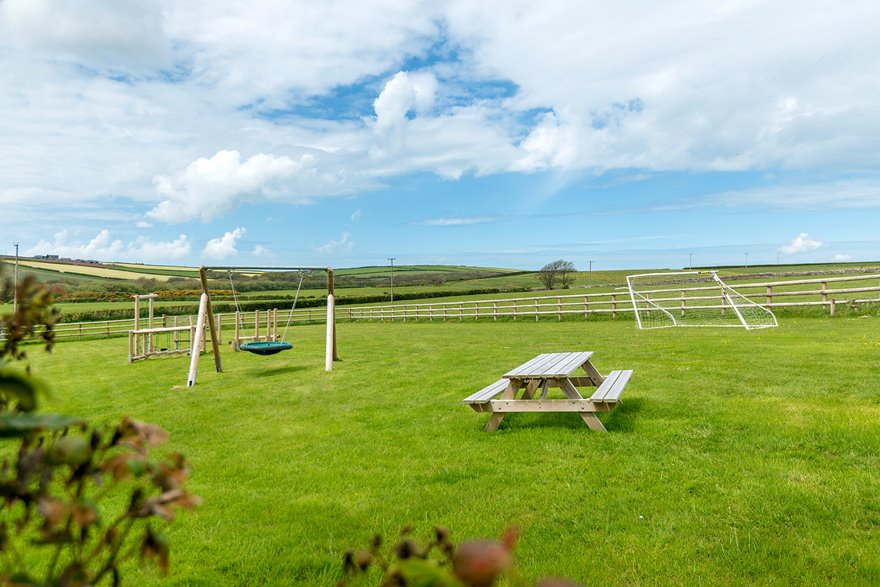 Ideal for family holidays, activity breaks and getaways for large groups; this cluster is definitely worth considering when planning your next Pembrokeshire holiday.  Sleeping up to 27 in total, these four cottages range in size and have their own gardens and patios complete with barbecue. All four cottages are dog-friendly with dog bowls supplied.
The owners live just over the road and with children themselves, they understand the needs of family holidays. That's why you also have access to an outdoor play area complete with swing, rope bridge and cargo net.
Set in farmland almost as far as the eye can see, you only have to take a short walk to find farm animals to visit. During our tour, tack sheep could be seen in one of the fields beside the outdoors play area and often if you walk along the fields, you'll find cattle grazing too.
Sometimes you only have to look out the front window as the owners have two pet chickens who like to roam, Maris Piper and Lady Christl, named in honour of their farming background after two potato varieties. You will also no doubt meet farm cat Topsy at some point during your stay.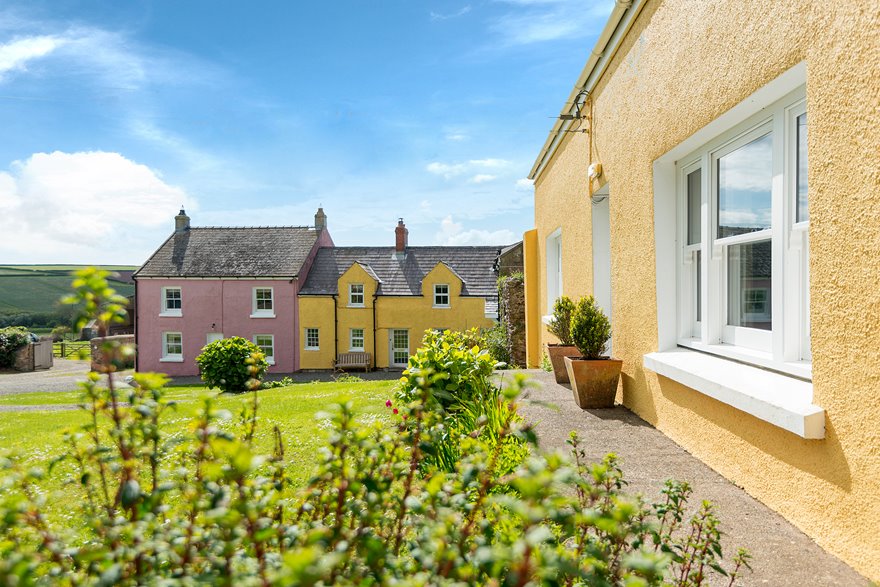 The individually coloured exteriors at Orlandon Farm Cottages creates a whimsical and pretty collection of cottages and helps to make each property easily identifiable. Orlandon Farm Cottage is set on the left of the cluster and is affectionately known as the Pink House to the owners and us here in the office.
Sleeping up to 8 in four bedrooms, this property is deceptively spacious whilst remaining cosy and snug. Even smaller groups will feel right at home here. It has a downstairs wet room and downstairs bedroom, making it a great option if you're bringing along elderly grandparents or anyone who might struggle too much with a staircase every day.  
If you're planning a bit of an adventure break, this one might be the most suitable for you as it has access to its own garage. Bring with you kayaks, boats and bikes – there's plenty of room for storage here!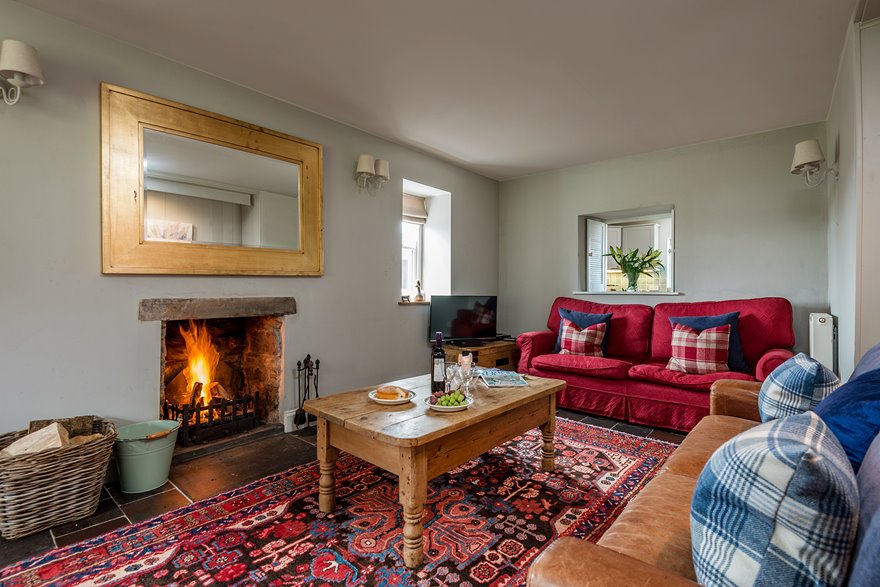 This original stone cottage lies to the right of Orlandon Farm Cottage and has access to the garden next door as well as the play area, making it ideal if you're holidaying with another family. This yellow house is smaller than its next-door neighbour with just two bedrooms sleeping up to 4.
In the separate dining room, you'll find a piano in the corner and see if you can spot the old hunting hook embedded in one of the wooden ceiling beams. In the lounge, the centrepiece is most definitely the wood burner within the large inglenook.
When exploring the four cottages, you'll begin to notice that they each have their own unique charm. The owners have carefully furnished these properties with quality antiques and luxurious furnishings, including Melin Tregwynt cushions in each of the bedrooms throughout the four properties.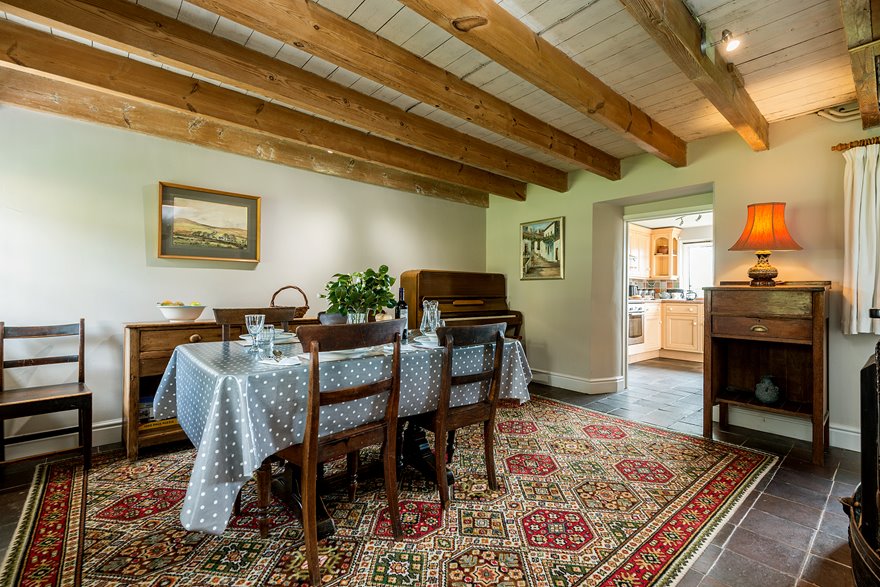 The third and final cottage in the terrace is Smithies Cottage, to the right of Kelwon. Stepping inside we were immediately greeted with a roaring fire and the scent of fresh daffodils filling the air. Every guest is provided with a welcome pack of fresh flowers, daffodils if in season otherwise usually the owner's favourite hydrangeas. You can also expect locally made Welsh cakes and a pot of jam.
Originally the old blacksmith's workshop, Smithies Cottage sleeps 5 in 2 bedrooms. The real showstopper in this property is most certainly the master bedroom. Light comes flooding in from the large window, offering incredible views over the Gann estuary.
One of our favourite things at Orlandon Farm Cottages is those extra little touches which add personality to each property. In every bedroom you will find a unique velvet chair matching the colour palette of the room, giving you a great spot for a bit of evening reading before jumping into bed.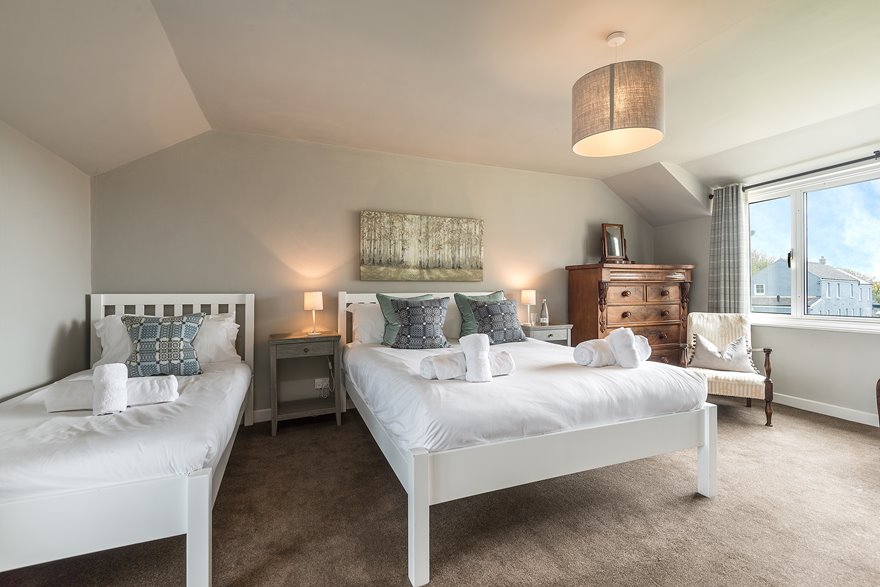 Hoopers Cottage is the largest of the four and the only detached property within this cluster. It sleeps up to 10 in 4 bedrooms but again, can easily cater for smaller parties whilst maintaining that cosy atmosphere.
With an outdoor shower and a downstairs wet room located right by the back door. Hoopers Cottage is another particularly fantastic choice for activity breaks. Wash down your wetsuit or your diving gear outside before stepping inside for a shower, or hose down your dog after a day playing in the sand at one of the nearby beaches.
As for the bedrooms, you'll find a twin bedroom downstairs plus a twin bedroom upstairs complete with a skylight – ideal for stargazing. There are a further two family rooms located on the first floor, each with open wooden beams giving an added sense of space to these already spacious rooms.
One of the most distinct features at Hoopers Cottage is the wrap-around pew at the dining table in the farmhouse kitchen. Set under a glass ceiling, the sun was just starting to peek out of the clouds during our visit making this spot a real sun-trap. Sit here basking in the warm reading a book, enjoying a cup of tea and a Welsh cake (as we did!) or looking to the stars in the evening.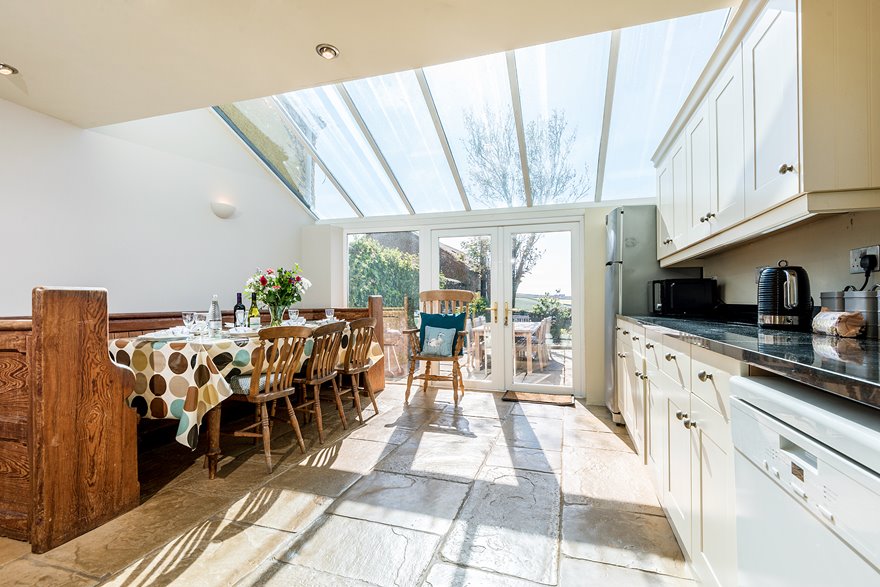 A Walkers Paradise
The possibilities for how to spend your days are endless when you book a stay at Orlandon Farm Cottages. Walkers will delight in strolling along the footpaths past the daffodil fields in the circular walk to the beach at St Brides Haven. Take the longer walk to the nearby villages of Marloes or Dale for a spot of lunch at The Lobster Pot or The Griffin Inn.
Alternatively, you can pick up the Puffin Shuttle which stops right outside. This coastal bus service follows a route to Marloes or all the way to St Davids if travelling in the opposite direction, taking you along the coastline of St Brides Bay through Little Haven, Broad Haven, Newgale and Solva. If you choose to take the Puffin Shuttle, you might well find the service stops just down the road to pick up freshly grown tomatoes.
Explore the Sea
Diving is a particularly popular pastime in the area as St Brides Beach is known to be one of the best spots in the UK for beginners. It has been said that there are over 180 shipwrecks in this area so it's no wonder it attracts diving groups year after year. On weekends in high season, you may even struggle to park so we would recommend getting there early!
Dale pontoon and Sandy Haven are favourites for crabbing, and this entire peninsula is a great choice for fishing too. At St Brides Haven Beach, Musselwick, Marloes and West Dale you can catch all number of fish including bass, mackerel, pollack, dogfish and more.
Orlandon Farm Cottages are situated just a fifteen-minute drive from Martins Haven, the departure point for Skomer Island. Due to the popularity of the island, visitor tickets are unable to be purchased in advance and so between May and June when the island is teeming with characterful puffins, it is advised to get to the departure point for as early as 6 am. The booking office opens at 8 am but the queues start long before this, and the boat leaves at 10 am. If you're staying at Orlandon, you can make the early start to queue, then head home for a spot of breakfast before catching your sailing later in the day.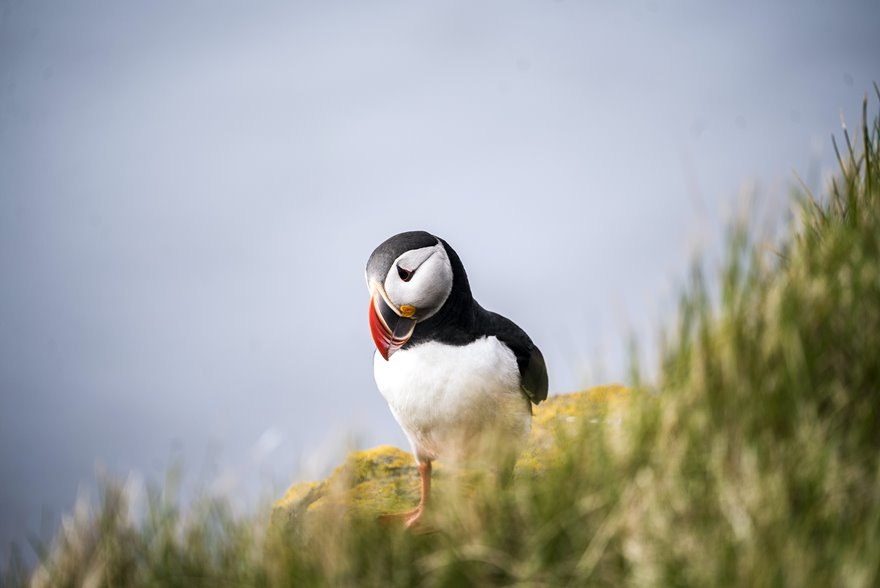 Being in such a peaceful and rural location, the severe lack of light pollution here at St Brides means that Orlandon Farm Cottages offer superb stargazing conditions. Bring along your own telescope and explore on your own, plan a trip for your local stargazing group or venture into the hobby for the first time with a private Stargazing Experience led by a professional astronomer.
Whether you're planning a summer adventure, a Christmas retreat (decorations provided throughout December), a diving group excursion or a last-minute escape; Orlandon Farm Cottages are a wonderful choice.