Relax with a Hot Tub Holiday Cottage in Wales
Plan a wellness break in Pembrokeshire with our wonderful selection of holiday cottages with hot tubs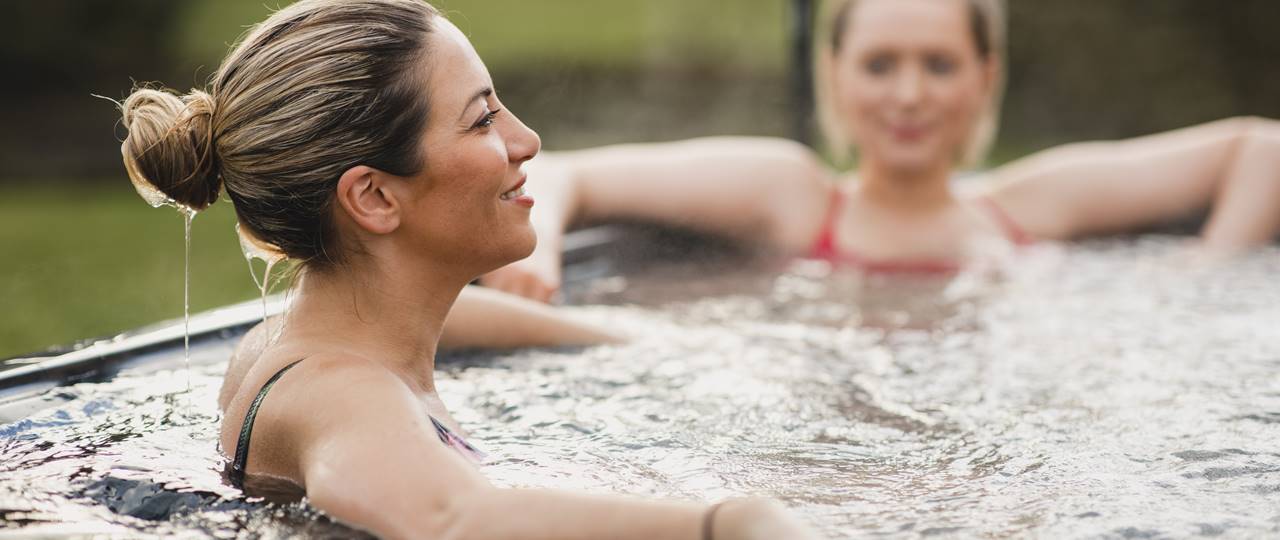 Pembrokeshire's coastal location goes hand-in-hand with a wellness holiday, so why not consider booking a Wales cottage with hot tub for your next getaway?
Using a hot tub can actually be beneficial for your mental and physical health. Similar to unwinding in a hot bath after a long day at work, the warm water of a hot tub can create a sense of calm and relaxation, therefore, helping to reduce stress and anxiety. The jet streams can literally ease those sore muscles after a day walking the Pembrokeshire Coast Path, and that weightless feeling you feel throughout your body during your dip is suggested to help improve your sleeping patterns, which is important in the process of your body resting and repairing.
Not only that, time spent by the coast is proven to have positive effects on your wellbeing too, so choosing a holiday cottage with a hot tub on the Welsh coast is undeniably going to leave you feeling rejuvenated. A simple stroll along the beach each morning can aid your cardiovascular health whilst you soak up all the goodness from vitamin D in the sun's rays. Blue is said to leave you feeling calm and creative, whilst staring at the seashore watching and listening to the waves has almost a meditative effect.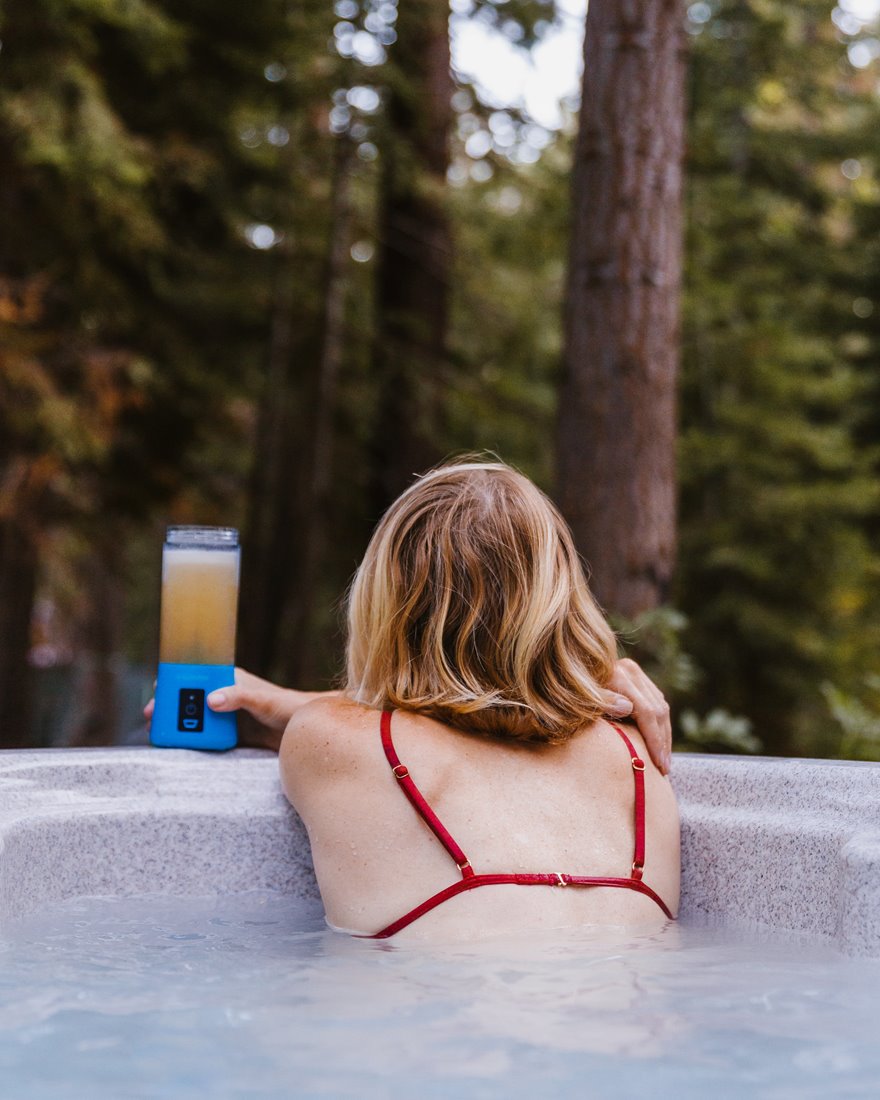 This modern property is set on the hill just a short walk from the peaceful beach at Freshwater East, and sleeps up to 10 in 5 bedrooms. Its elevated position results in sea views, particularly delightful when enjoying an alfresco meal from the ground floor balcony. The bi-fold doors from the open-plan living area open out onto the balcony allowing you to circulate some fresh air through the property on those warmer days. The hot tub and swim spa can be found on the lower ground floor in the landscaped garden and can be accessed via French doors from the downstairs bedrooms – ideally located for an early morning dip watching the sunrise.
Bentonville's contemporary design incorporates slate floors with stainless steel and glass to create a wonderfully furnished holiday home perfect for family getaways. Inside the property, you will find a games room complete with pool table and dartboard, a master bedroom with freestanding bath in the ensuite and even a three-sided wood burner, just the thing for a cosy night in.
Staying at Freshwater East, you are in a great position to explore much of the south county of Pembrokeshire. If you're somewhat of a history buff, you could pay a visit to Pembroke Castle (the birthplace of Henry VII), Carew Castle or Manorbier Castle. A must-visit in the area is the scenic walk at Bosherston Lily Ponds, the route of which also takes in Broadhaven South beach.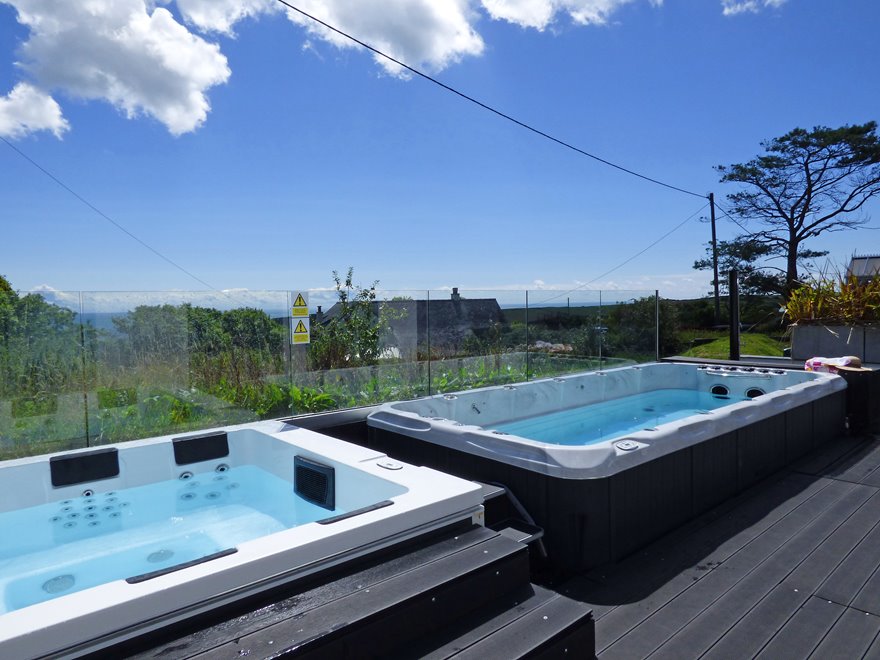 Decking overlooking the swim spa and hot tub at Bentonville
If it's a cottage with a hot tub in rural Wales you're looking for, then Plumstone View is the one for you. Situated near the countryside village of Mathry, just minutes away from picturesque coastal locations like Abercastle and Porthgain, this property boasts panoramic views across Plumstone Mountain and the surrounding landscape.
Not only that, the location of this property is ideal for exploring the night's sky as there is barely any light pollution in this area of Pembrokeshire. Bring along your telescope and spend your nights basking in the serenity of this rural spot, or contact our Concierge team to book an exclusive Stargazing Experience and learn more about the constellations.
Plumstone View sleeps 6 in 3 bedrooms and accepts 2 pets so you can bring along the whole family. Now a converted farm building, this holiday cottage has been renovated to a high standard with spacious interiors and modern fixtures. The rear paved terrace is where you will find the hot tub, just imagine lounging in the warm bubbling water whilst the stars sparkle overhead. Take advantage of the entertainment area here with its barbecue, fire pit and pizza oven – why not cook up a feast for the whole family?
From here, make sure to pop into Siop Fach Tea Rooms & Antiques for a browse of the collectables and a spot of cake. (The afternoon tea is highly recommended, booking in advance is advised!). Walk the Coastal Path along this north-westerly stretch of coast and you'll be spoilt with attractive coves and charming old fishing villages.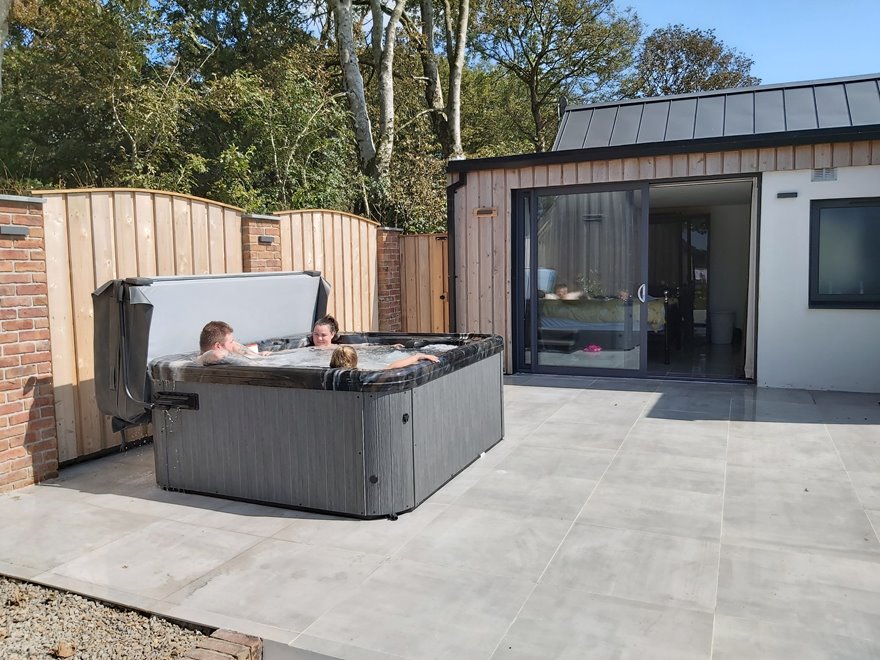 Ploughmans Cottage is one of the larger properties on the Upper Hoaten estate near St Brides. Upper Hoaten Cottages are a family run collection of five properties, each renovated from old farm buildings. With family at the forefront of the enterprise running the estate, it's no wonder that each of these properties makes a fantastic choice for family holidays. Large groups will want to take note of this cluster as they make a great option if you want to keep the whole group together, but need the space of separate holiday homes.
Ploughmans Cottage is a single-storey accommodation (do check the access statement for full details), sleeping 5 in 2 bedrooms and accepting 2 pets. This property is decorated with a true countryside feel throughout with quality wood furnishings and a wonderful exposed stone fireplace in the lounge, where you will find a log effect electric fire.
This cottage shares access to a communal hot tub, trampoline, children's play area, games room and barbecue. Spend your days rock pooling with the children at St Brides Bay, or even exploring the underwater scenery if you're an experienced diver – St Brides is known to be a great spot for under the sea wildlife. From here you are just a short drive away from some of West Pembrokeshire's popular beaches such as Marloes Sands and Broad Haven. If you're visiting between May and July, you'll definitely want to head to Martins Haven and jump aboard a boat to catch sight of the iconic puffins at Skomer Island.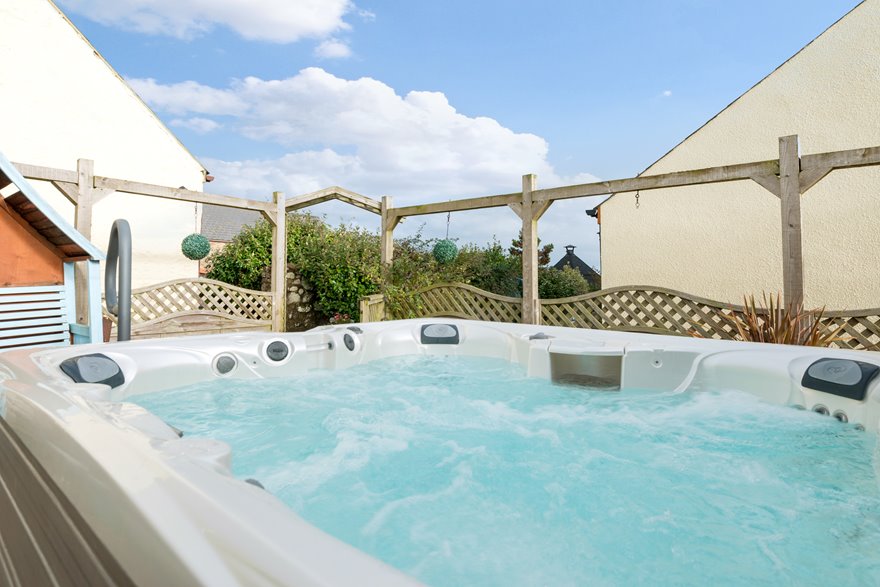 Contemporary and modern in style, Brierbank is a superb property for those who want to park up and not move the car again until it is time to head home. This detached holiday property is set just a short walk from the centre of Tenby where you will find cobbled streets, quality restaurants, independent shops and not to mention, four incredible sandy beaches.
Brierbank is a fabulous holiday cottage with hot tub, sleeping up to 10 in 5 bedrooms. The spacious open-plan living space opens out directly onto the paved terrace where you will find garden furniture and an enclosed lawn, ideal for letting the children run wild as you prepare lunch. No doubt the hot tub will be a welcomed sight as you return from your days exploring the nearby to so spend your evenings relaxing your muscles in the soothing bubbles or for a truly relaxing retreat, alternate your time between this and sunbathing on the lawn with a good book. If you're bringing along bicycles or surfboards, feel free to make use of the shed at Brierbank too.
Inside, the rooms are light and airy with modern facilities and practical furnishings. You'll find a cosy wood burner in the downstairs living space, king-size beds in each of the double bedrooms (some of which are ensuite) plus a twin room which can be converted to a zip and link super king bed.
Set on the road approaching Tenby from Carmarthen onwards, Brierbank is conveniently located if you're visiting for any of the Tenby events which take place throughout the year. Take the walk into town and stop off at North Beach for the swim portions of both the Long Course Weekend (July) and Ironman Wales (September), and the festive Boxing Day Swim. Venture to the opposite side of town for June's Street Food Festival at South Beach or stop off in many of the Tenby's pubs and restaurants for live music in November's Blues Festival.