Tenby's Beaches
Our guide to the beaches of Tenby, one of the finest holiday destinations in the UK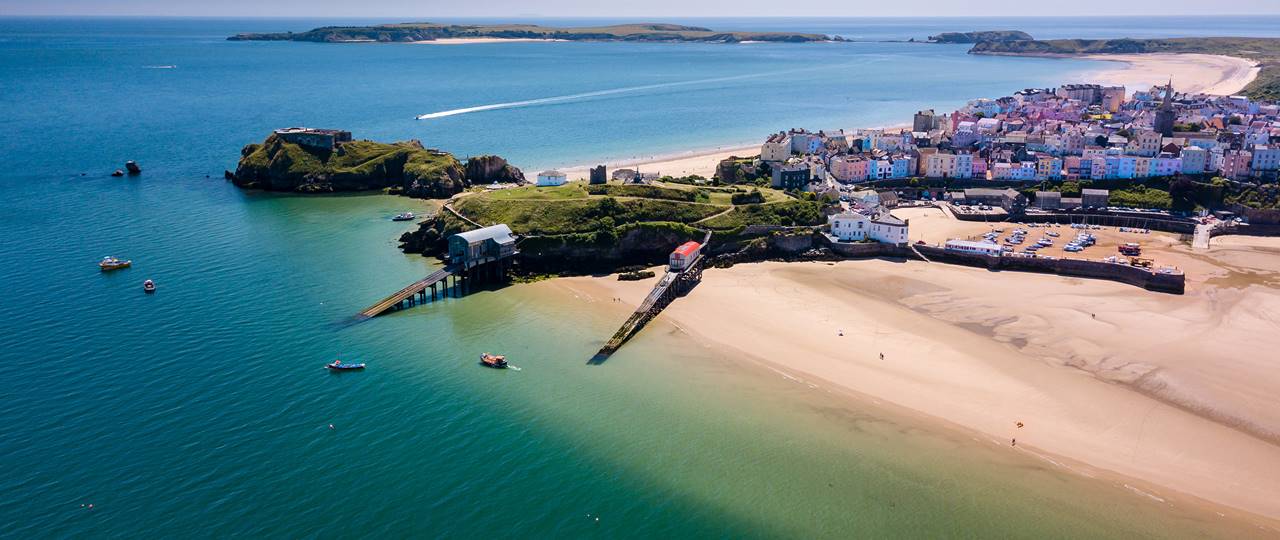 If you're planning a beach holiday in Wales, then a cottage break in Tenby is an ideal choice – particularly for family holidays. With four stunning beaches all situated within walking distance of the old town walls in the centre of Tenby, you can spend your days lazing on the sands, paddling in the shores and basking in the sunshine until your heart is content.
But that's not all – Tenby has a rich history to explore with a town museum, an old castle perched high on the cliffside and a monastic island just offshore. It also has an eclectic selection of independent and high street stores (make sure to check out The Nook and Cranny sister stores located at opposite ends of the high street), a great selection of pubs and restaurants, (the hard decision will be choosing where to eat first!) and of course some fantastic family friendly attractions within a short drive, check out the dog friendly adventure park at Heatherton or visit Folly Farm Adventure Park and Zoo.
So where are the four beaches? You have Tenby's North and South Beaches being the two main beaches within the town and as you might expect by their names, one is located at the North end and the other at the South end of the town. Harbour Beach again is fairly straightforward, this is the smaller section of sand right next to the harbor nearby to North Beach, whilst Castle Beach is the shore which is overlooked by Castle Hill near to South Beach.
The great thing about all of these beaches is that they are all family friendly, all just a short walk from the centre of the town, and all known to boast blue flag awards for their fantastic facilities and water cleanliness.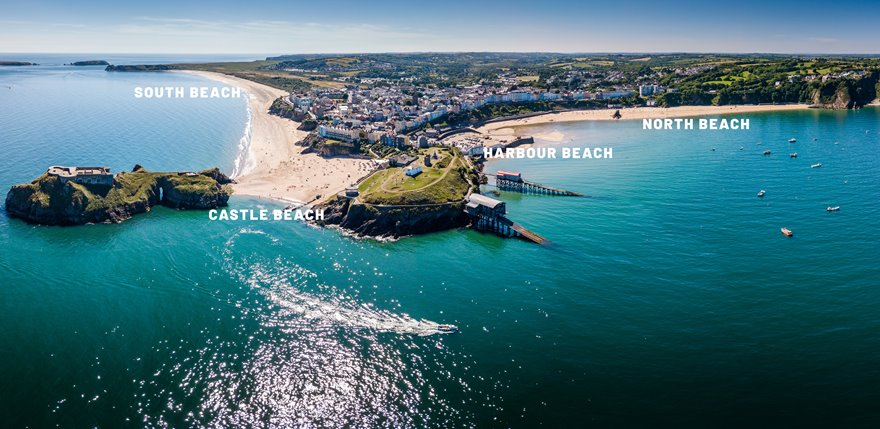 North Beach
North Beach in Tenby is best known for being home to the swim segments of both the Long Course Weekend and Ironman Wales. Both are triathlon events with athletes taking on a three-discipline challenge; swim, cycle, run. Ironman Wales runs every September with dedicated athletes competing a mammoth 2.4m swim, a 112m cycle and a 26.2m run consecutively in one day. The Long Course Weekend, whilst it is also a triathlon event, is a beast of a whole different nature.
Enter the Full Long Course Weekend for all three long distances and compete for a set of four medals, or choose a more manageable distance based on your ability. Sign up just for a 10k run or enjoy a leisurely 1.2m swim at this wonderfully sandy Welsh beach. Both events kick off with a swim in North Beach's waters and the atmosphere is spine-tingling with thousands of spectators lining the zig-zag paths from the promenade down to the beach.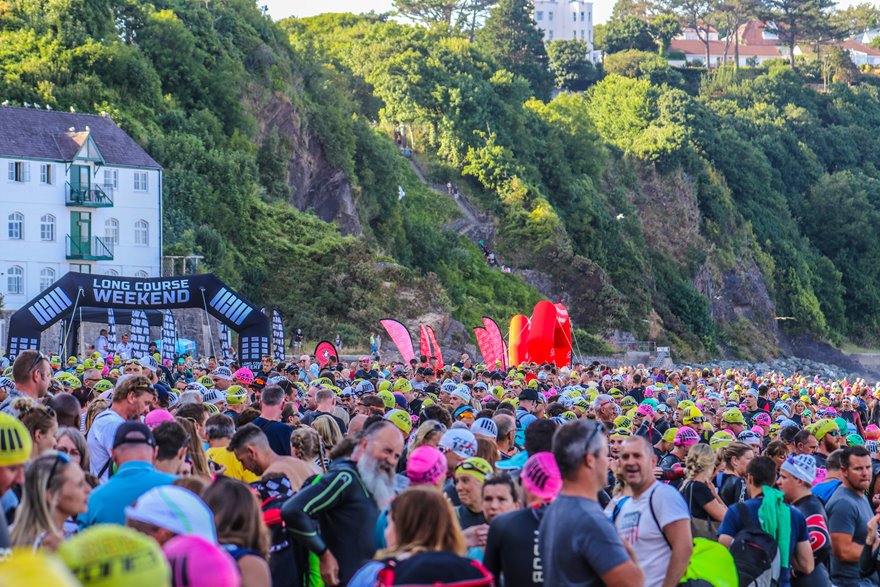 Easily identifiable from photographs, Tenby's North Beach has a statement rock known as Goscar Rock set in the centre and the sandy bay is backed by an escalated promenade. This beach is a superb location for family days out rock pooling with the children, or trying your hand at some watersports during the summer holidays whilst the lifeguard patrol is in place.
Do bear in mind if you're holidaying here with a dog, that restrictions are put in place during the summer months – South Beach is a better bet for those of you staying in Tenby with your pooch.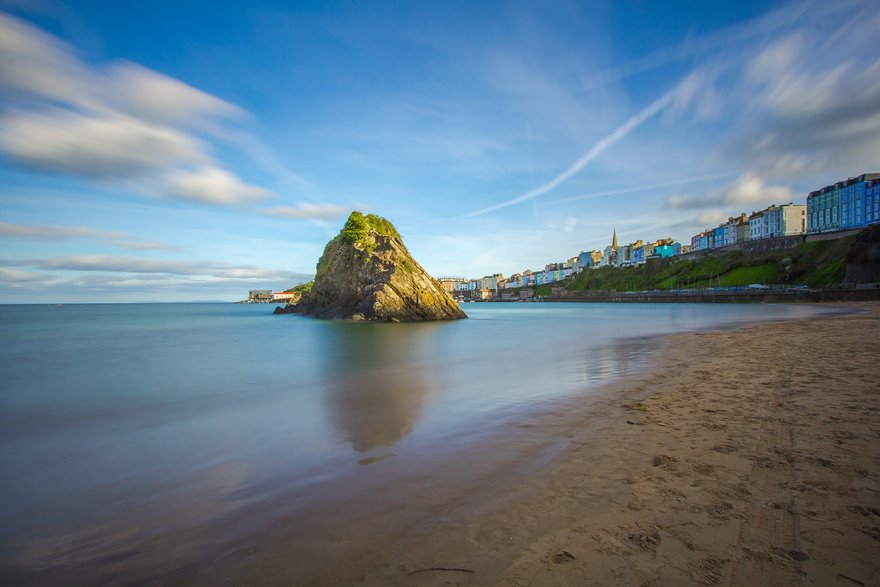 South Beach

Less commercialised than North Beach, South Beach is still conveniently located nearby to a variety of facilities including a car park, toilets with disabled access, watersports equipment hire and sometimes even a welcomed ice cream van on those warmer days.
Tenby's South Beach is a stunning 1.5 mile expanse of golden sands which is backed by sand dunes making this a perfect playground for energetic dogs and family beach days. This vast amount of sand ensures enough space for all beach goers, so make sure to pack a picnic blanket and bucket and spade, because you can easily spend the whole day relaxing here.
Pay a visit in mid-June and make to sure to bring with you a healthy appetite, as you will discover the South Beach car park has been overtaken by a wonderful street food festival. Picture live music, freshly made food and refreshing drinks – you'll never want to leave! This two day event takes place over an entire weekend and offers a wide variety of cuisines to choose from.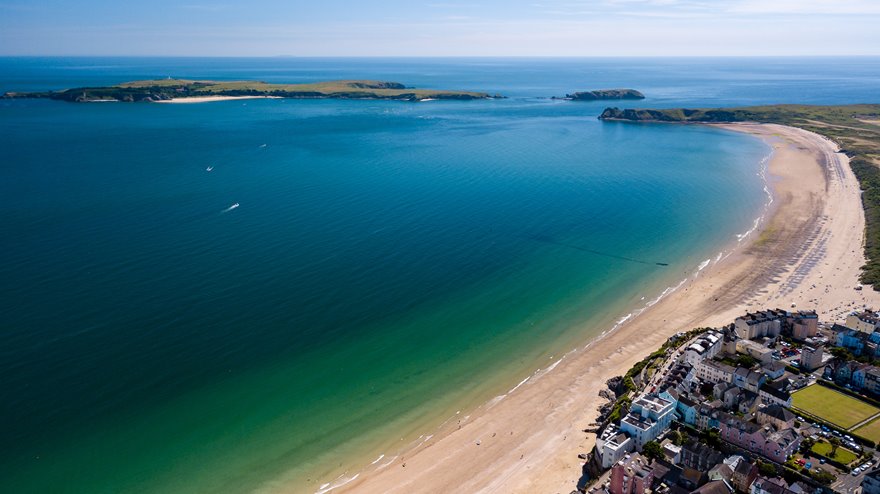 Harbour Beach

Harbour Beach in Tenby is one of the most picturesque places to visit in Pembrokeshire, hence the reason why it is one of the most photographed places in Wales. Here the blissfully blue waters are backed with a small sandy shoreline, and surrounded by bobbing boats and multicoloured terraced houses.
This beach is ideal for those with young children as the smaller space means you can easily keep an eye on them as they paddle away in the shore. Walk to the top of the harbour and you'll find a selection of huts selling fresh seafood and boat trips out to Caldey Island, an offshore island which is inhabited by monks. Caldey trips are dog friendly providing they are kept on leads, and are a great day out for all the family. Walk up to the lighthouse and take advantage of this incredible viewpoint, stroll through the monk's village and browse the shops or enjoy a picnic on the beach before building sandcastles.
If you're in the area during the summer holidays, you might want to call in to Harbour Beach for the Summer Spectacular events. These great events incorporate beachside activities with live entertainment and an impressive fireworks display in the evenings creating a fun-filled day for all. There are refreshments available plus, the town is only a short walk away if you fancy a pub lunch during the summer.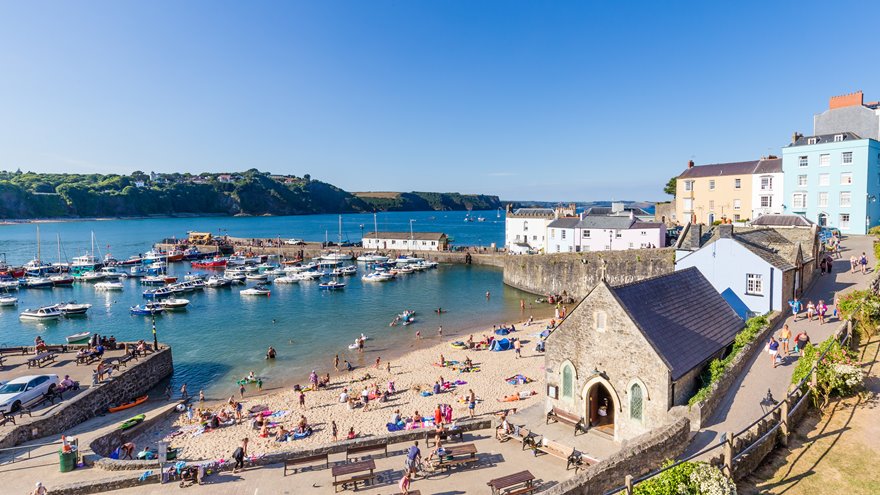 Castle Beach

At low tide castle beach and south beach, seem to blend into one, allowing you to walk the full stretch across the soft sand. Castle Beach is located between Castle Hill and the East Cliff, overlooking St Catherine's Island – a place you might well recognize from series 4 of BBC's Sherlock.
Castle Beach is accessible down a slipway where you will find cafes and shops plus watersports equipment hire and deck chair rentals. Another great spot for family beach days!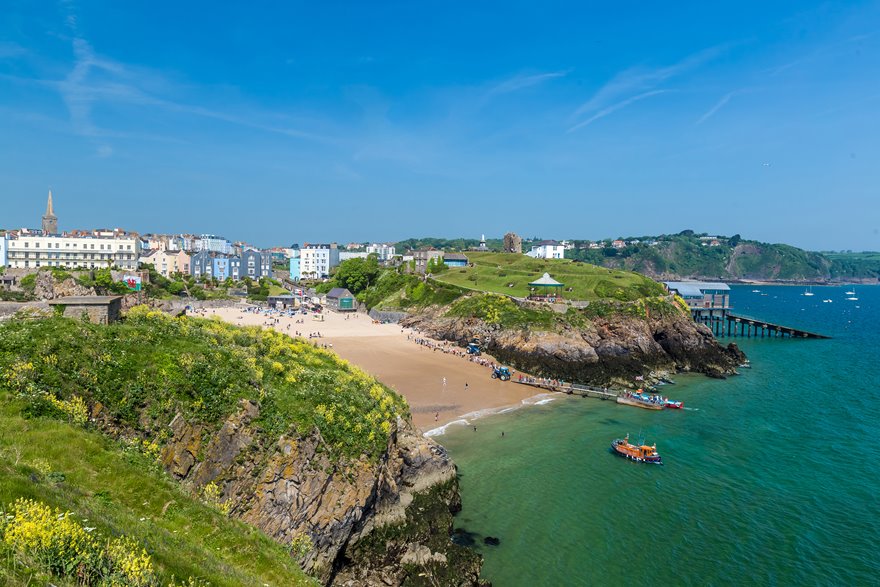 Whichever beach you decide to visit, you're guaranteed to have a great time on the sandy shores of Tenby.