Our Top 5 Dog Friendly Beaches and Pubs
Go ahead, discover your favourite Pembrokeshire beach. Your dog(s) will thank you for it.
If peace and quiet, miles of golden sand to chase balls and frisbees on, and boundless depths of glistening clear sea to doggy paddle in, sounds like the perfect getaway for you and your four-legged friend, then this is a must read.
Admittedly, it has been a challenge trying to choose just 5 of our top dog-friendly beaches. These five Pembrokeshire beaches are beloved by two dogs we know quite well, Archie and Buster. They each have fabulous places nearby to refuel, warm up and take a much-earned rest.
Amroth
Amroth's half-mile long, flat and beautiful sandy beach is perfect for ball games and doggy paddling. The rock pools to the western side and the groynes along the top of the Blue Flag Awarded beach, provide plenty of exploring opportunities. Once you're all in need of refreshments, head along the beautiful Pembrokeshire Coastal Path for a few miles to enjoy a rest and a gorgeous view at the Wiseman's Bridge Inn. Amroth does impose restrictions during the summer months, but the serenity of this beach in the winter meant we couldn't resist including this one in the list.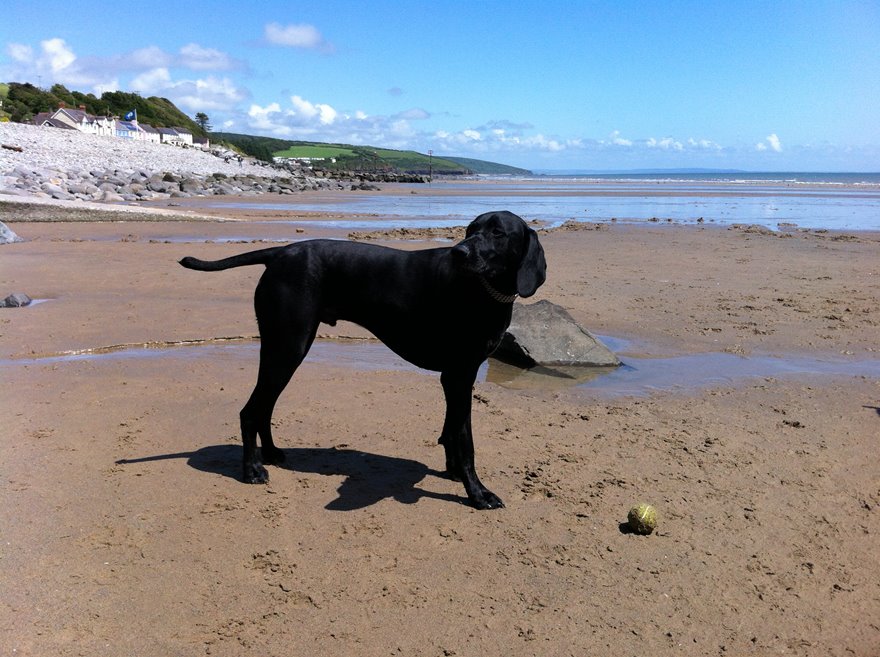 Newgale
It's no surprise that Newgale with miles of glorious sand and stunning surf, all beautifully banked by pebbles and sheltered from the road, is an annual award winning beach. It has to be one of Pembrokeshire's most inviting 'walkies' prospect for any dog. Chase those Frisbees, paddle in those waves and maybe, just maybe, meet a new doggy friend at the other end of the beach. This beach provides hours of scampering, digging and swimming opportunities. Encouraging your dogs to head home may take some persuading! Stroll across the road to the Duke of Edinburgh pub when you're ready for a rest, and tuck into some tasty food in front of their warming fire.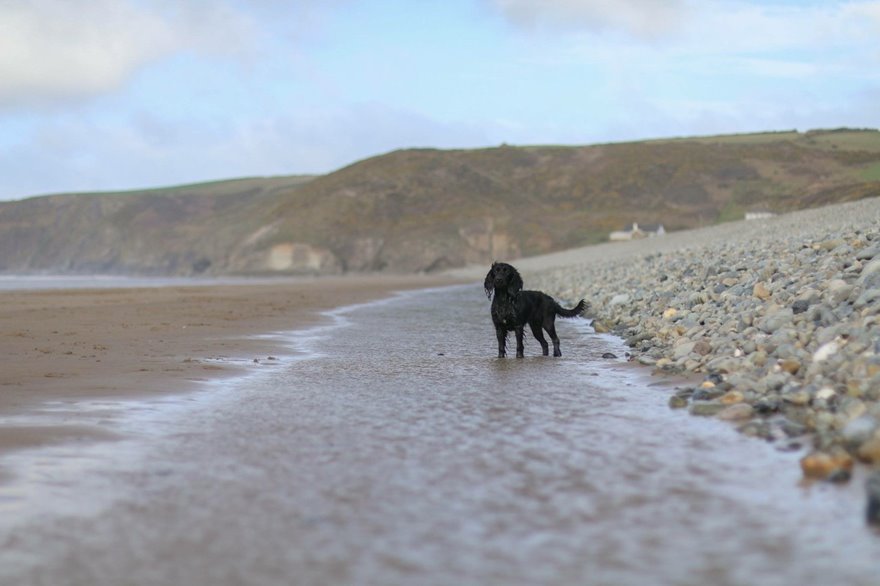 Broad Haven South
Talk about paradise, this beauty spot, located in the village of Bosherston, will leave you both breathless - and that's nothing to do with the winding steps down from the car park. Let your busy dogs scamper through the dunes and dive into the waves here, whilst you stroll casually along the golden sand no doubt attempting to capture a picture or two of them. Continue your wander following the beach around the corner where you'll be greeted by a stream flows from the neighbouring Lily Ponds at Bosherston. If you're all feeling energetic, follow the path through the Lily Ponds before arriving at the village where you can enjoy a fabulous afternoon tea at Ye Olde Worlde Café or a cooked meal at St Govan's Inn. Once you have re-fuelled, stroll along the rural lane out of the village for just over a mile, back to the car park above the beach.
Newport Sands
Lovely dunes back this wonderfully broad, sandy beach lapped by beautifully clear waves. A hot-spot for all beach enthusiastic doggies. At low tide, it's even possible for you both to stroll across the beach and wade through the river to Newport Parrog. After an afternoon of playing fetch (Archie's favourite game), why not wander up to the Golden Lion pub together? A blazing fire, warm welcome and beautifully cooked meal will await you.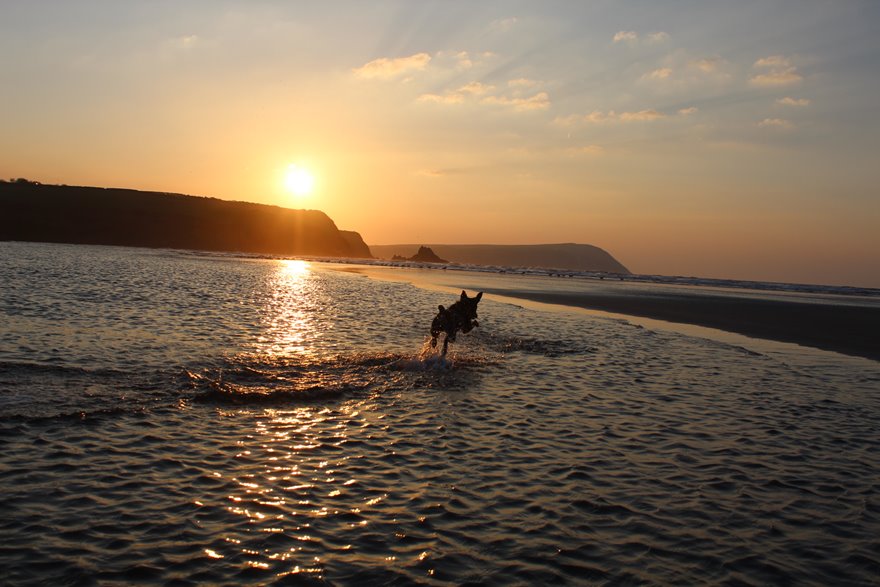 Tenby South Beach
Unlimited amounts of tricks can be traded for treats at this wonderful beach, another in the list of Pembrokeshire's Blue Flag Award Winning Beaches. After a fun few hours of fetching, sitting, giving paws and paddling in Tenby's beautiful waves, head up the beach to South Beach Bar and Grill where you and your four-legged friend will both receive a warm welcome. Order some much-earned refreshments and a very tasty, and locally sourced, bite to eat.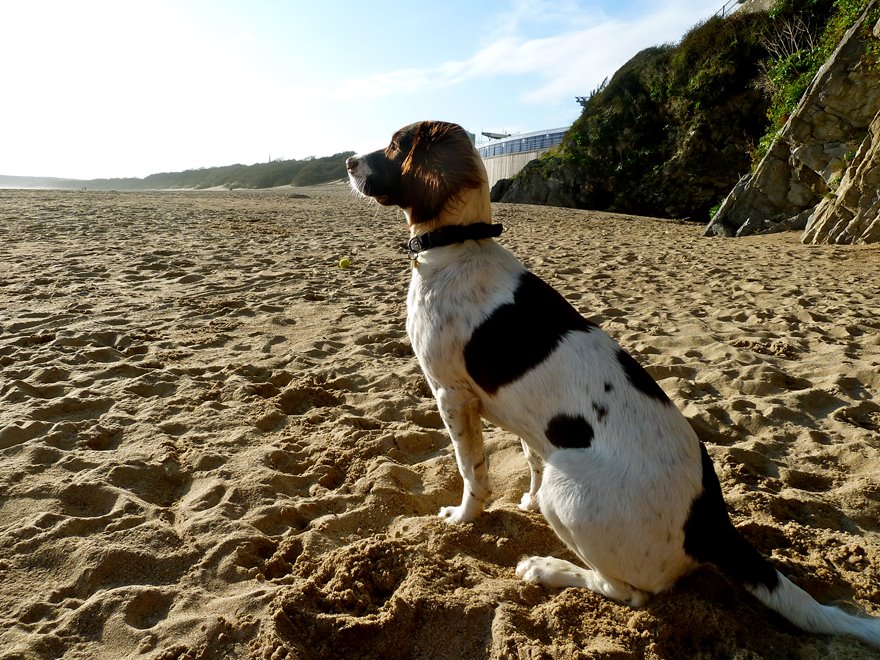 With so many beaches in Pembrokeshire, we're sure you'll find a favourite during your stay. You might just find more than one!