Where to eat in Tenby
So many great places to eat in Tenby, but where will you dine?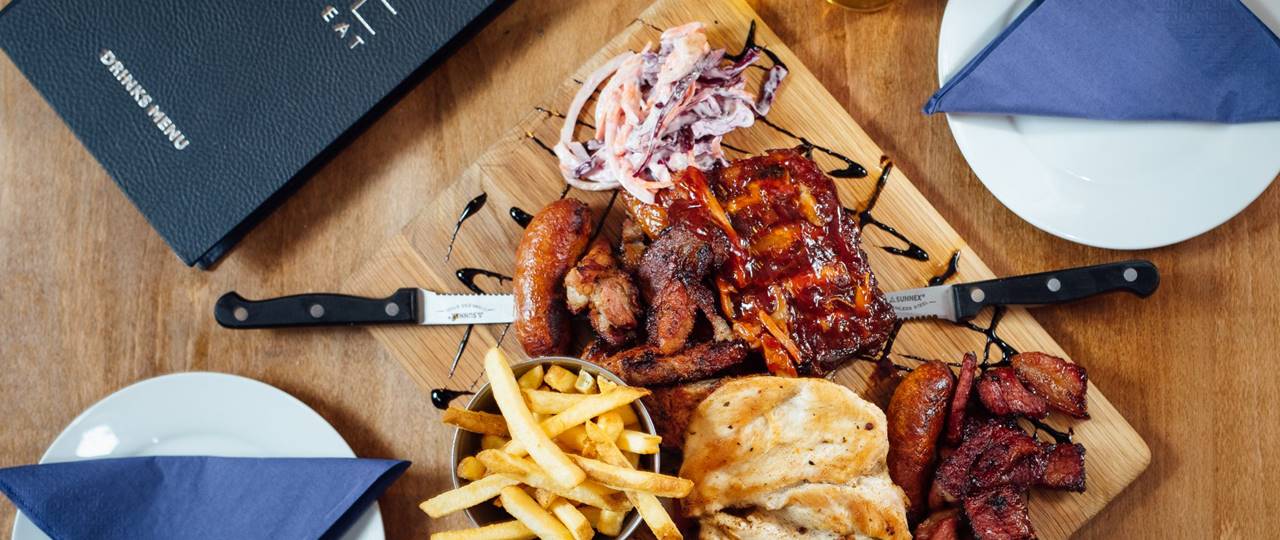 Tenby is one of Pembrokeshire's best-loved holiday destinations and it's no wonder why. With four beautiful beaches, an array of things to do, places to shop and incredible events happening throughout the year; there's so much going on!
As well as all of the above, there is also an incredible selection of places to eat in Tenby. So much so, that you need to stay for a week just so you have enough time to visit them all – and even then, you might need to plan a second trip!
For impressive platters and great drinks
The Cove is a fantastic place to visit with friends or family. Tuck into one of the sharing boards, once you can decide which of these extraordinary options to choose that is! Share fresh seafood, opt for the meat feast, go vegetarian with the Mediterranean mezze or indulge in the mixed grill board. To get your mouth watering, think homemade Italian meatballs, cracked crab claws and honey BBQ pulled pork to name but a few of the dishes you'll spot on these boards. Pay a visit at the weekend for a stunning Sunday lunch platter. Alongside these shareable plates, you'll see traditional dishes such as burgers, pies and salads along with sandwiches and jacket potatoes available on the lunch menu.
As for drinks, choose one of their stylish cocktails or celebrate a special occasion with a glass of champagne. Enjoy a refreshing gin and tonic, share a bottle of wine with your sweetheart or pop in for a warming cup of coffee.
If all this wasn't enough to convince you, you'll be pleased to know The Cove really is welcoming for all. Not enough to be family friendly, The Cove is dog-friendly, accessible to wheelchair users and even has a number of menus available such as an audio menu for those hard of hearing.  
The Cove - Tenby
For fish & chips to enjoy on the beach
Year after year visitors return to Feccis Fish & Chip Shop for their seaside fish and chip fix. Choose to eat in their restaurant or takeaway and share your chips whilst watching the sun go down on one of the nearby sandy beaches.
A family run business, Feccis has been operating for the best part of a century and is a well-known name in the streets of Tenby. Their fish is locally sourced and their chips are made using Pembrokeshire-grown potatoes. If you follow a gluten-free diet, you'll be pleased to know you can devour a wheat-free fish and chips here. With separate fryers and an alternative batter of ground rice and potato, you can confidently order a gluten-free meal. You can even accompany your meal with gluten free sauces and vinegar.
For craft beers and street food
From the team at one of Tenby's very own microbreweries, Tenby Brewing Co., comes the Sandbar. Situated on Upper Frog Street, the Sandbar offers a fusion of street food with craft beers to create a relaxed place to eat. The menu is regularly re-written but always guarantees delicious hearty dishes such as gourmet burgers, slow-roasted ribs, tacos and more.  
Alongside the food, you can sample a range of local and independent craft beers and ciders from across the UK – including their range of popular hand-brewed Tenby beers. The Sandbar is most certainly a must-visit for any keen foodie or beer aficionado. You don't even need to book unless you're a group of 10+.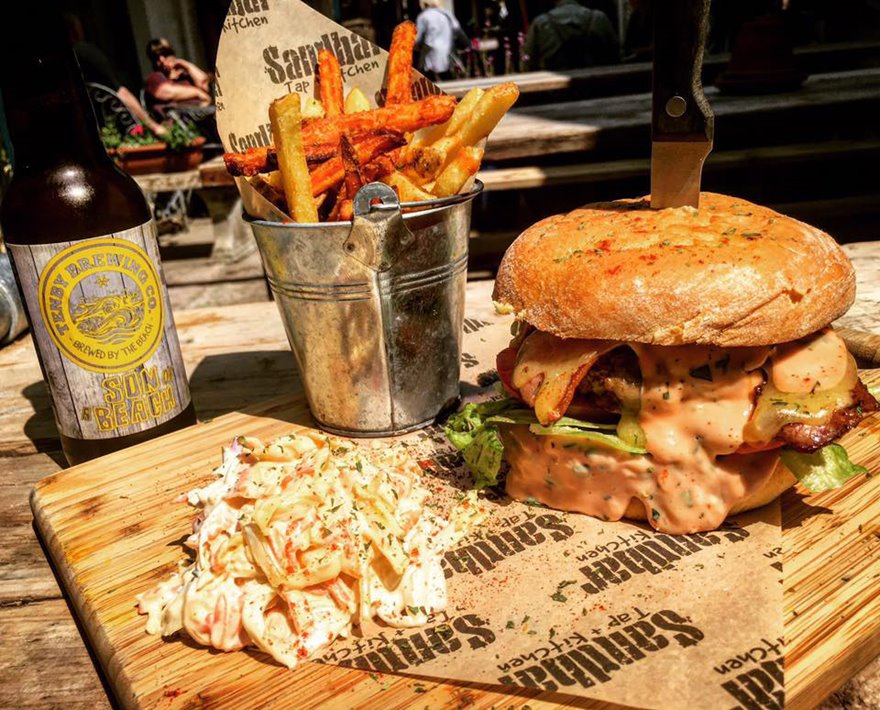 Sandbar Tenby - Tenby Brewing Co.
For the quirky restaurant with a fascinating history
Tucked away down a little side street off Tudor Square, you will find Plantagenet House. The main feature of the building is the one-of-a-kind Medieval Flemish chimney set within the restaurant, definitely a remarkable sight. Dating back centuries, as far as the 10th Century as suggested by some, you can also expect to see exposed stones and wooden beams in this Tenby eatery.
A delightfully unique restaurant, Plantagenet House is an ideal choice for a cosy meal with its romantic candlelight setting and intriguing interior design. Paired with an extensive wine list, they offer a range of quality homemade dishes and an ever-changing seafood selection depending on what has been locally caught off the shores of Tenby each day. For a more relaxed scene, reserve a table in The Quay Room where you can enjoy a meal in front of the log fire – this room is dog-friendly.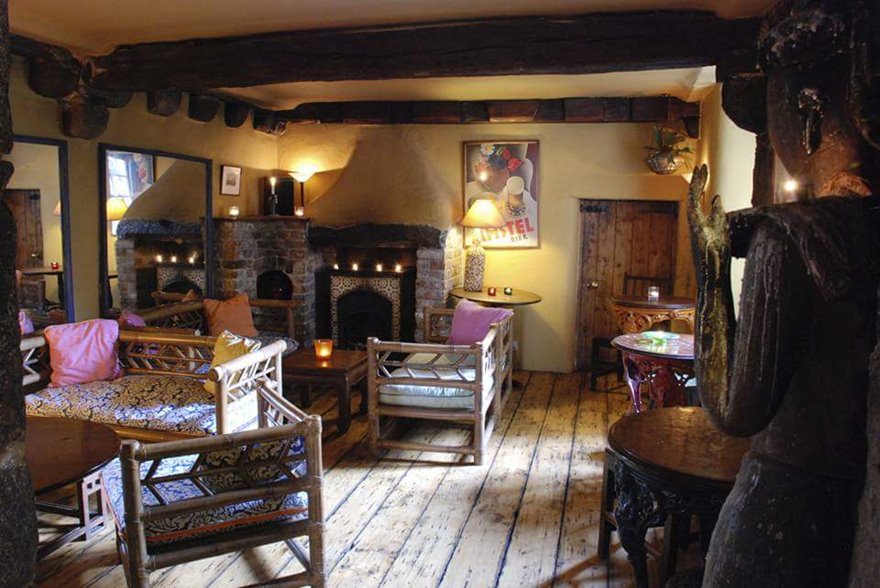 The Plantagenet - Tenby
For superb sea views
Head to South Beach Bar and Grill and you'll delight in beach views across one of Tenby's glorious sandy beaches whilst you eat and drink. Set on the water's edge, you can pay a visit for breakfast, lunch and dinner or call in for a snack whilst exploring this popular seaside town. On warmer days, dine al fresco or simply enjoy a cooling cocktail on their outside patio. On cooler days, escape the elements with a table inside the restaurant and feast on something from their appetising menu.
Alternatively, call into the South Beach Shack when you're passing by. A more informal eatery than the Bar and Grill, you purchase a range of snacks, sandwiches, cakes, ice cream and more to take away. Ideal for those days you fancy a last-minute picnic on the beach.
South Beach Bar & Grill - Tenby
For fresh handmade pizza
Top Joe's pizza Parlour is located at the very top end of Upper Frog Street and it's pretty impossible to walk past without being drawn in by the scrumptious smells wafting from this restaurant. Using only the best ingredients, Top Joe's hand make each and every pizza sold by scratch. With authentic Italian methods, they create their own fresh dough then load it up with toppings before baking it ready for you to enjoy.
Whether you eat in or take away, you can choose between a range of starters, mains and desserts. Order salads, pasta, ice creams, drinks and more alongside a great selection of pizzas.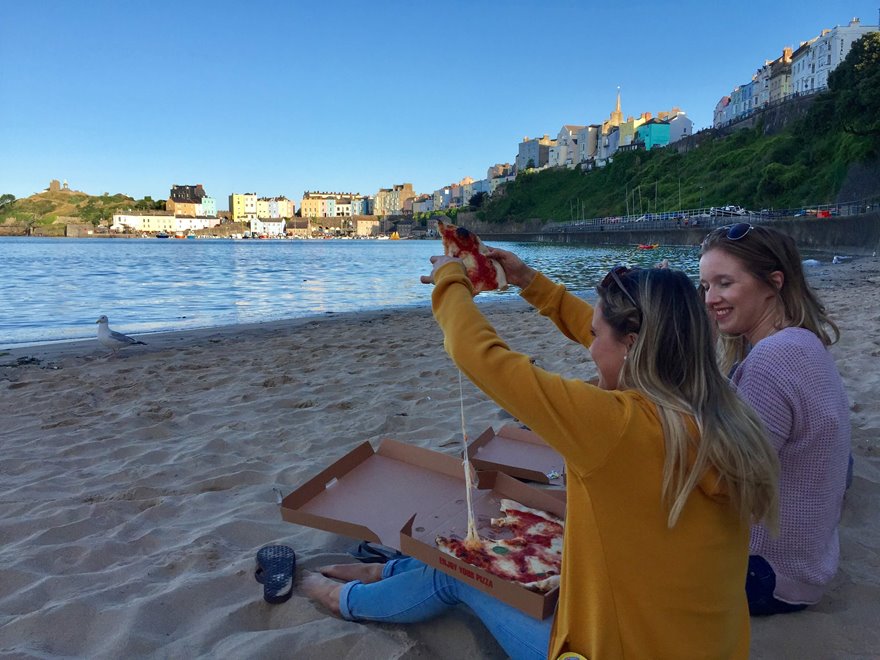 Enjoying a Top Joe's Pizza on North Beach Tenby