Explore Pembroke
Browse through our Pembroke holiday cottages today and start planning your trip to this lovely, heritage-rich destination.
Historic Pembroke, its wonderful riverside location and its stunning castle are all set in the very heart of South Pembrokeshire, and the town is just a stone's throw away from the area's beautiful beaches and wealth of other attractions.
Pembroke's Mill Pond is a wonderful base for leisure opportunities, as are the beautiful beaches at Bosherston, Broad Haven and West Angle Bay, which are all less than a fifteen-minute drive away, through a series of pretty country lanes. Pembroke is an ideal location for those interested in exploring the Pembrokeshire Coast National Park and Coast Path; a walk, train or bus ride or a short drive in any direction will reveal numerous areas worth exploring.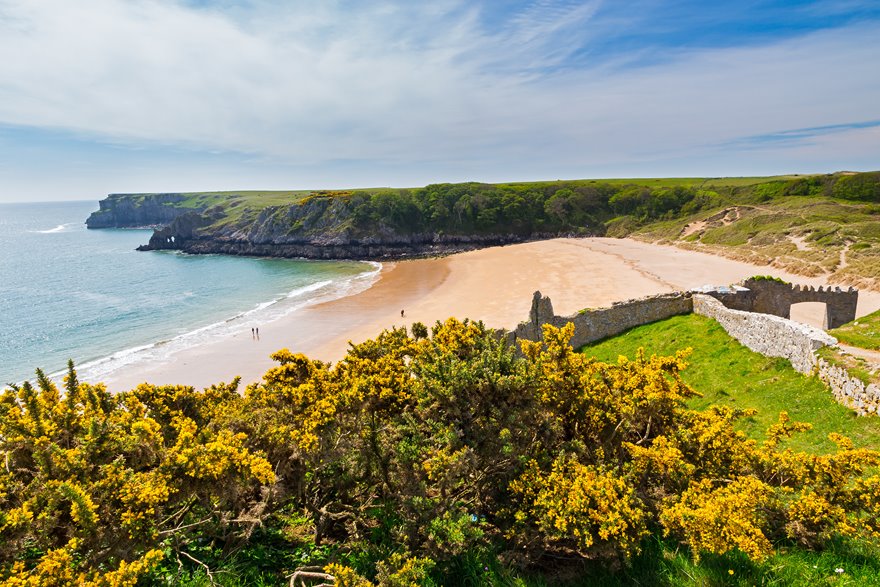 Pembrokeshire Coast Path overlooking Barafundle beach
The town's showpiece is its magnificent Norman castle. The birthplace of Henry Tudor, it stands proudly at the head of its rocky crest and is encased on three sides by its swan-sprinkled mill pond. Pembroke Castle really is one of the most handsome and best-preserved castles in the country and must be added to your itinerary if you are planning a stay at one of our holiday cottages in Pembroke.
Pembroke's main street, which stretches the full length of the old town, is laced with local craft shops, gift shops, a traditional greengrocer, a florist and a very popular butcher, good pubs and lovely restaurants. Whilst you wander the streets or drive around the town, take the time to look up and notice the several interesting Tudor and Georgian houses that have stood proudly in Pembroke for centuries, along with the two historic churches.