Tania (and Jerry) Rees, Happy Planet Green Store
Pay a visit to the plastic free store on Narberth High Street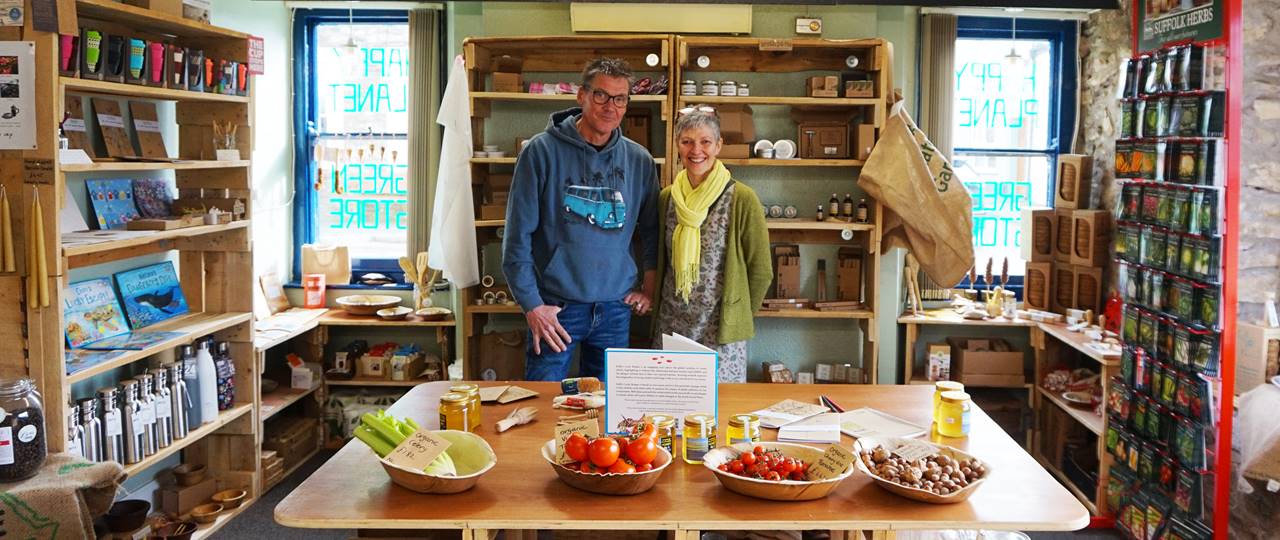 As part of our Inspirational Women of Pembrokeshire series in 2019, I reached out to Tania Rees at Happy Planet Green Store in Narberth. Tania, with her husband Jerry, founded one of Pembrokeshire's very first plastic-free shops.
Now some of you might wish to argue that this post also applauds Tania's husband Jerry, and in a run of articles created with the aim of honouring some of Pembrokeshire's most remarkable women – I can see why you might feel that way.
Whilst some of the women featured in this series are praised for their solo feats, such as Jemima Nicholas who fought in the 1797 Last Invasion of Britain at Fishguard, it's important to acknowledge that some things are better tackled with an extra pair of hands. When it comes to the fight against single use plastics, it's certainly a team effort we can all get involved with.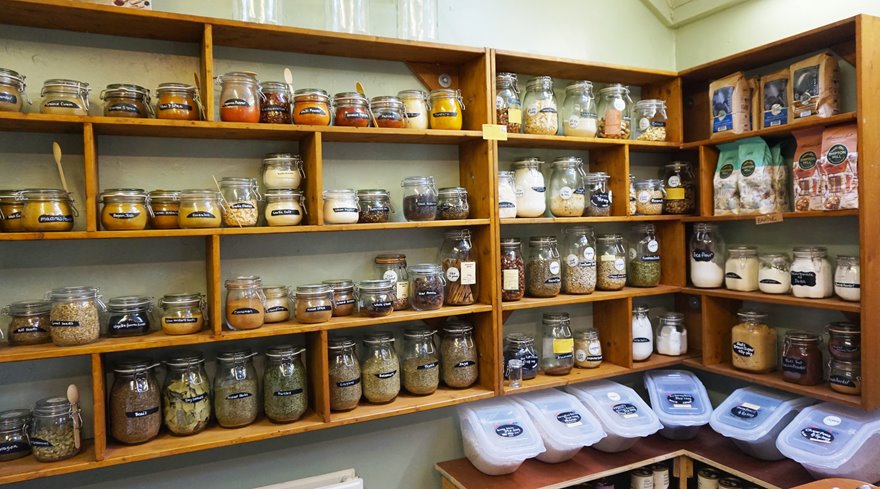 Where did the idea come from?
Husband and wife team, Tania and Jerry Rees, moved to Pembrokeshire around 5 years ago after building a family life in their Somerset home and spending winters holidaying in our little haven of West Wales.
The pair themselves are not ones for indulging in single-use plastic, having replaced cling film in their kitchen cupboards with beeswax wraps a number of years ago and vary rarely buying items such as bottled water. After their move to Pembrokeshire, walks on the beach with the dog became part of their standard routine and soon they started to notice just how much avoidable waste was around. Combine spotting litter on our shores with their personal struggles of finding plastic-free products to use, it soon made perfect sense to set up a zero waste store.
I questioned Tania as to why they chose Narberth, and she said it just seemed the right fit. Majority of the businesses you'll find along the high street are independently owned, and the town has created a bustling atmosphere which keeps shoppers coming back again and again. Plus, they've become a part of the "Plastic Free Narberth" group.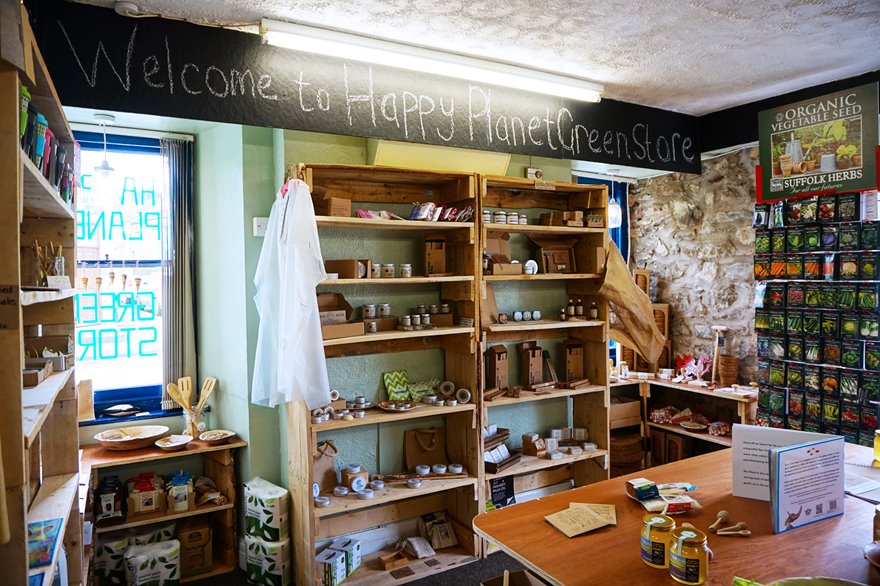 What can you expect at Happy Planet Green Store?
In a nutshell, this shop offers you an opportunity to shop whilst simultaneously cutting down your use of single use plastics. Walk in and you'll be greeted with displays of organic vegetables; glass jars filled with cereals, seeds and sweets; large containers full of washing liquids and the like; and shelves stacked with items such as natural toiletries and pencils made from recycled papers.
For a small store, you can find an impressive range of products. Sourced all from UK suppliers, you buy things such as recycled paper towels, reusable baby wipes and bamboo coffee cups. You can even find items such as a poncho made from potatoes, natural soaps made in Templeton and even bowls made from local wood which was saved from the council's woodcutters. Buy yourself some tea or coffee, purchase a Bee Bomb to help encourage wildlife to your garden and you can even get some seeds grown by Jerry himself.
The beauty of this store is that there is absolutely no obligation. Unlike shopping in the larger superstores, you're not restricted to buying set quantities of products. You can buy precisely as much or as little of these ingredients as you need – a bonus feature of plastic free shopping. Some of the customers are elderly who live alone, and they pop in weekly to buy only what they need. Some are holidaymakers who only require a small amount of certain ingredients to suit their chosen recipe – and what a fantastic idea! Doing what we do, we know all too well the struggles of having to discard unused food because it won't last well during the journey home.
It's vital to remember that this store's ethos is zero waste, and keeping this in mind, Tania described just how important it is that the store remain an affordable place for all to shop. Whilst some products are organic and some are made from recycled materials, Tania stressed that they are keen to keep the costs down so people aren't having to spend more by going plastic free.
By keeping their products affordable, the aim is to encourage people to join the zero waste movement and change perceptions that doing so is inevitably pricier.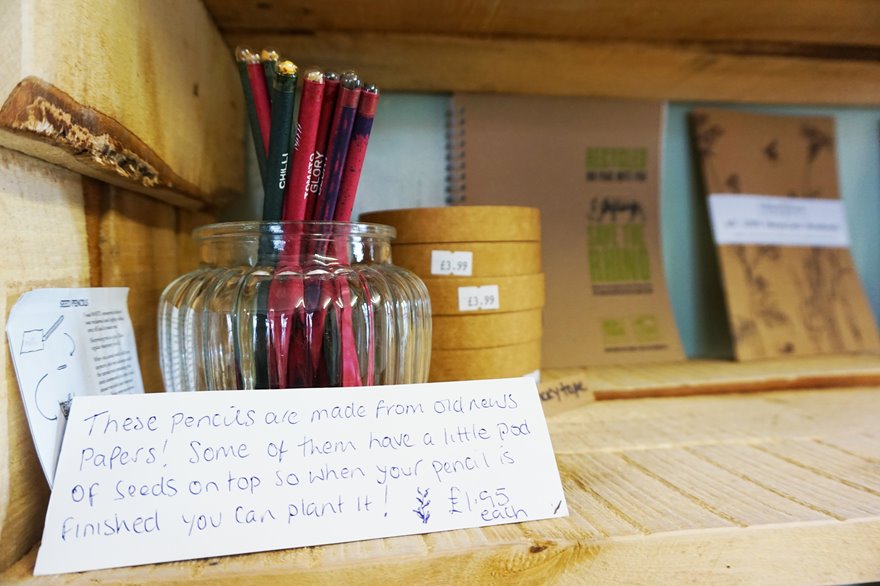 More than just a Store
To describe Happy Planet as merely a store where you can shop plastic-free would be a vast understatement. I met with Tania and Jerry first thing on a dreary Saturday morning, and it wasn't long before a few of the regulars had called in, each carrying reusable bags ready for their weekend shop.
What really makes this store different from the standard grocery shops found in our British towns is a strong sense of community which is unavoidable upon visiting. Open six days a week between Monday and Saturday, the only two people you'll be served by at Happy Planet are Tania and Jerry – they have no other staff. Being an independent store and working in it themselves, they guarantee a quality shopping experience.
Call in to query a new product, check if they have something in stock or ask for their help pouring your washing liquid; whatever you need, this pair are friendly and approachable. Rather than being met with judgement for going elsewhere to pick up an ingredient they don't stock, you're met with an appreciation for first having checked in to see if Happy Planet stock it.
Speaking of products they don't stock, they're often chatting with customers about new ideas and looking into different options themselves. They even have suppliers finding them on Instagram and contacting them to see if they'll stock their products.
Having only opened in June 2018, Tania and Jerry have already established an impressive repeat custom with a number of regulars who visit weekly. Narberth certainly made the right location for them, as they've said the response to the store has been quite overwhelming and emotional; Narberth has welcomed them in with wide open arms.
Since opening, they have been asked to do talks for local Cubs and Brownies groups helping to promote the zero waste lifestyle and to join in with educating the younger generation as to the dangers of single-use plastic and raise awareness to the possibility of plastic-free shopping.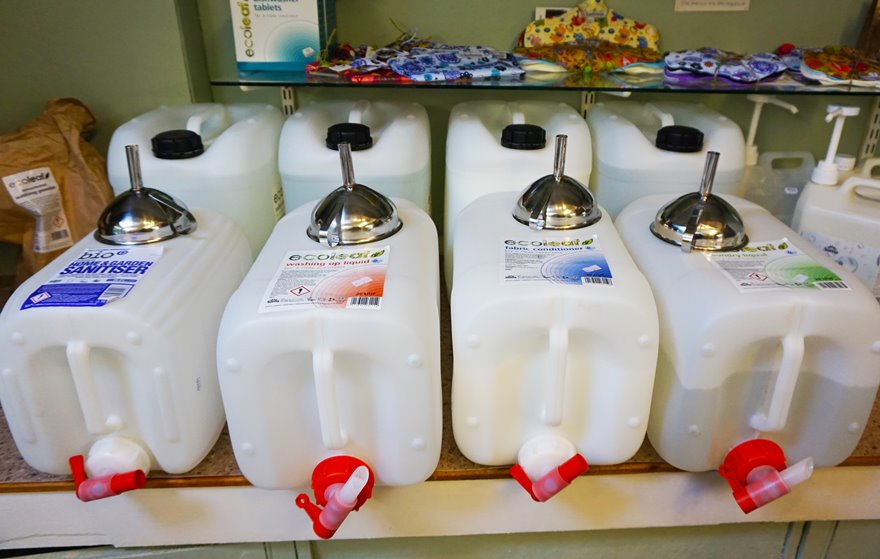 What makes Tania and Jerry inspirational?
Tania confessed that there have been fleeting moments when she's thought "Is it too late?" to help make a change? Finding suitable suppliers became an obstacle, with many companies offering fantastic products but no alternative option to plastic packaging or unsuitable containers during transport.
In the months prior to opening the store, David Attenborough's BBC documentaries brought the dangers of plastic to the forefront of British news and simply cemented the belief that every effort is worth it.
They do their own little litter pick when they walk the dogs now, and have even set up a crisp packet recycling point in the store. Simply bring along your empty crisp packets and Happy Planet will send them off to be recycled, where they are melted down and turned into pellets which are then used in road coverings and so on.
If you're in the area, do make sure to pop in even just for a look around.