Add a Festive Touch to your Stay
Make your Christmas cottage break in Wales one to remember
A holiday at any time of year is special enough, but a holiday at Christmas is truly magical. That being said, our Concierge Team are here to help lend a hand and make your stay even more special with their fantastic range of festive extras ready for you to add on to your stay.
Packing a week's worth of luggage for a family into one car can be somewhat of a challenge in itself, without having to stress about how to leave enough room for Christmas decorations too. So unless you're travelling down in a lorry, you might want to save yourself the stress and leave it to us instead. For just £50, you can hire a 6ft artificial tree complete with lights and mixed decorations. The best bit? We'll deliver it to the cottage and set it up before your stay, then take it down and collect it once you've departed. The option to decorate yourselves is always available, just let our team know upon ordering.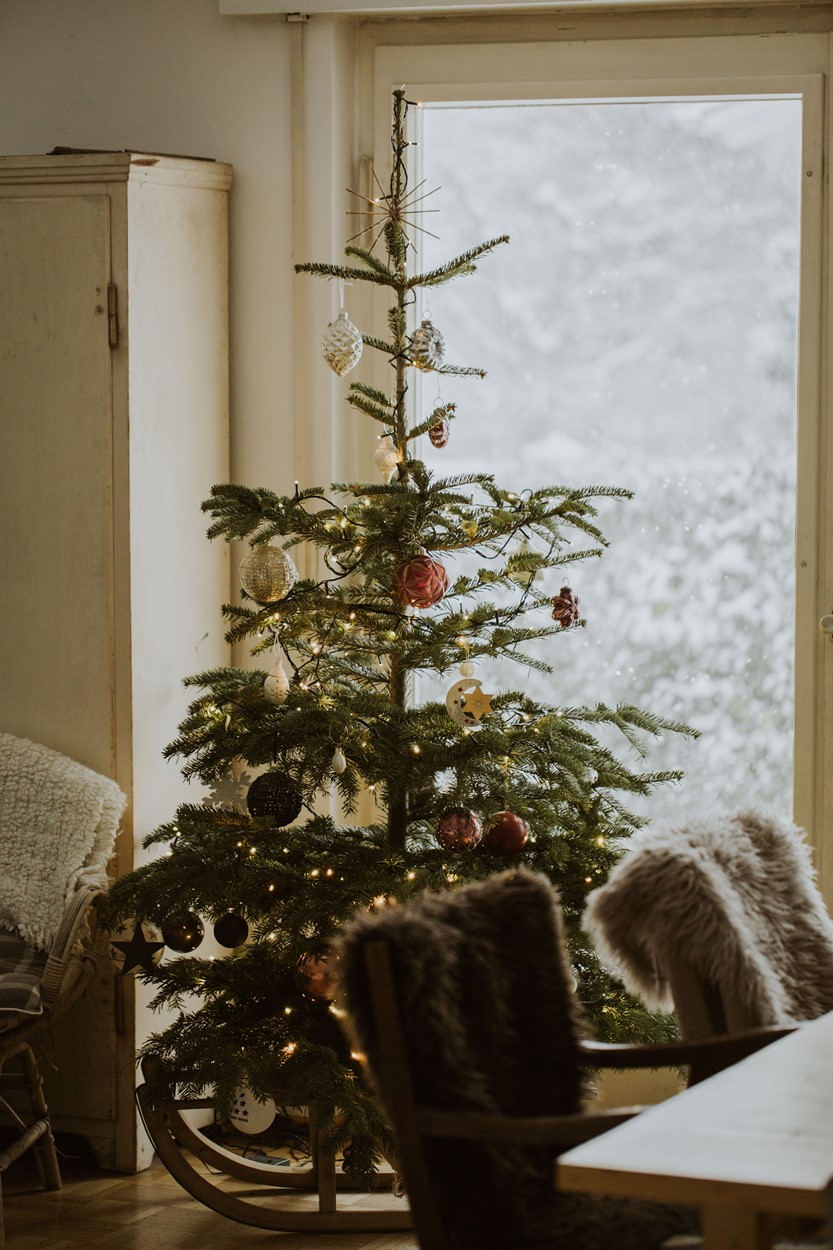 If you're having a romantic Christmas away just you and your sweetheart, one of our Festive Flower Bouquets makes the perfect choice. At £45, the Festive Cheer Basket (below) is a quaint arrangement made up of classic red roses, chrysanthemums and traditional festive touches including holly and cinnamon whilst the Scented Woodland Gift Box (pictured at the bottom of the page) is the more neutral option. At just £40, this incorporates white tulips, hyacinths, pistache and pine cones to create a stylish choice all winter long.
Add a roaring log fire to a night in with all the family sharing stories, laughs and mince pies; and you've got the ultimate cosy Christmas night in. Make sure you have everything you need with our Starter Pack of Logs and Kindling. For £20, this package includes a net of logs and a net of kindling plus matches and papers to help you get that fire going. This pack has plenty to keep you going for the first few days of your stay.
To order any of the above, give our Concierge Team a call on 01437 772755. Click here to see full details of the Festive Extras available this year, and keep an eye out for our next blog all about the fantastic foodie extras we have available this Christmas!