Ideal Extras for your Dad on Father's Day
Give a hand-prepared gift or find an activity to do together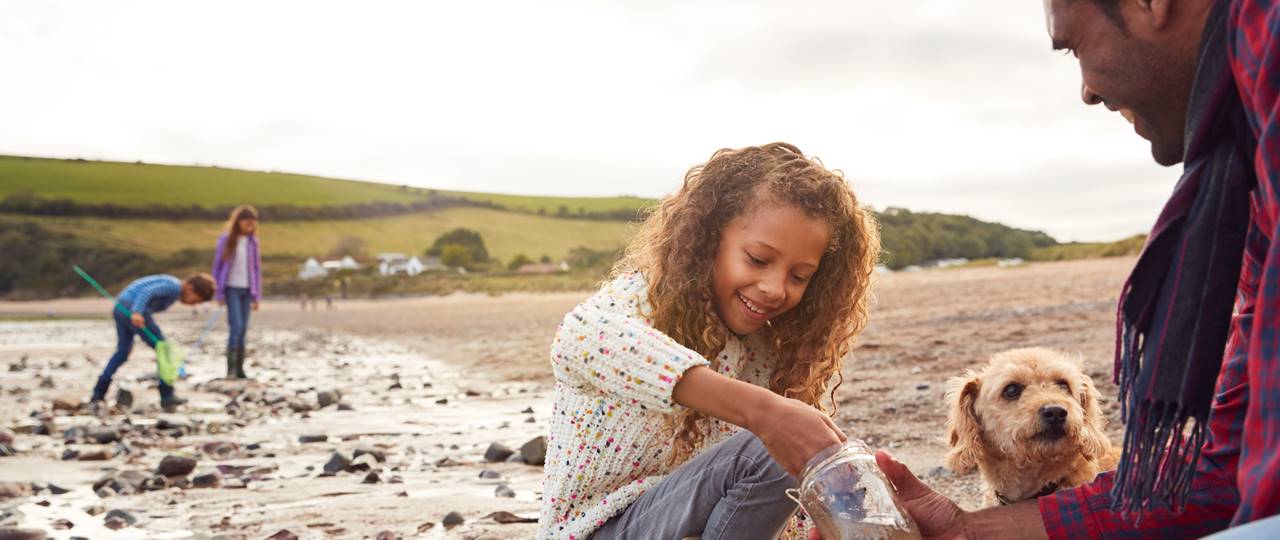 By booking a stay with Coastal Cottages, you have access to our dedicated Concierge Team who are on-hand to help you arrange that perfect something special for the dad in your life. Whether you're wishing to treat your own dad, spoil a step-dad, say thanks to your grandad or even help your brother/lover/friend to celebrate their first Father's Day, we can help you arrange a gift just right.
Year after year our Holiday Hampers make a favoured surprise gift. With one quick call to our Team before your stay, we can arrange to have your chosen hamper delivered to your property so it's ready and waiting when you arrive – your dad need never suspect a thing until he walks in and sees that hand-picked hamper on his arrival!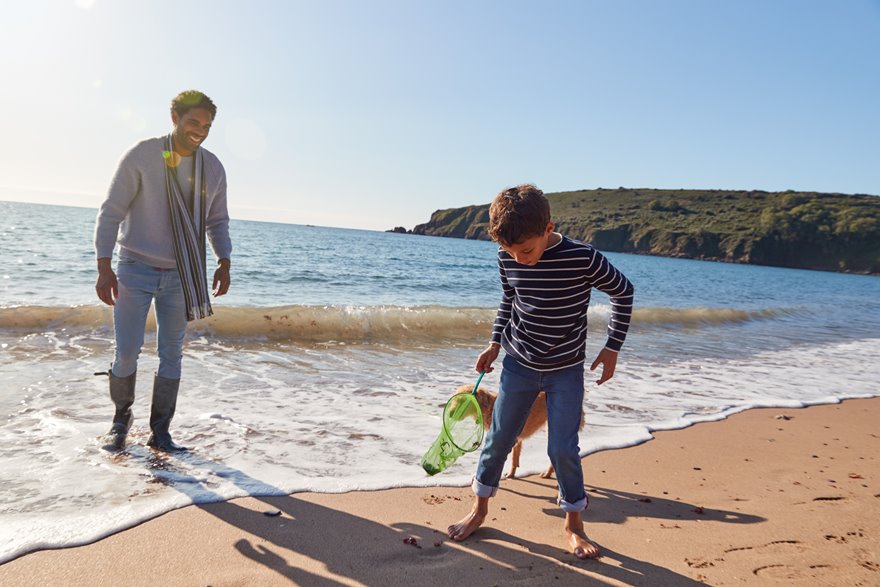 For dads, we think you can't go wrong a locally brewed beer. Handcrafted in the heart of Tenby by our friends at Tenby Brewing Co., these beers are the perfect accompaniment to a sunny day spent catching rays in the garden. These days, our Beer Packages each come accompanied with a couple of packets of quality Pembrokeshire Biltong from our pals at From Our Farm. What more could your dad want than a nice cold refreshing beer and a savoury snack?
What if your dad isn't much of a beer drinker I hear you say? Go for a glass of smooth single malt Welsh Whiskey with our Whiskey Hamper complete with a Welsh cheese, chutney and jam, or indulge in three creamy flavoured Welsh cheeses with our Cheese Hamper which comes with grapes, biscuits, chutney and olives.
As an alternative to the traditional act of gift giving, why not take your dad out for some quality time together and try out a new activity together? If your dad is a lover of the sea, try one of Pembrokeshire's popular watersports. We can book you and your dad in for Surfing, Coasteering (which includes a mixture of cliffside scrambling, leaping and swimming) or Kayaking and don't worry, all are suitable for complete beginners so no previous experience is required. Our qualified instructors will kit you out in the necessary equipment so all you need is some trunks and a towel.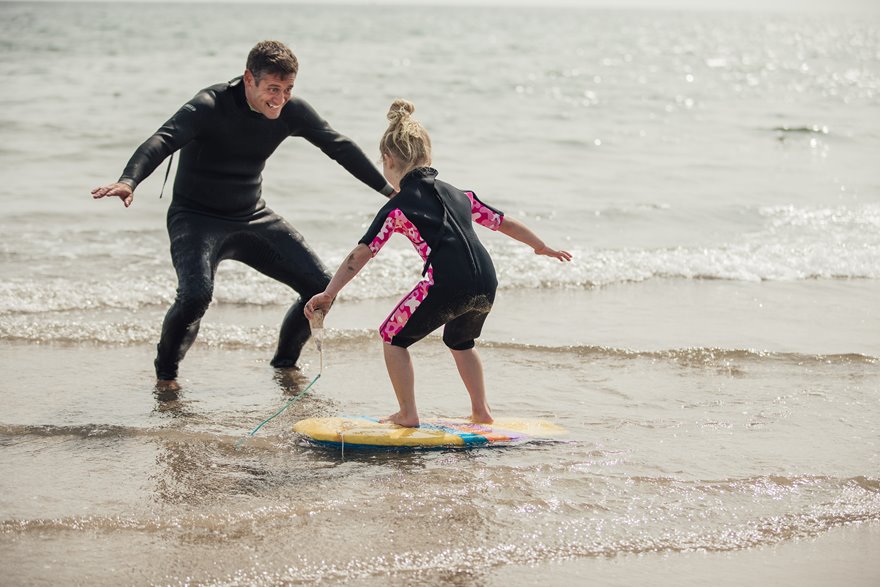 For something a little different (and less wet!), try our beach-side Kiteboarding sessions at Newgale and learn how to cruise along the sands on a mountain-board using a power kite to steer and navigate your way around. This activity certainly brings a whole new meaning to spending a day at the beach!
Maybe your dad loves to explore the outdoors but the watersports and beach activities just aren't for him. With our Guided Walks, you can build your own walk experience focussing on a love of history, a passion for wildlife or even simply a deeper exploration of your favourite places. Our qualified guide can create a bespoke experience just to suit you.
Help your dad tick something off the bucket list and book him in for his very own Flying Lesson. This lesson in aviation will teach your dad the basic controls needed to fly the plane and will also give him the opportunity to control the plane himself. Undeniably, this will make any Father's Day unforgettable as the views from the skies are truly spectacular and not to mention, it's not every day you get to fly a plane.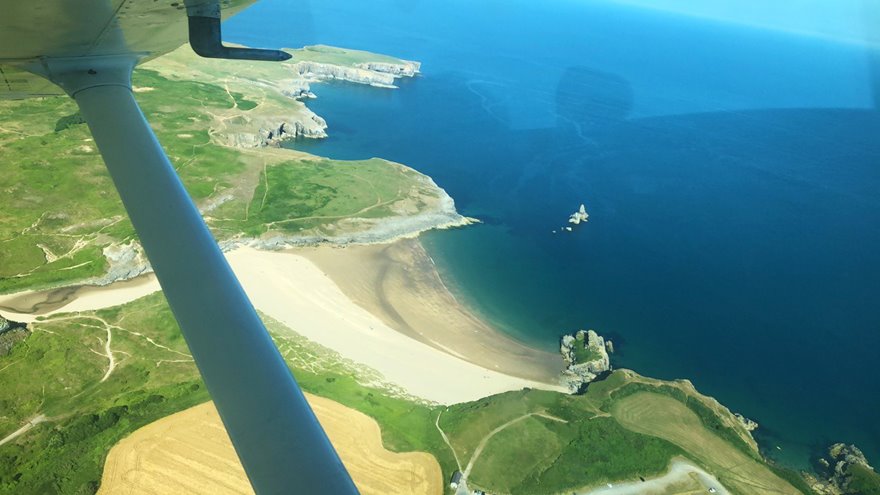 Broadhaven South from above
If you're planning something somewhat more relaxing, you might want to try out our Fishing Trips from St Davids. All equipment is provided, including tuition where you can pick up some handy tips. These trips are a fantastic way to spend a few hours chatting the time away with your father whilst taking in some beautiful Pembrokeshire scenery and learning the art of fishing. 
If you have a foodie for a dad, surprise him with his very own Private Cookery Lesson. You can specify the cookery topic, such as cooking with seafood or curry-making, or choose from our suggested subjects. This one-to-one experience will teach your dad a wealth of skills and techniques from our chef, which can be applied to his everyday cooking at home. Expand his foodie knowledge with new recipes and tricks, and indulge his taste buds! No doubt you'll reap the benefits of this one when he tests out his new skills over the following weeks.
To enquire about booking any of the packages mentioned above, please call our team on 01437 772755. Of course our full range is always available, so you might want to take at all of our other packages here.