Pembrokeshire's Islands
Take a trip to Skomer, Ramsey or Grassholm for a memorable day out
For those of you with a passion for wildlife, a Pembrokeshire boat trip is a must - you're guaranteed to be greeted with incredible sights of seabirds, sea animals, flowers, plants and more.
Skomer Island
Think of Skomer and you'll automatically envision sights of puffins. And it's no wonder, as Skomer Island is home to the largest colony of breeding puffins in Britain. With an impressively large colony of puffins and the largest Manx Shearwater colony (165,000 pairs!), you can also spot a range of other seabirds such as razorbills, guillemots, peregrine falcons and kittiwakes. The island is full of warrens burrowed by resident rabbits and other sea life such as Atlantic grey seals, porpoise and even dolphins can sometimes be seen.
Only 730 acres in size, Skomer Island is managed by The Wildlife Trust and is a designated Site of Special Scientific Interest (SSSI). It is Wales' only marine nature reserve. Take a trip to the island from Martins Haven but plan to get there early as they work on a first-come-first-served basis, no advance bookings.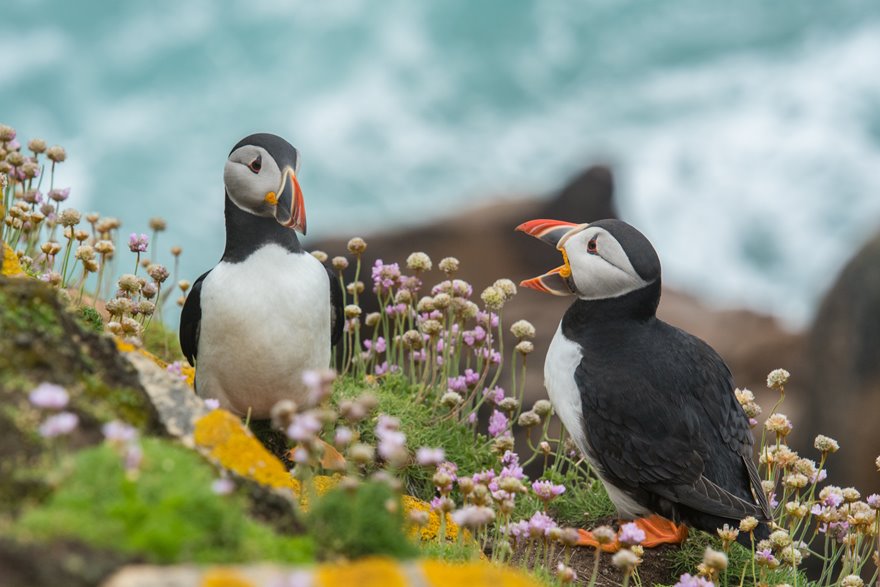 Puffins on Skomer
Ramsey Island
Just off the coast of St Davids is the RSPB island of Ramsey. Also a designated SSSI area, it is one of the largest seal pupping sites in the area meaning it's particularly popular around September during pupping season. Much of the beaches and coves are taken over by Atlantic grey seals as they give birth making for a truly spectacular scene.
The island is also a Special Protection Area where the RSPB care for endangered species such as choughs. Other seabirds who occupy the island include ravens, guillemots, peregrines and manx shearwaters. Along with sea life, the island is home to Welsh mountain ponies and up to 200 Welsh mountain sheep.
A range of trips to Ramsey are available through our Concierge team (click here for details), choose the original adventure trip or opt for an exhilarating jet boat adventure. Book a Land on Ramsey Island trip and explore the island with a guided walk, stroll the nature trails or call into the island's visitor centre for more information about the island. 
Grassholm Island
Smaller than Skomer and Ramsey, Grassholm Island is located much further out to see and is one of the RSPB's oldest reserves.  Best known for one particular species of seabird, Grassholm is home to approx. 39,000 pairs of gannets. This colony of white birds makes up approx. 10% of the entire population making it one of the top three most important sites in the world for these birds.
Grassholm Island is a great spot for spying sea animals such as porpoise and dolphins as they often use the area for feeding. You might not be able to land on the island, but a trip around the island is most certainly worth it for the wonderful sights you'll see.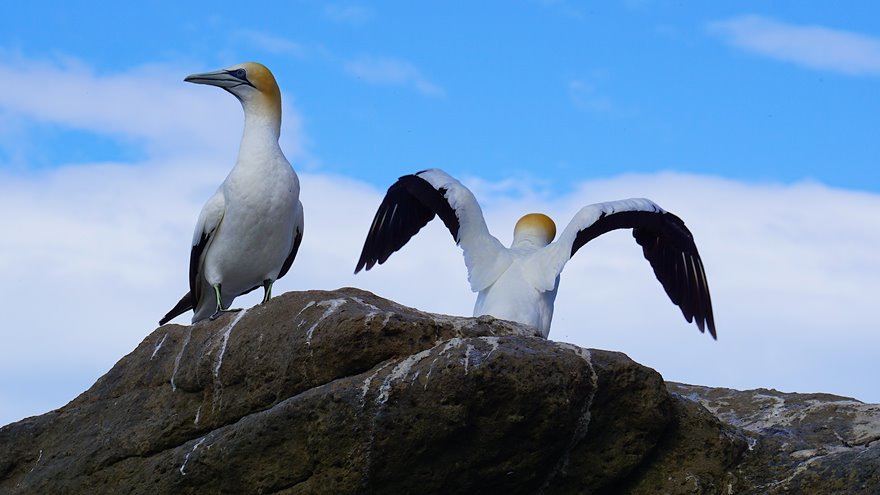 Main Image: © Crown copyright (2013) Visit Wales