Four Dog Friendly Attractions in Pembrokeshire
Where will you and your dog visit first?
Around half of the team here at Coastal Cottages have dogs so believe us when we say we know a thing or two about taking dogs out and about in Pembrokeshire. And with over thirty-five years of experience in the holiday cottage business, it's safe to say we also have a pretty good knowledge of what you need when looking for a dog friendly holiday cottage in Pembrokeshire.
We love to share our top tips and local insight to help you and your doggie have the very best holiday experience you possibly can. Seeing as we spend 365 days a year exploring our home county with our canines, it seems only right that we share with you our top four dog friendly attractions in Pembrokeshire.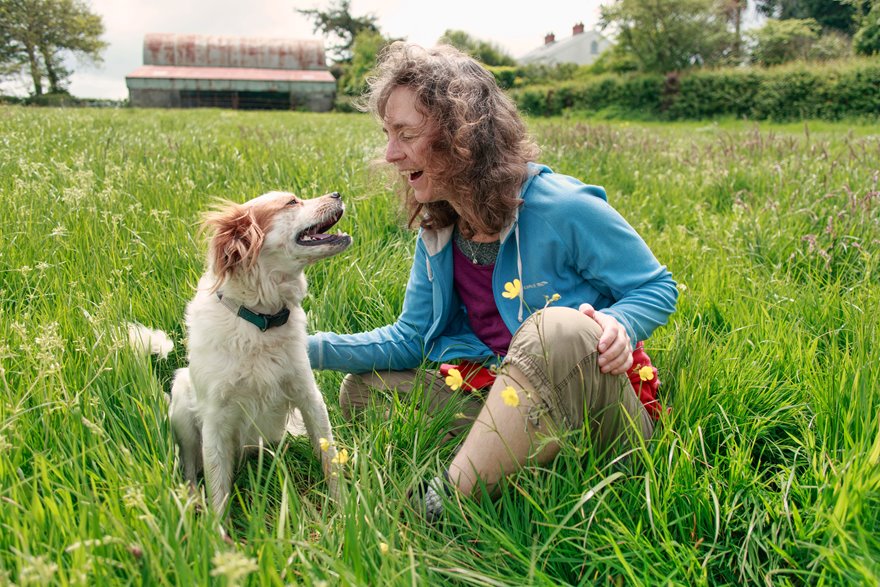 Each and every time someone asks us "where is the best place to take my dog for a walk?", our go-to answer is the same. The Pembrokeshire Coast Path. Part of the wider Wales Coast Path, this footpath is a dog walker's paradise.
A remarkable 186 miles in length, the Pembrokeshire Coast Path hugs the coastline from St Dogmaels down to Amroth taking you through picturesque harbours, old fishing villages, along glorious sandy beaches and past some of Wales' most incredible geological landmarks. Everyone who walks the path has their own preferred stretch but there is a wealth of beauty on offer no matter which section you walk.
Wildlife enthusiasts may head straight for St Davids Head in hope of spotting the resident porpoise, beach-lovers will no doubt want to hike out to Barafundle Bay which only accessible via the Coast Path whilst others will no doubt want to marvel at the chapel in the cliffsides at St Govan's.
The full 186 miles of the Pembrokeshire Coast Path is completely dog friendly, although you may be asked to keep your dog close to you on a lead in certain sections or at specific times of the year due to the livestock and wildlife around. For instance, September sees Atlantic grey seals take to the smaller coves and bays as they breed their pups so be careful not to let your inquisitive four-legged pal disturb them during this time.
Accessible to all, you can choose how much or how little of the path you want. Choose a holiday cottage on the coast path and you can walk the same stretch each morning, jump aboard the dog friendly coastal shuttle buses in the area to travel a little further afield, check out the wheelchair friendly walks or challenge yourself to walking the whole path and you can even receive a certificate to honour your achievement!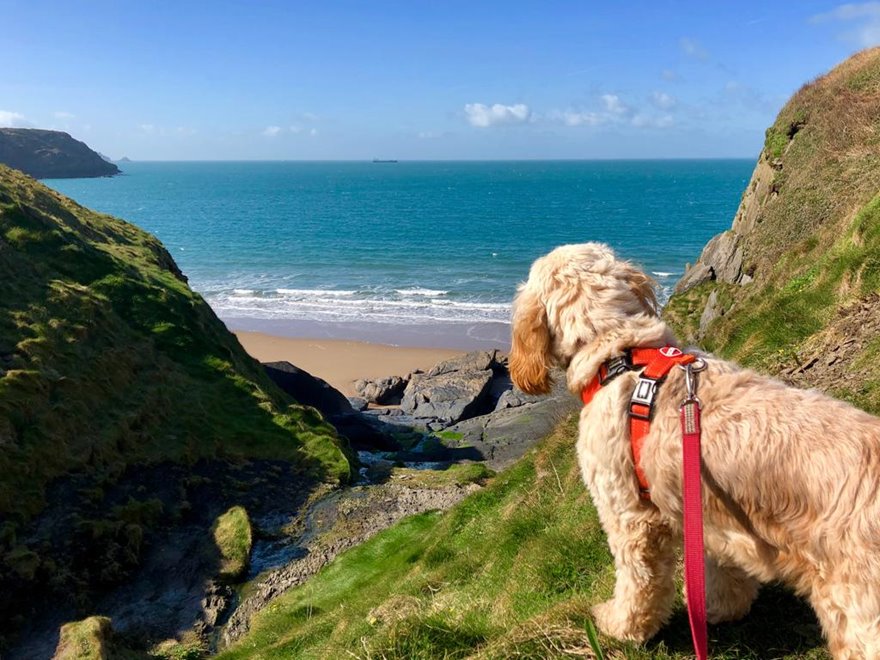 Situated on the outskirts of Haverfordwest is Clerkenhill Adventure Farm, a family friendly day out welcoming all dogs on leads. This attraction is a real countryside treat bringing together farmyard animals with family activities creating a fun experience for all.
Small children can bounce around on the indoor bouncy castle, soft play area or try out the peddle tractors, whilst older children may prefer to have a go on the go-karts. The whole family can walk the adventure trails through the woodland or enjoy a game of frisbee golf, where the aim of the game is to land your frisbee in the basket. Take advantage of the large play areas, the outside seating areas, the giant slides, seesaws and adventure castle to really make the most of your day here. As for the animals, you will find new friends in pigs, goats, donkeys, cows and Shetland ponies.
Clerkenhill Adventure Farm is usually open daily between Easter and September then between September and October Half Term, it closes during the week remaining open only on weekends. Enjoy a bite to eat in the café, purchase a cuddle toy in the gift shop or pay a visit for one of their special events throughout the season.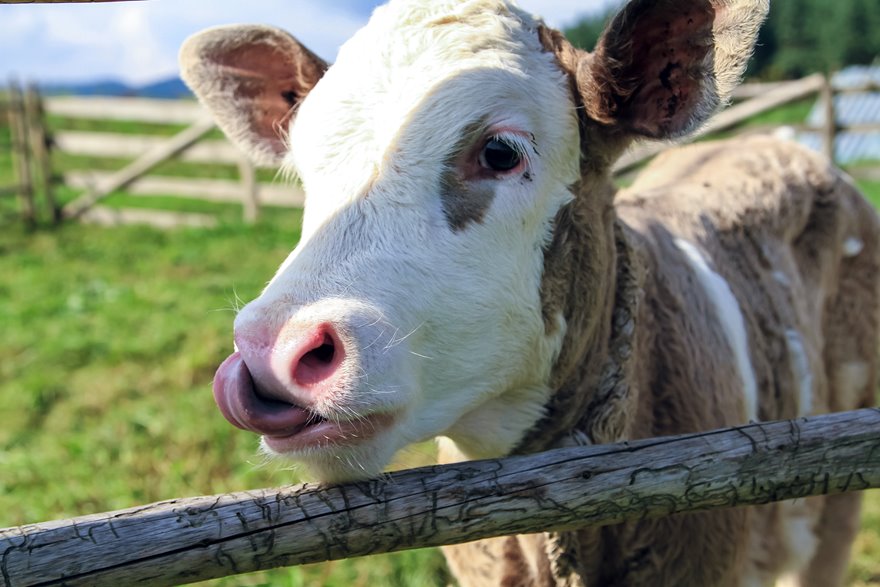 It's impossible to pay a visit to the historic town of Pembroke without noticing the magnificent 11th Century fortress standing prominently over the surrounding millpond. Wales is known for having more castles per square mile than any other country in the world, and Pembroke Castle is easily up there with one of the best to visit.
Well behaved dogs on leads are welcomed in the castle grounds and are even allowed to come along when they host special events such as family activity days in school holidays and the ever-popular annual Christmas Market which is held in late November. Plus, water bowls are available throughout the castle for use when your canine gets a little thirsty. However, they are restricted from entering the gift shop and the café plus you're not allowed to bring your pooch along to any night-time events such as the Ghost Tours or the music festival weekend, Rock the Castle, held in mid-June.
So, what makes Pembroke Castle a must-visit? Well if you're a fan of history, it's a pretty obvious choice with a history spanning ten centuries, numerous revolts and reconstruction around the early 13th Century. But there are two specific reasons why castle aficionados will be desperate to pop into Pembroke Castle; the first is that it is the only castle in Britain which is built over a natural cavern, known as The Wogan. Secondly, and a real treat for fans of the British monarchy, Pembroke Castle is, in fact, the birthplace of Henry VII, the very first monarch of the Tudor dynasty. Records state that King Henry VII was born in one of the castle towers on 28th January 1457.
Since 1969, this stronghold has been under the management of the Pembroke Castle Trust who works to conserve and maintain this amazing Welsh ruin. Explore the well-preserved circular Great Keep or pay a visit to the now-named Henry VII Tower where you will find a stunning tableau depicting the birth of the king.
Throughout the castle, you will find video rooms and displays illustrating some of the present staff, along with the world's largest map of Wales on the ground in the centre of the castle. Keep an eye on their events calendar as alongside their three day Christmas Market, Ghost Tours and Rock the Castle festival they also host activity days where you can dress up in pastime costumes and even watch live battle re-enactments.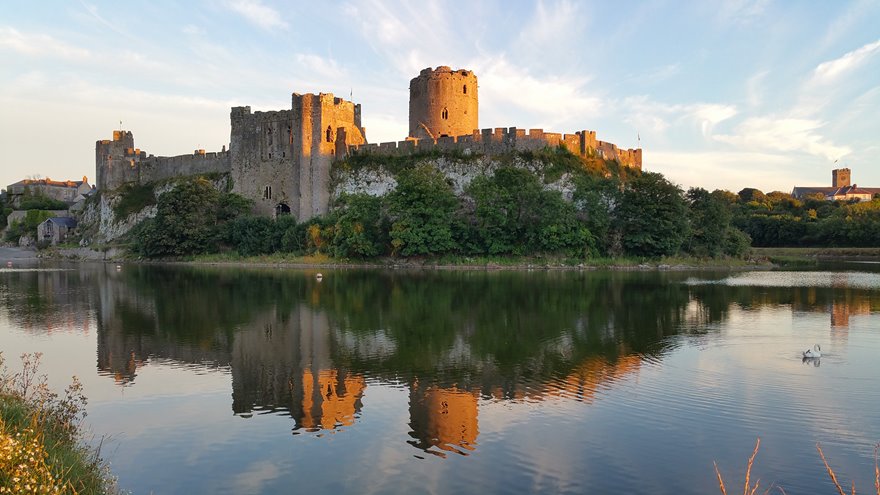 Picton Castle is an extraordinary 13th Century stately home set in a rural location, The Rhos, just a short drive from the county town of Haverfordwest. Once a family home for around 400 years, this grand abode is now an exquisitely preserved building with some 40 acres of gardens just waiting to be explored.
Keep your pet pal on a lead during your visit and you'll be able to stroll through the beautiful gardens taking in sights of vibrantly coloured plants, ancient trees, pretty flowers and an abundance of wildlife. Picton Castle is a partner garden to the Royal Horticultural Society, so expect truly delightful gardens through these grounds. Discover new plant collections in the exotic jungle garden, find rare trees throughout the woodlands, and explore the Mediterranean herb garden within the walled garden here.
Families adore days out at Picton Castle with plenty of activities to get involved with. See if you can escape the large maze, laugh and frolic in the adventure playground, follow the family trails and play in the living willow dens here. Head over to the pond and see if you can spot the tadpoles and two European eels which inhabit this body of water.
Whilst your dogs aren't allowed inside the Castle or the Welsh Owl Garden which is now located within the grounds, you can still grab a bite to eat in the dog friendly section at Maria's Courtyard Restaurant and of course, tuck into a picnic in the outside eating areas. You might even be interested to know that Picton Castle even hosts its own dog show each year.