A Spotlight on St David's
St David's is the perfect place for history and adventure!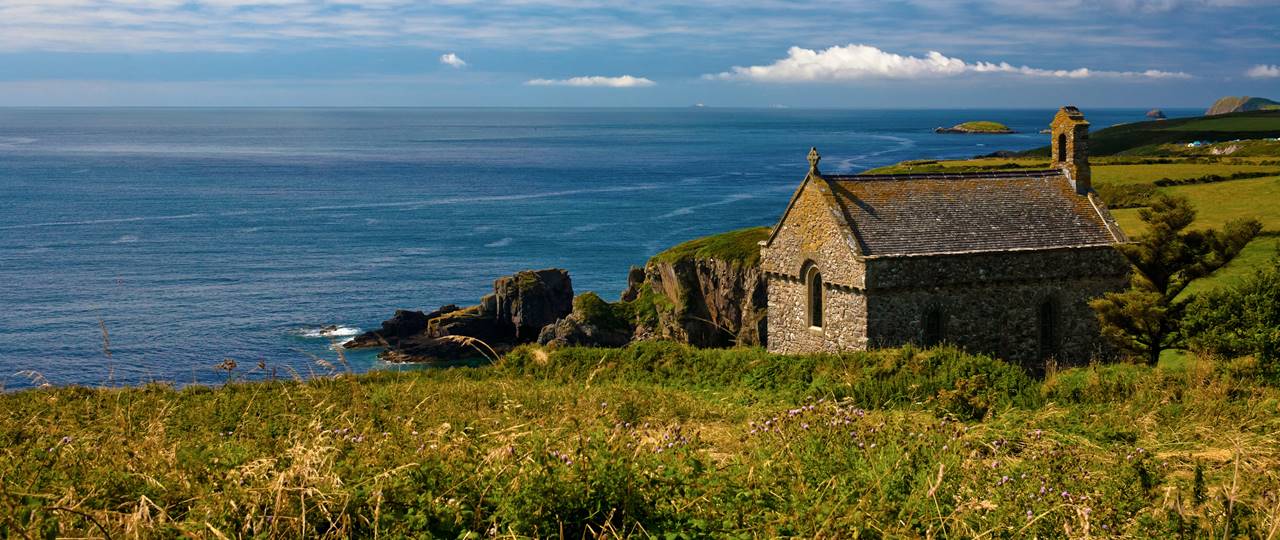 When you think of St David's, we're sure St David's Cathedral (that makes St David's the smallest city in the world) springs to mind, and there is no doubt that this magnificent Cathedral is a beautiful wonder in its own right! Founded a 6th-century monastery by the patron saint of Wales, St David trained missionaries here to help spread Christianity to Ireland. The small city wasn't however awarded its 'city status' until 1995 and since then has become internationally known.
Of course a visit to St David's Cathedral isn't all the city has to offer, If you want to know where to uncover a quaint gallery with gorgeous local art, a craft workshop, the best foodie stops (including ice cream) as well as what activities and attractions are available then, carry on reading this article…
What to do in St David's
Your itinerary for the day is probably going to be weather dependent, the great thing about St David's is you'll find something to do come rain or shine. When the sun is shining, you can't not visit St David's Cathedral. The beauty of this building will be sure to stop you in your tracks. It seems to be one of these places that no matter how busy during the peak of summer, its atmosphere always remains to be peaceful and relaxed. Pack up a picnic with your favourite sandwiches and relax on the glorious surrounding green grounds.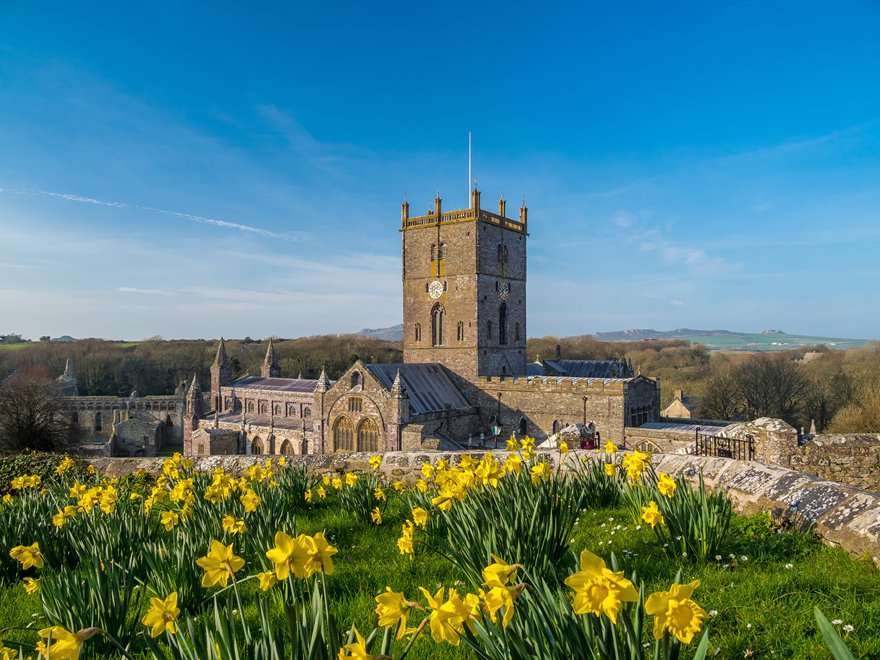 St David's Cathedral 
Next to St David's Cathedral lay the remains of Bishop's Palace, another magnificent site to see. Once a former medieval building, it would have been one of the finest collections of buildings in Wales. Within the Palace, much of the wall structure remains (minus the roof), it's a great place to wander around and explore. There are facilities such as pay and display parking, toilets and a gift shop, where you can collect a guidebook and delve deeper into the rich history that St David's has to offer.

Another historic landmark to visit which is situated immediately south of St David's is St Non's Bay, the location is named after The Patron St of Wales' Mother and is thought to have been his birthplace. A path leads across the headland to the ruins of the 13th-century chapel and there is also said to be a 'holy well' with waters that have healing powers, whether you believe it or not, a visit to St Non's ruins is worth it, even if only for the breathtaking views.
If you're after sea and sand – head to Whitesands Bay, one of Pembrokeshire's beautiful blue flag beaches, known for it's gloriously golden sand and the prominent imposing hill of Carn Llidi, that overlooks the beach (if you're up for some exquisite views, a climb to the top is more than worth it). If you don't fancy this 30-minute walk from St David's to Whitesands, jump in the car – there's a large carpark at the beach! Enjoy an afternoon reading your favourite book by the shore, or for the more adventurous why not try your hand at water sports – choose from kayaking, surfing, even windsurfing. You can hire all the water sports equipment from the beach shop, don't forget your go pro's to catch them epic fails!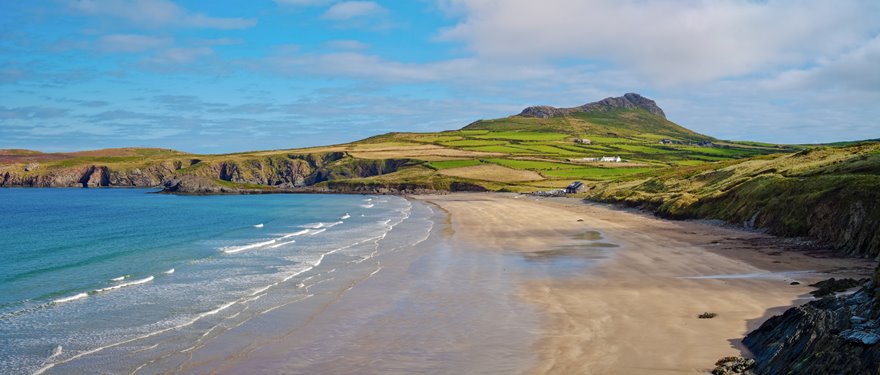 Whitesands Beach - St David's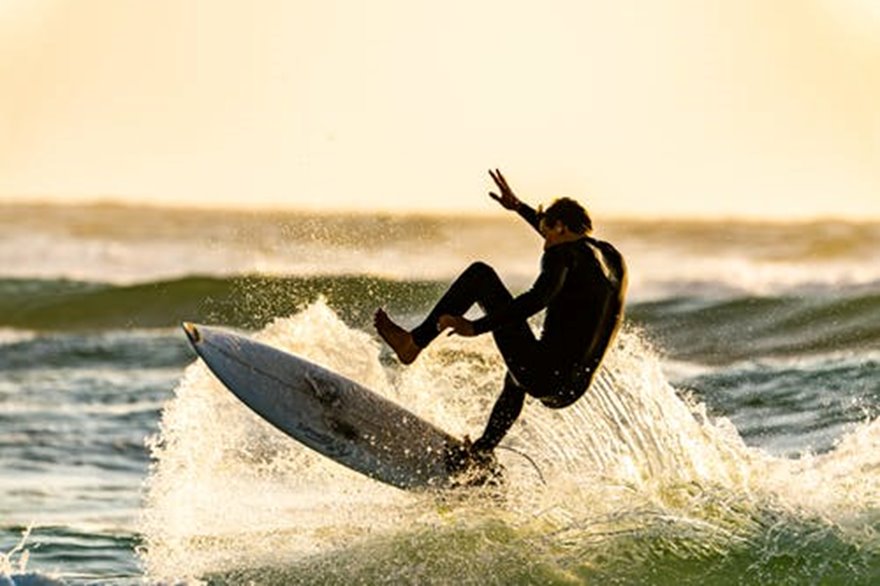 If you're a newbie to water activities and could do with a few lessons to boost your confidence, or perhaps fancy going out on an exploration day as a group, then TYF adventures are where you want to head to! Located in the centre of St David's they have their own gear shop. They offer a range of activities from - Kayaking day tours, paddle boarding, surfing lessons, coasteering, coastal rock climbing as well as Rockpool safari's, which are great for young children! To find out more about what's on offer, or to book online, visit their website!
If you've never been to St David's before, one thing that should be on your to-do list is a boat trip to Ramsey Island, the isle is a weathered and undeniably beautiful place to visit with an abundance of wildlife to spot. If you're someone with an interest in photography (especially wildlife) this isn't one to be missed. To find out more about the island, just click the link below to read in more depth about this fascinating place.
If the weather is not in your favour during your St David's adventure, fear not. The Tyddewi Gallery exhibit a marvellous collection of ever-changing art by both local and invited artists. Paintings, ceramics, glass, bronze and metal are all part of this beautiful gallery. You'll find it difficult to leave without making a small purchase!
St David's also has an array of interesting shops to wander around, not your average high street, it has more of a traditional feel. Here you will be able to find some little gems that you would be hard pressed to find anywhere else.
What to eat in St David's
St David's Kitchen - Farm to fork: St David's Kitchen has been born out of a love for the St David's Peninsula – the local community, the environment and locally grown food. They are well known for only serving the freshest local produce, including their own St David's Welsh Black Beef (reared within the Pembrokeshire Coast National park just outside St David's) and newly added to their menu Ramsey Island lambs and venison. They support local farmers, producers and fisherman and that deliver such spectacular food to your plate.
Oriel Y Parc - If you're after a warm cup of coffee and a hearty slice of Victoria sponge this is the place for you. Oriel y Parc aims to provide more options than your average café; gluten-free, vegan and dairy-free options are also available. Located inside a National Park building, after your coffee wonder around the gift shop and art gallery in partnership with the National Museum of Wales.
Farmers Arms - A traditional small and cosy village pub. Here in this quirky old style building, you'll find lots of friendly locals and tourists alike enjoying the weekend with great food and ales on offer. For a friendly, bustling atmosphere and comforting pub grub, this is definitely worth a visit!
The Bench - (just a short stroll around the corner from the Cathedral). Here they make ice cream using traditional methods, so it tastes just like it was hand-cranked, as you'd expect. Using the finest local organic milk from Caerfai Farm they then mix in their secret homemade recipe.
Child-friendly in St David's
Finding fun things to do with the kids isn't always easy! However all the activities discussed in this article are great for not just grown up's, but the little ones as well! St David's is a great family-friendly environment, encouraging families to get out together and explore. For more information on what to do with the kids during a visit to St David's, just click the link below!