Where to Eat in St Davids
Explore the fantastic food scene this picturesque Welsh city has to offer
As any foodie will tell you, the first step in planning a holiday is finding out where the great places to eat are. Well if you're thinking of paying a visit to St Davids, you're in for a real foodie treat! It may be the smallest city in the UK, but it has a big foodie journey to share.
Whether you're looking for a peaceful café to enjoy a slice of cake, a friendly pub to become your very own local for the week or a contemporary restaurant you can't wait to brag to all your friends about; this historical little city has it all.  
For something special
If you're looking for a memorable evening in a stylish restaurant, it has to be Blas Restaurant. Set in the grounds of the Twr Y Felin Hotel which is located on the road out of St Davids towards Caerfai, you are sure to be impressed with their contemporary menu and mouth-watering dishes.
This Two Rosette restaurant focusses on fresh ingredients creating a menu which varies depending on the season. Ingredients are always kept as local and fresh as possible, and even includes foraged produce from the surrounding coast. Dine here for breakfast, lunch or dinner, or enjoy afternoon tea. Indulge in cocktails, champagne, wines and delicious dishes.
For those with a sweet tooth
Gianni's Ice Cream from The Bench is a must. Set on the corner opposite City Hall, this charming ice cream parlour offers a wide range of hand-crafted velvety ice cream in a number of flavours. Whether you're a huge ice cream lover or are simply calling in something cool on a hot summer's day, you are guaranteed not to be disappointed with your purchase.
Made with fresh milk from Caerfai Farm just down the road, Gianni's ice cream is made using genuine Italian methods and incorporates local produce to create an impressive variety of flavours. The selection varies throughout the year but you can expect to see flavours such as Death by Chocolate, Salted Caramel, Eton Mess, Bubblegum, Turkish Delight and more. You can also purchase hot drinks and even dog-friendly ice creams to help your pooch cool down!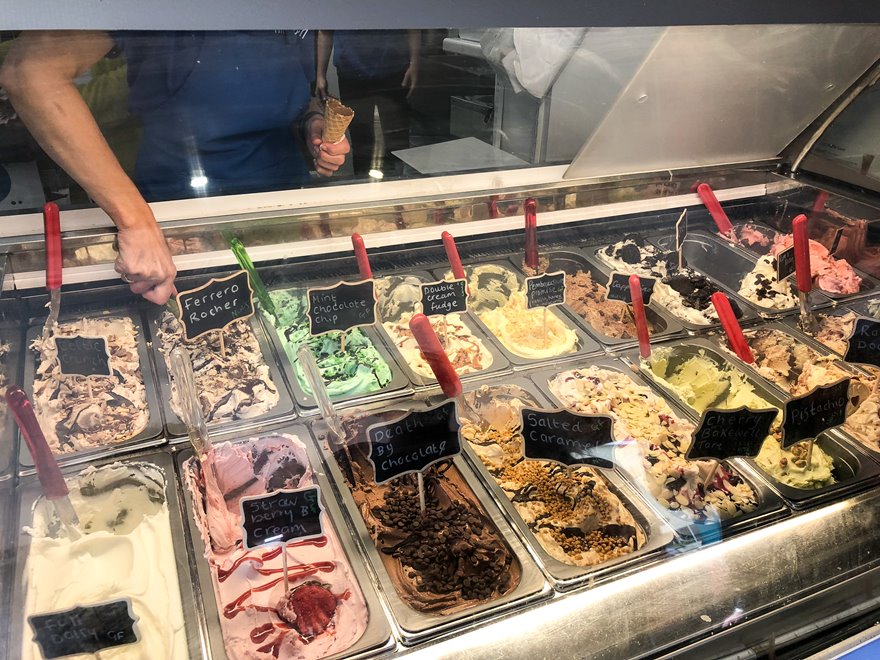 The dizzying selection of delicious ice cream at The Bench in St. Davids
For traditional pub grub in a family-friendly setting
The Bishops has been a firm favourite amongst locals and visitors alike for years now. Set overlooking Cross Square, it's impossible to explore the UK's smallest city without spotting this friendly pub. With rustic wooden furnishings and a welcoming family-friendly atmosphere, it's no wonder it's so popular.  
The Bishops is open all year round and offers a classic menu complemented by a varying specials board which more often than not, lists locally-caught fresh fish including lobster and crab. The menu has something to suit everyone no matter your appetite offering light lunches and established pub favourites alongside a children's menu. You might even be able to catch a live music performance from a local band during your visit.  
For the quaint cafe
It's got to be The Meadow. It's easy to underestimate this cute café, situated on the High Street nearby to Cwtch Restaurant, but The Meadow has much more going on than first meets the eye. First, you're sure to notice the incredible menu. The menu clearly states which dishes are vegetarian, vegan and gluten-free – and those of you sticking to such diets will no doubt rejoice to hear that there are various options for each. And if you're looking to sample some classic Welsh dishes, this really is the place for you. Dishes include Welsh Rarebit, Lamb Cawl, Welshman's Sandwiches and more.
On top of a great menu (which does alter seasonally depending on the produce available), The Meadow values sustainability. As a result, they maintain a policy of sourcing fair trade and local produce from farmers and producers who follow the same mentality. They host special events and film nights to help them keep in touch with the surrounding community and also keep the use of renewable resources at the forefront of their mind.
Last but not least, they also run a mobile coffee hut named The Bakehouse which you might just spot at festivals and events across the UK offering great coffee, delicious cakes and more.
For something extraordinary
Book a table at Grub Kitchen, the UK's very first insect restaurant. Set up by expert entomologist Dr Sarah Beynon on the same site as her Bug Farm just outside St Davids, this restaurant is most certainly something a little different. Incorporating quality cooking with entomophagy (the eating of bugs and insects), this innovative restaurant has created an unforgettable dining experience for all with a truly impressive menu. And fear not, if you can't quite bring yourself to sample edible bugs – you can choose from their range of insect-free dishes.
For produce as local as possible
Try the farmer-run St David's Kitchen set down Nun Street. Founded by farmers, there's no questioning that quality local produce is of the utmost importance, so much so their tagline is "A Farm to Fork Project". Working alongside an array of local producers, the menu is what you might expect from a typical Welsh restaurant located along the coast. Think seafood, pie and chips, Welsh beef and burgers, along with a hearty traditional Sunday lunch each week.
The emphasis on local produce starts at home for these farmers. The Welsh Black Beef you'll spot on the menu has been reared by themselves on land situated just outside St Davids, whilst the Lamb and Venison comes to them from the nearby island of Ramsey just off the coast of this peninsula. St Davids Kitchen makes the most of the wealth of incredible Pembrokeshire produce at their fingertips, and this allows them to pride themselves on the fact that much of their produce travels less than 3 miles before it reaches your plate. Now that's pretty remarkable!