West Pembrokeshire Beaches
Explore the beaches of the Wild West of Pembrokeshire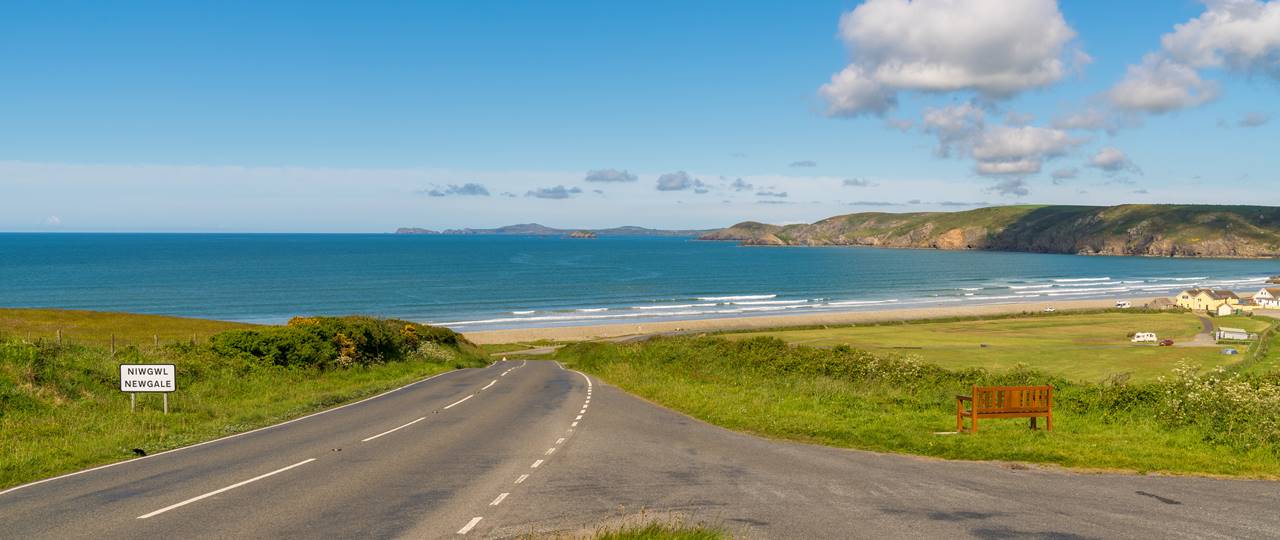 West Pembrokeshire has some of the best beaches in the county, with St Brides Bay boasting beautiful golden sandy shorelines, blue flag beaches and multiple seaside awards - a great place to explore. We have put together a list of all the beaches in West Pembrokeshire, as a helpful guide to anyone visiting the area, so you can make the most of your stay in this beautiful part of the world.
Solva Beach
The first beach that lines the curve of St Brides Bay is Solva Beach, located in a small bustling village with a number of different cafes, pubs and restaurants - great for those who are after a beach that has easy access to facilities.
The beach itself is a long sandy inlet flanked by cliffs - at low tide there is a generous amount of sand, (however this beach is less for those wanting to relax and sunbathe and more for the explorer) With streams of water that cut through the sand during low tide and a number of rock pools - this beach is a great place to bring the little ones for crabbing and discovering what little sea critters you can find within the dotted pools throughout the harbour.
At high tide, you won't be able to find much sand - however still a great place to visit for hours of coasteering fun! It's a very popular place at high tide to jump off the harbour walls and into the sea!
Solva Harbour Beach
Newgale Beach
Be prepared to slow down, apply your brakes and absorb Newgale Bay's breathtaking beauty. Newgale has everything you would expect of a beach - wide golden sand, surf bound waves and amazing skyscapes! Almost 2 miles long - This huge pebbled backed beach is the largest beach in St Brides Bay and is extremely popular for those wanting to surf or try kitesurfing!
Two cafe's, a pub and surf hire shop serve Newgale. In the summer months, there is also an ice cream van within the large carpark as well as toilet facilities. Lifeguards are on duty between June - September and unfortunately dog restriction apply from May - September, however, these restrictions apply only to the centre part of the beach. Dogs on leads are welcome at the furthest ends of the long sandy shoreline.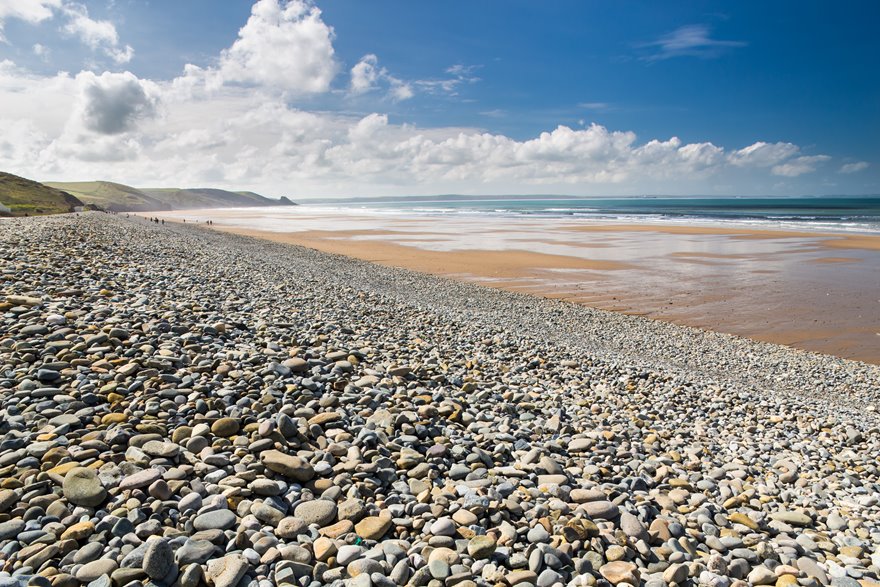 Newgale Beach
Nolton Haven Beach
flanked by cliffs, this narrow beach is a mix of golden soft sand and pebbles during high tide, but at low tide, a long beach is revealed. One of the more rural beaches in St Brides Bay - Nolton Haven is a great place to avoid the crowds in the busier months, as well as being a dog-friendly beach throughout the year - you can bring your furry friend along without having to worry about any restrictions!
There is a spacious carpark right opposite the beach with toilet facilities that are open within the warmer months. Nolton also has a pub and restaurant within the village, for those looking for a bite to eat. Swimmers visiting the beach should exercise caution as the current here can be strong!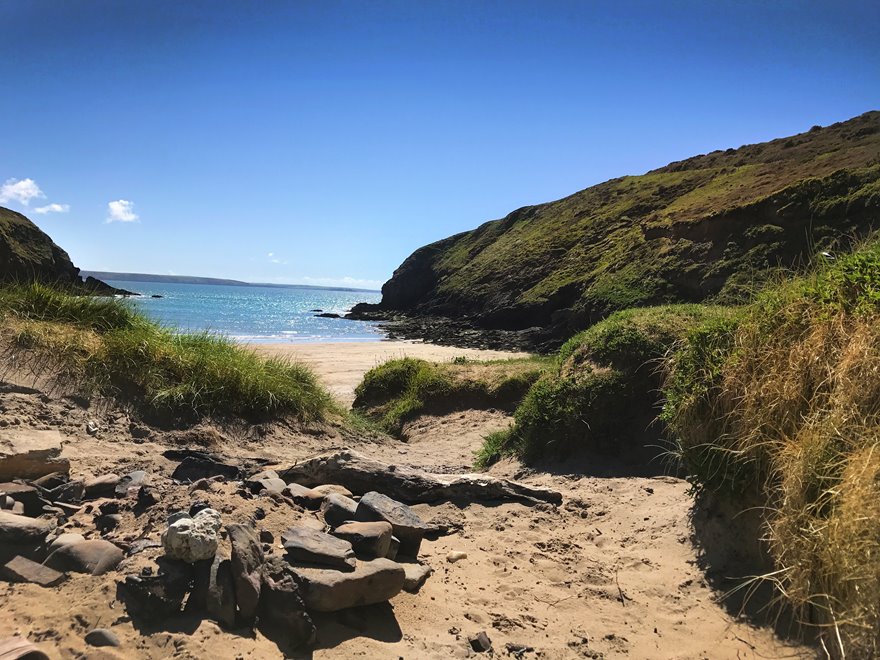 Nolton Haven
Druidston Haven Beach
Like Nolton, Druidston is another more rural beach situated in St Brides Bay. To access the beach visitors must descend a steep path and steps down into the cove, so access for people who are not as mobile would be difficult - However if you can make the trip, it is more than worth it, nearly a mile long, this secret little coved beach really is a charming place to visit.
Backed by steep cliff faces, this long sandy beach (during low tide) has some spectacular rock formations to the north end. There are caves and arches to explore, as well as a mini waterfall. A popular place for local photographers to get some interesting shots!
If planning a visit to Druidston Beach, the nearest parking is half a mile away at Haroldston Chins, here however you can walk the coastal path to your destination, taking in the breathtaking scenery as you go. There are not any beach facilities at Druidston, there is, however 'The Druidston Hotel' that overlooks the beach at the cliff's edge - Here you can purchase food and drinks and due to the hotel's stunning location - a visit here shouldn't go amiss. Watching the sun go down after a day at the beach, in the hotel's sea faced garden really is fantastic.
Broad Haven Beach
The village of Broad Haven boasts a marvellous Blue Flag sandy beach, which has been a firm favourite with bathers since the 1800s. Sheltered by imposing cliffs on either side, the Northern end of this long superb beach, has impressive geological features, including natural arches. The beach is extremely popular with families, due to its shallow bathing, plentiful facilities and easy slipway access to the beach for people who are less mobile.
If planning a visit here, the summer months can be busy - there is however a great amount of parking available, as well as a lifeguard on duty. Dog restrictions do apply to Broad Haven from May - September on the right side of the beach patrolled by Lifeguards. The left hand of the beach dogs on leads are welcome.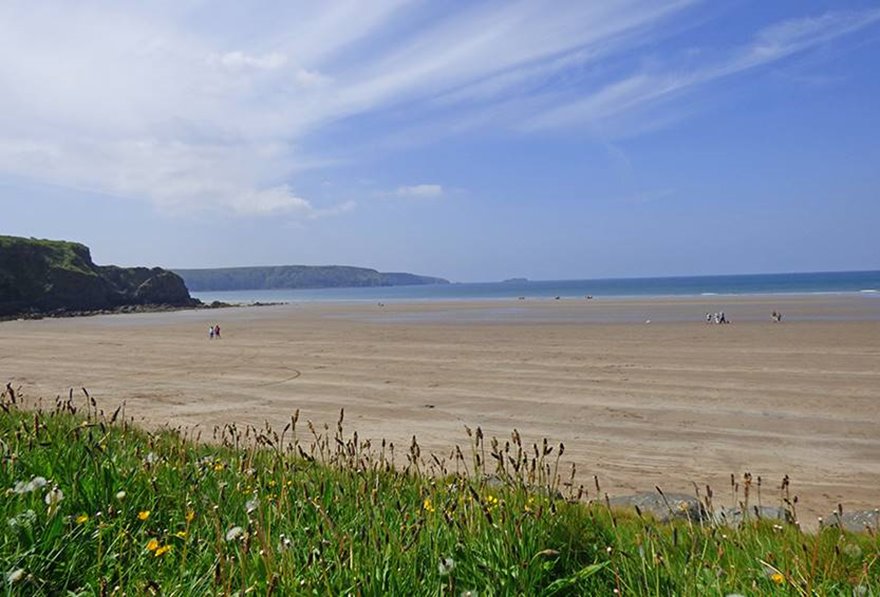 Broad Haven Beach
Little Haven
Little Haven, originally an old fishing village, is quaint and bustling, set around a picturesque cove with its lovely sand and shingle beach. Popular with families for swimming; Children love its safe paddling and rock pools. Its slipway makes it ideal for sailing enthusiasts and locals often fish from here in the summer months.
The Coastal Path runs through the heart of the Village, follow this over the headland to Broad Haven Beach, which is just a mile away. At low tide you can walk around the large bay called the Settlands and onto Broad Haven, at low tide, it just appears as one enormous beach, with Little Haven and Broad Haven seeming to merge into one. Watch the tide however, you don't want to be cut off in the Settlands from the incoming tide.
The village has a selection of pubs, a cafe and a shop, as well as parking near the beach - However spaces are limited and the village does get busy within the summer months.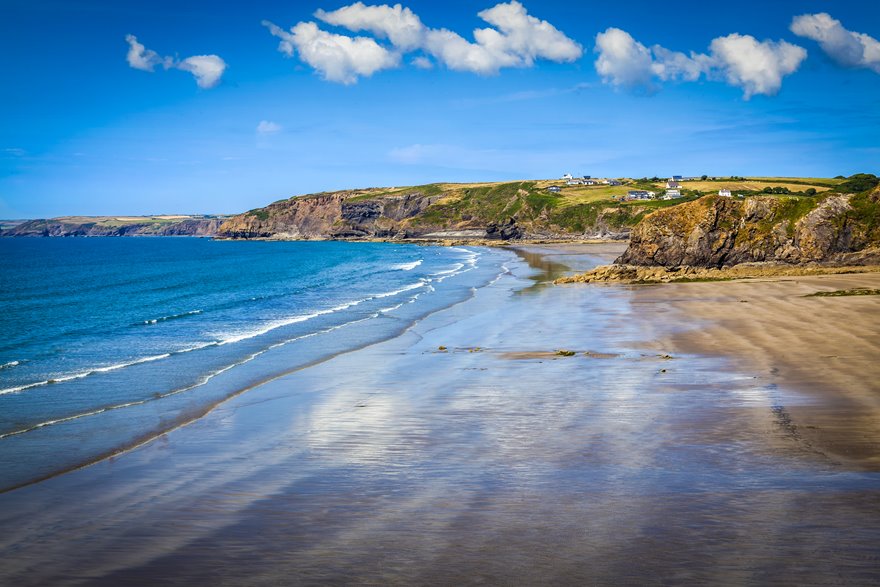 Little Haven
Marloes Sands Beach
During hide tide, Marloes can be completely invisible, however, low tide is a different story, when a huge expanse of sand is revealed. Said to be one of the most beautiful of beaches in St Brides Bay, Marloes is a picturesque haven of interesting cliff formations and rock pools, with stunning golden sand.
To access the beach, it's a half mile walk from the National Trust car park. There are no beach facilities available, it's extremely rural. There is a cafe, however, on the walk down from the car park to the beach, which has only recently been opened called 'The Runwayskiln Cafe'. Here you can enjoy wholesome foods and stunning views of the sea from across the headlands, in the cafe's rear garden.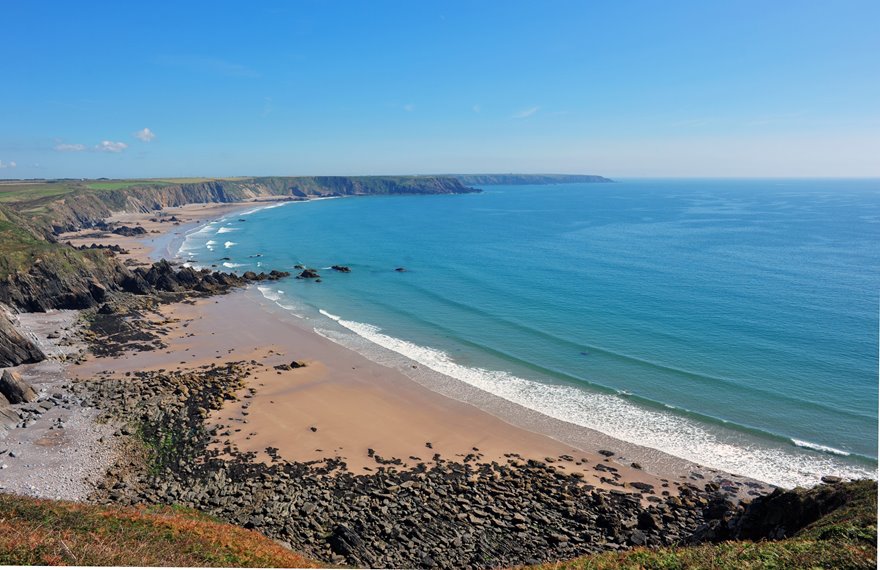 Marloes Sands Beach
Dale Beach
Dale is a watersports paradise! The beach itself is mostly sand mixed with shingle, however, a trip to dale isn't for the beach, but for the calm waters in the sheltered bay that provides the perfect conditions for kayaking and paddleboarding. Dale really is the perfect place for those wanting to hop on a board and experience watersports for the first time in safe sea waters.
The beach itself has shallow bathing and is popular for parents with little ones. There is also a jetty that allows you to take boat trips to Skomer Island and is very popular in the summer months with a wealth of families crabbing. There is a local shop, cafe and pub, as well as a Watersports centre where you can hire and buy equipment.