Pembrokeshire Fireworks Displays
Which of our coastal displays will you visit this Bonfire Night?
Guy Fawkes Night on the 5th November is undeniably one of Autumns best loved celebrations. Simply stating the name conjures visions of crisp cold evenings, warming orange glows from bonfires, woolly gloves wrapped around hot coffee cups, impressive displays of fireworks lighting the night skies and of course, that wood-burning smell which lingers with you all night long.
A truly magical evening for all, but where can you join in with the Bonfire Night celebrations in Pembrokeshire?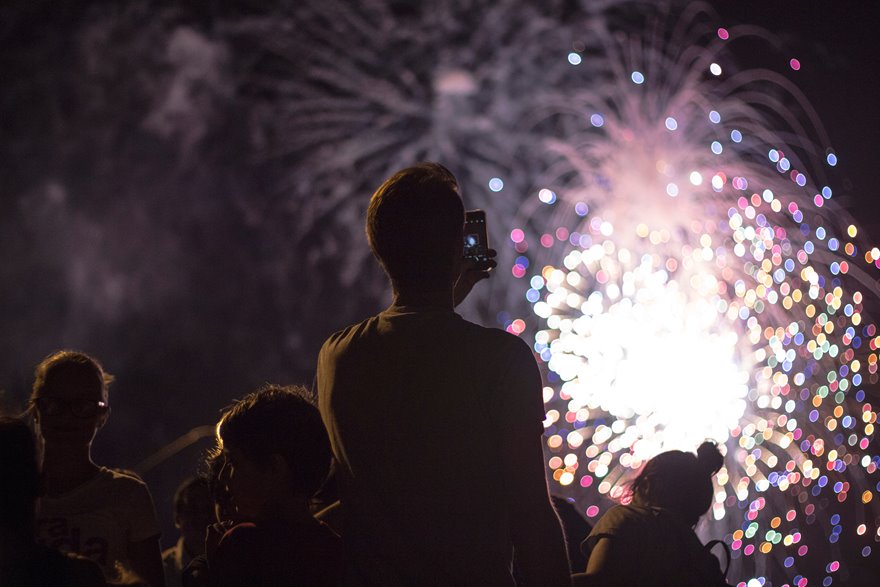 Llys Y Fran
These annual bonfire night celebrations are often a favourite in the area. Set in the rural location at Llys Y Fran reservoir, the views of the fireworks display are untouched by light pollution from nearby towns as you might expect in the city. Llys Y Fran is a peaceful location which comes to life each year upon Guy Fawkes Night, with a bustling café where you can buy food and drink.
This event is organised by Llys Y Fran YFC which always ensures a fantastic turnout and a spectacular display. There is a small entry free, usually only a couple of pounds.
Milford Haven
For the last few years, Milford Haven have hosted their fireworks displays at Mackerel Quay where they have put on live music, fairground rides and refreshments to accommodate all the family. Expect hot food and drinks on offer from some of the local establishments, such as freshly made burgers from the Harbourmaster or fish and chips from Gorden Bennett's – both of which are also located in the marina.
Free to attend, the fireworks display takes place over the waterway creating a pretty November scene.
Carmarthen Park
Many Pembrokeshire locals also try to ensure they make it to Carmarthen Park for a fun-filled night of autumnal celebrations. Stepping up the celebrations, not only can you expect a fireworks display but also live entertainment, a funfair and refreshments are usually available. This community event is one to tell all your friends about year after year. They have even been known to put on a children's firework display followed later in the evening by a main display.
Entry fees have reached around £5 in recent years but all of the proceeds from this event are fed back into the community, so it really is a great one to support. Gates open early evening, ideal if you're planning on making a day of it and doing a spot of shopping along Carmarthen's St Catherine's Walk first.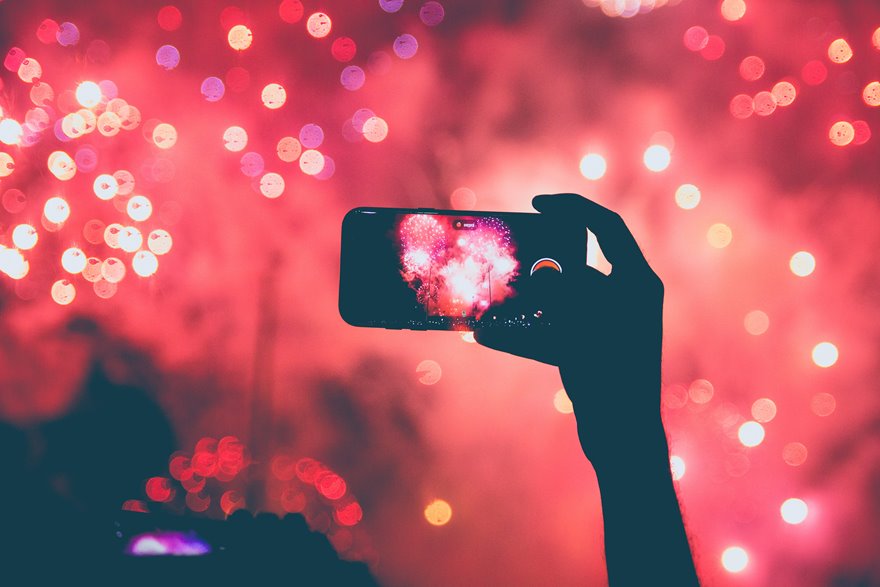 Whitland
Arranged year after year by the Narberth and Whitland Round Table, Whitland's Fireworks Display is another popular option for your Guy Fawkes Night celebrations. Locations may vary from year to year but most recently, Dr Parc Owen has been the chosen location for Whitland's display. This event always promises a great night with a fantastic display.
Solva
This quaint harbour, located just a short drive from the UK's smallest city St Davids, is particularly popular for those on the west coast of Pembrokeshire. Solva is another great waterside location for a community fireworks display so does often come highly recommended. As well as the main fireworks display, children can also enter the Guy competition with their own handmade version with prizes in store for the maker of the best-voted Guy.
Lower Solva is home to a couple of great pubs and restaurants but for a truly Welsh spin on your Guy Fawkes Night, make sure to pop in to Mamgu Welshcakes just over the road from the harbour car park for freshly made delicious welsh cakes and a refreshing cup of something warm! This event is free but welcomes donations towards future displays.
New Quay
Yes you may argue that this one is in a neighbouring county, but it's really not that far to travel from main towns such as Newport and Cardigan in the north of Pembrokeshire. Even if you're staying slightly further away, it really is worth the extra drive. Just imagine a beautifully stunning display of fireworks reflecting over a serene harbour setting – a picture you'll remember for years to come.  
Rather than specifying a set entry fee, the New Quay fireworks display asks for a donation towards future displays. You can enjoy live music and purchase warming refreshments here too.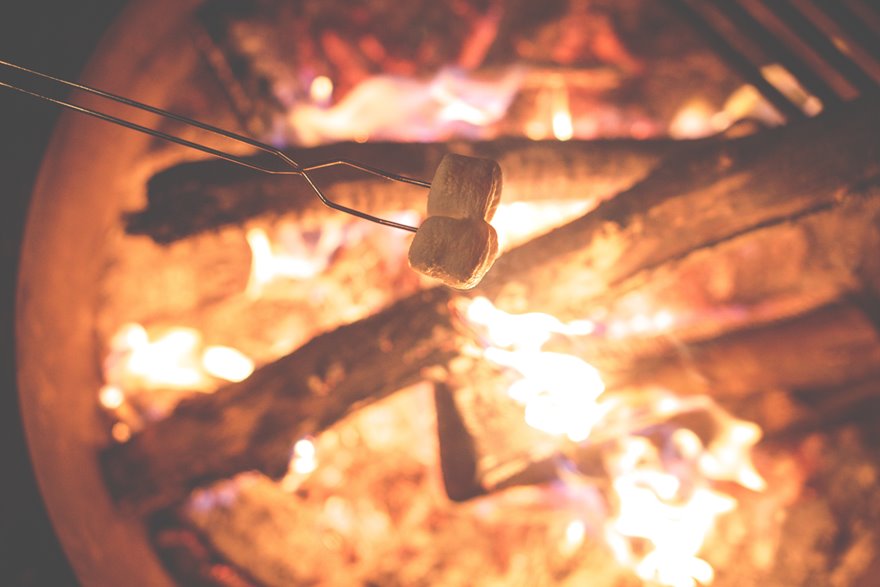 Saundersfoot Big Bang Weekend
Each year Saundersfoot choose to combine their celebrations for Halloween and Bonfire Night, resulting in a weekend-long village wide event. Across the weekend you can take part in a whole host of spooky activities including pumpkin carving competitions, spooky trails, dances, fancy dress and more. The harbour also becomes home to a funfair for a couple of days with two sets of fireworks displays, usually on the Saturday night – a smaller "Little Bang" specially for the children followed by a main "Big Bang" display for the adults a little bit later!
The Big Bang Weekend tends to take place around the end of October / early November to tie in with both events.
Tenby's Summer Spectaculars
As the name suggests, the Summer Spectacular events take place in Tenby on Saturdays during the school holidays in July and August, but if you're a huge fan of a fireworks display you might be tempted to book a stay during the summer and catch as many fireworks displays as possible during the year!
Tenby's picture-perfect harbour plays host to the Summer Spectaculars, incorporating live music and entertainment with a magnificent fireworks display over one of Pembrokeshire's most iconic views. Spend your August morning browsing the independent shops in and around Tudor Square, followed by a spot of lunch in one of the many seaside pubs, before building sandcastles on the sandy beach during the afternoon. By the evening you'll be ready for a pretty fireworks display and a cup of warming coffee.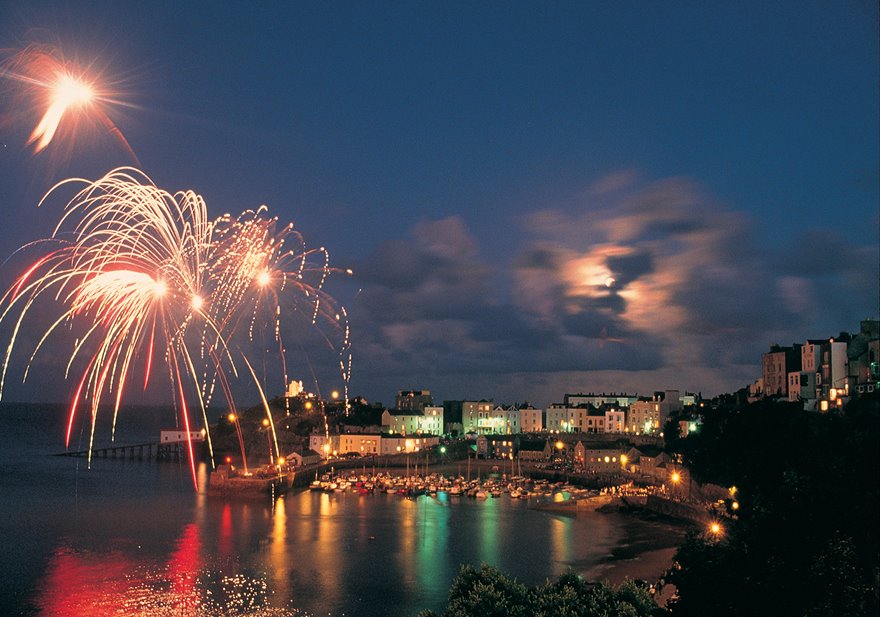 Wherever you choose to go this 5th November, you're guaranteed to have a great evening. Make sure to wrap up warm and make the most of these autumn celebrations.