Summer Events in Pembrokeshire
Which of Pembrokeshire's summer events will you attend?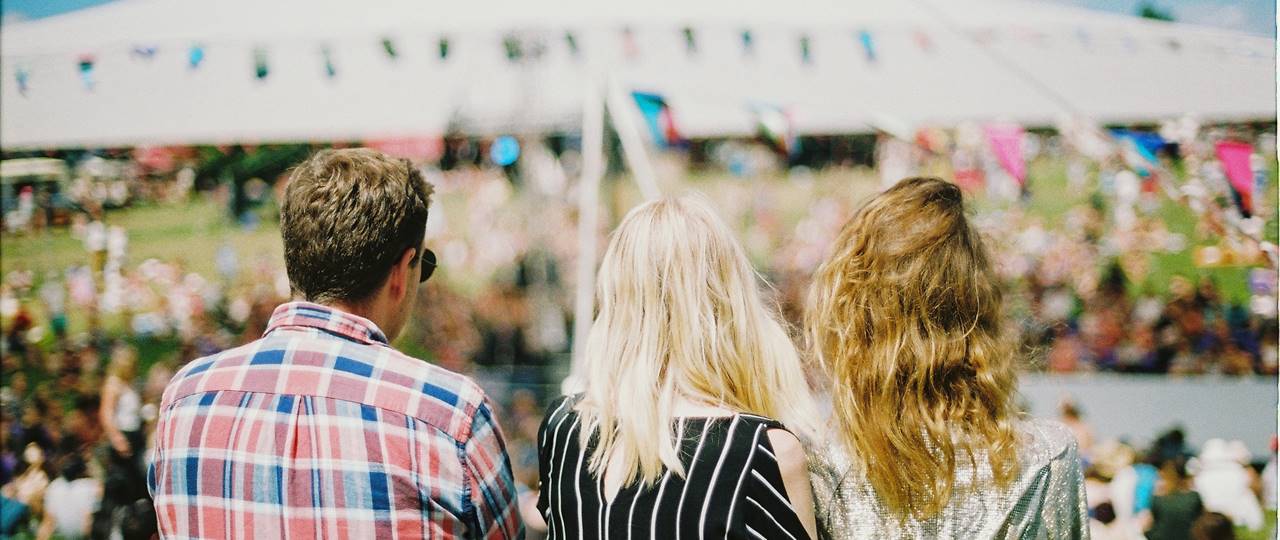 Summers spent in Pembrokeshire are undeniably wonderful. The days are sunny and warm, the shores are refreshing and the atmosphere is cheery and welcoming. No doubt some of your days may be spent at the beach, frolicking in the sea and building sandcastles, or perhaps exploring one of the many spectacular attractions such as Pembroke Castle, Folly Farm or St Davids Cathedral.
That being said, it's important not to forget about the fantastic family-friendly events which take place every summer in Pembrokeshire. Make sure to get the diary out and carefully plan your holiday dates because many of these events are not to be missed.
The Pembrokeshire County Show
First up it's the Pembrokeshire County Show. Taking place in mid-August at the Haverfordwest Showground, this event welcomes visitors from all over for a magnificent three day celebration of our agricultural industry. Take the children along to see the livestock with prize cows, sheep shearing demonstrations, show jumping and dog shows. Browse the stalls for handmade Welsh products and make sure not to miss the Food Hall – think quality turkey sandwiches, locally made ice cream and Welsh cheeses galore! You will also see live music performances and entertainment, as well as get the chance to see new and vintage machinery in all its glory.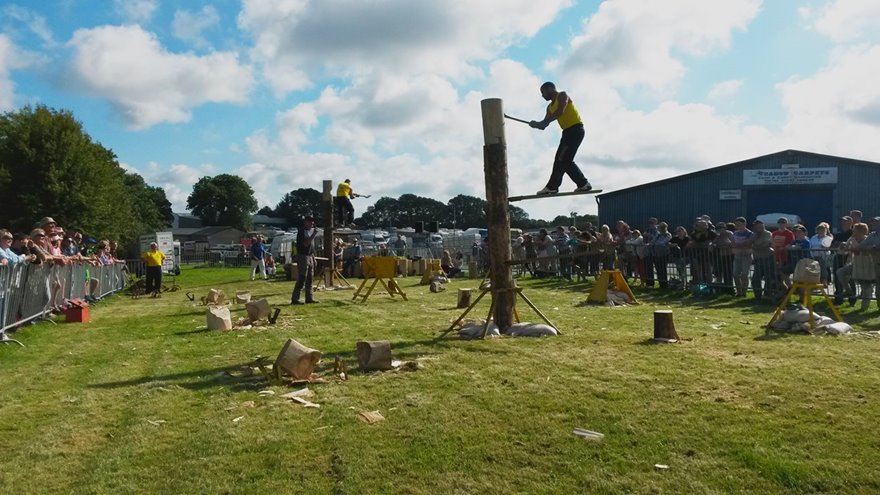 Axemen showing off their wood chopping skills
Sunset Cinema
A personal favourite, the Sunset Cinema is an outdoor cinema event brought to you by Milford Haven's Torch Theatre. As you may have guessed by the name, you can expect to see well-known films and occasionally new releases broadcast onto a large screen in some of Pembrokeshire's most picturesque locations. We've seen Grease at Picton Castle, Hairspray at Hilton Court Gardens, Back to the Future at Milford Waterfront and Dirty Dancing in Pembroke Castle to name but a few.
Bring along a camping chair and a picnic, or take advantage of the hot refreshments on offer, and settle down for an evening in front of your favourite film with friends. The screenings begin once the sunsets so make sure to bring along a blanket, and be prepared to join in with some sing-a-long moments if you're viewing a popular choice such as Mamma Mia.
Outdoor Theatre
Similar to the Sunset Cinema events, you might wish to take in an evening of live theatre at a truly magnificent Pembrokeshire destination. Certainly one to tick off the bucket list, you can head out for an evening of Shakespeare at St Davids Bishop's Palace or St Dogmaels Abbey each summer. Not only will you be guaranteed to be impressed with a great performance, but you'll certainly have an unforgettable evening in these historical attractions.
You may also find outdoors theatre taking place at locations such as Cardigan Castle, Carew Castle and Pembroke Castle with a range of more child-friendly options too. Previous years have hosted live plays of some of David Walliams' novels for instance.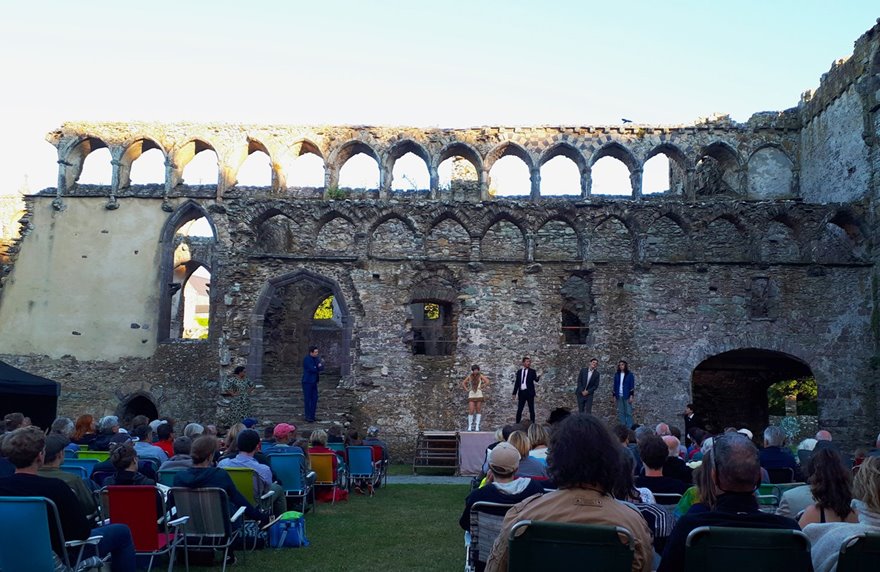 St Davids Bishops Palace makes a perfect setting for some summer Shakespeare
Tenby Summer Spectaculars
Head to Tenby harbour on a number of summer days throughout the summer holidays and you'll be greeted with beachside activities and live entertainment to keep all the family occupied. Spend your days paddling in the sea, playing in the sand and jumping on the bouncy castle. Refreshments will be available with a selection of food and drinks available.
The highlight of the Summer Spectaculars is most certainly the evening display of fireworks. Set off over the water creating memorable reflections, the fireworks display takes place at the harbour – a must-see if you're planning a summer holiday in Tenby. 
Rock The Castle
Undeniably one of Pembroke Castle's most beloved events throughout the year, Rock the Castle takes place in mid-June and often sells out year after year. This two day event has seen some big names perform their classic musical hits in the outstanding setting of one of Pembrokeshire's most impressive historical locations. Previous years have seen performances by Only Men Aloud, Jools Holland, UB40, Bonnie Tyler and Status Quo.
First established in 2013, this event has fast become a firm favourite in the summer events calendar in Pembrokeshire so it is recommended to buy your tickets in advance due to high demand. There is a licensed bar along with refreshments stalls, and perhaps even a merchandise tent.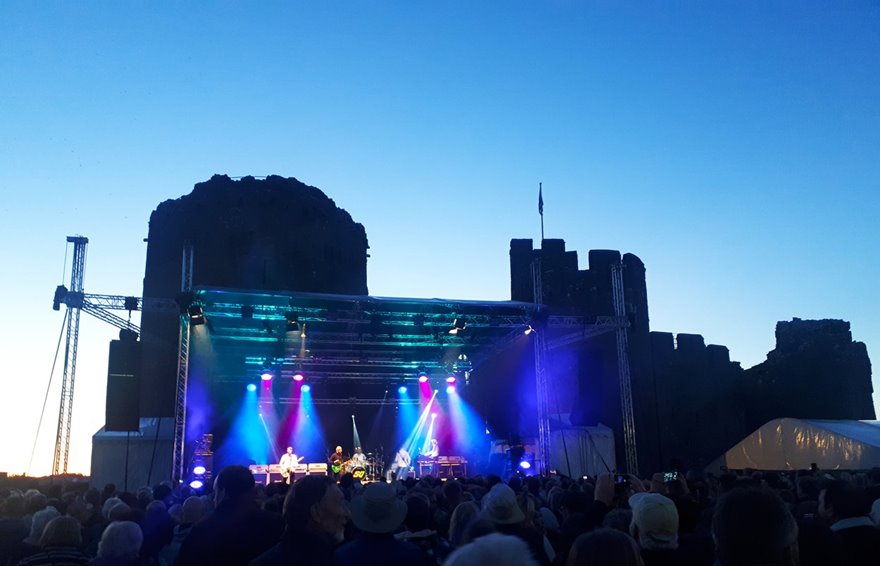 Status Quo performing at Pembroke Castle's Rock The Castle event 2019
The Edge Festival
The quaint harbour side village of Solva hosts its annual Edge Festival early each August and is fantastic day out for all. With a mixture of sport, activities, shopping and performances; it's no wonder that this event draws a great crowd year after year. Take part in an open water sea swim in the harbour, enjoy some live music from local bands, tuck into delicious food and get involved in competitions. Past activities include adventure trails, treasure hunts, bush crafts and more.  
Cardigan River & Food Festival
Taking place in the north of the county each August is the Cardigan River & Food Festival. A whole town event, this event combines a celebration of the River Teifi with a fantastic food festival creating a great summer's day out. Activities and demonstrations take place to honour the river and its significant place in the town's history, which an impressive 80+ food stalls take to the streets for visitors to browse.
Learn about the old coracle trade, enjoy a canoe ride, take in an RNLI demonstration and watch a cookery talk. Pop into Cardigan Castle for crafts and children's activities such as face painting, and enjoy live music and dance performances from the food hall.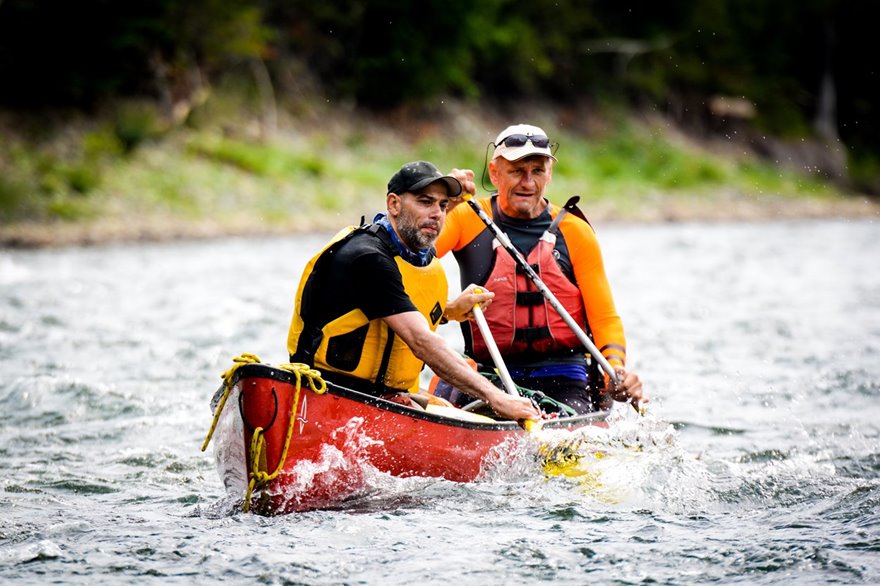 Long Course Weekend
Tenby's summer season kicks off in early July with everyone's favourite triathlon event, the Long Course Weekend. Spread across three days Friday to Sunday, this sporting event creates a spine-tingling electricity throughout this seaside town for entire weekend. With the disciplines split into different distances, it allows everyone to get involved.
Fancy yourself as a budding triathlete? Sign up for the full Long Course Weekend and compete for all four medals and the Long Course title. Prefer to focus solely on cycling? Just sign up to the cycle on the Saturday and cheer on those who are taking part in the swim on Friday and those who are doing the run on Sunday. Just starting out on your sporting journey? Sign up for the 5k or 10k, and perhaps by next year you'll be signing up for the Half Marathon.
Thousands of visitors and locals flock to Tenby for this event promising a superb atmosphere throughout the town year after year. If taking part isn't quite your thing, your support is always welcomed along the route to cheer on those participating.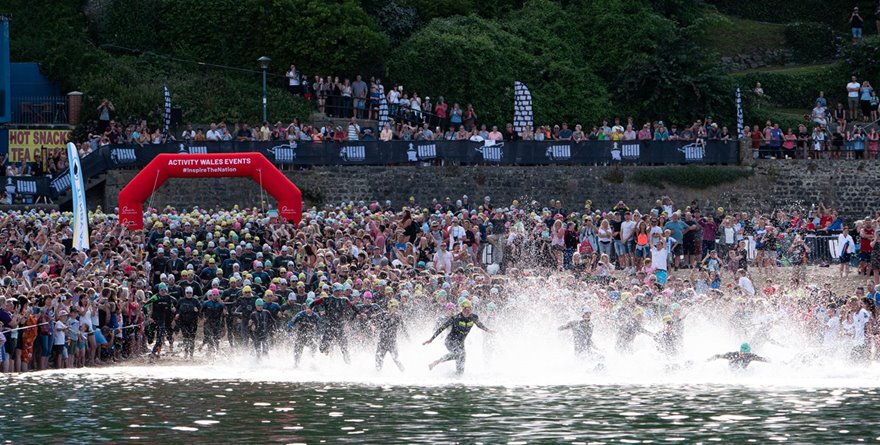 The Long Course Weekend Swim on Friday evening draws an audience of thousands
Ironman
Almost like a seasonal bookend comes the Ironman Wales triathlon event in mid-September. Similar to the Long Course Weekend in that there are three disciplines; a swim, a cycle and a run; but different in that it takes place consecutively all in one day. An early start to the day for the swim often results in the chance to take in a stunning Tenby sunrise, then it's a day of clapping and cheering until the evening when athletes start to arrive along the finish line having completed the mammoth course of a 2.4m swim, 112m cycle and a 26.2m run.