Child-Friendly in West Pembrokeshire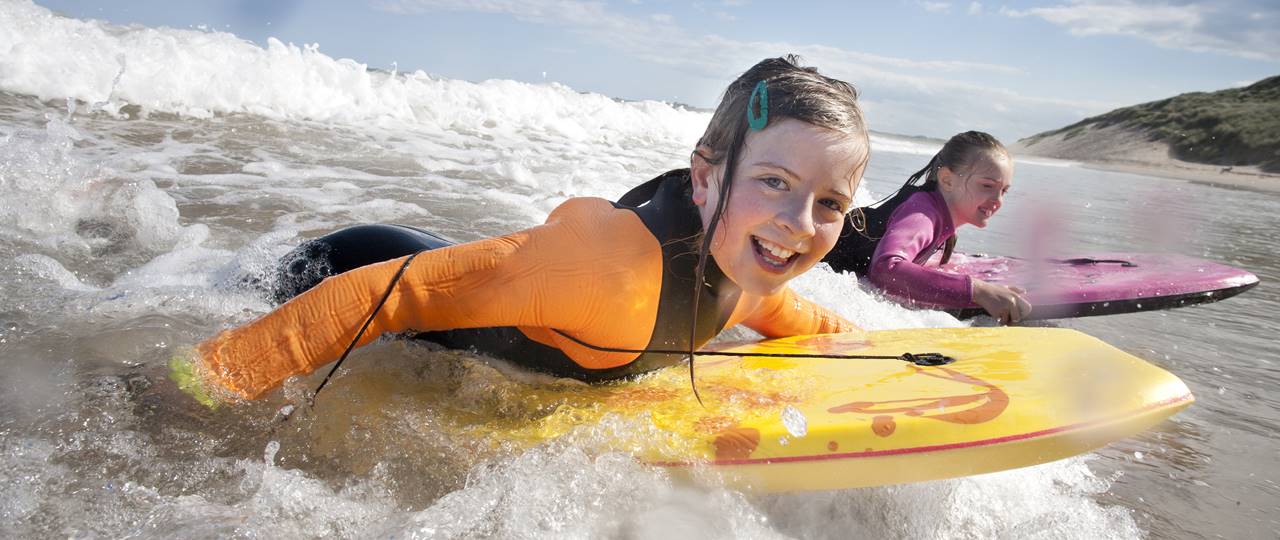 West Pembrokeshire starts in the picturesque harbour village of Solva and snakes around the coast to Newgale beach - one of the finest in the county and also a great spot for surfing. On through the stunning bays and beaches (Nolton Haven, Druidston Haven), it continues to Broad Haven, with its long stretch of sand and level access making it popular with families. This contrasts well with the picturesque cove of Little Haven found just over the headland. This area continues around the stunning St. Brides Bay to St. Ann's Head and finishes in the upper reaches of the Western Cleddau Estuary. If you are planning a visit to this beautiful location of Pembrokeshire, there is a wealth of things to do for you and you're family! We've put together a list of all the child-friendly activities and attractions that are on offer, so you can make the most of your time in West-Pembrokeshire!
West-Pembrokeshire Beaches
West-Pembrokeshire has an abundance of beautiful beaches to choose from - some of the best in the county! so what better way to spend a day than exploring the sandy shorelines of St Brides Bay with the family! For more information on the beaches in West-Pembrokeshire click the link below to read our extended article!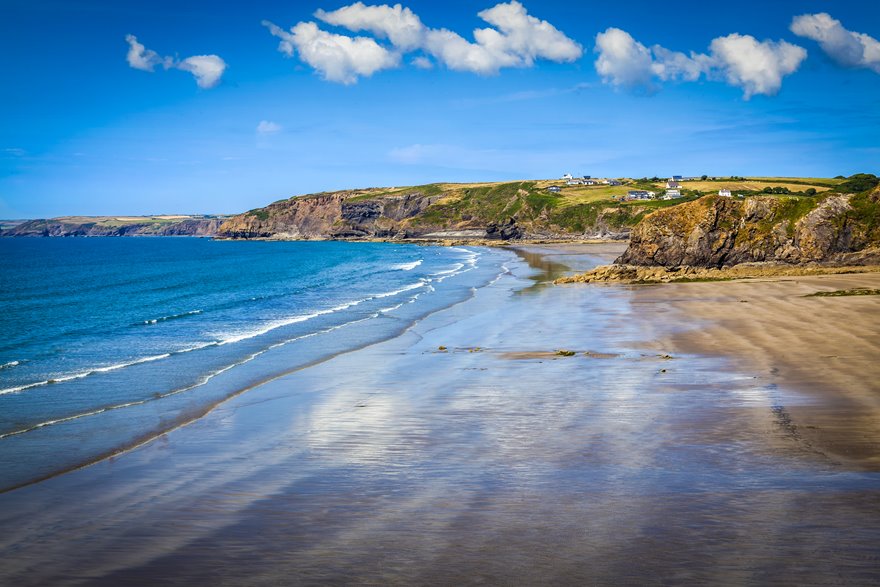 View from Little Haven Beach to Broad Haven Beach during low tide
Skomer Island
If you and you're family are looking for an adventure, what better place to explore, than a rugged offshore island - home to hundreds of Pembrokeshire Puffins during their breeding season. Enjoy a boat trip to Skomer from Martin's Haven (Nr Dale), or from St Justinians Lifeboat Station (2 miles out of St David's) with Thousand Islands Expeditions on one of their jet boats.
During your trip, you'll see hundreds of seabirds, possibly some seals, porpoise and if you're lucky, maybe even some dolphins! Make sure you keep your eye peeled during the cross from the mainland to the Island, you could see some seabirds in action, with diving gannets and shearwaters attempting to catch their prey!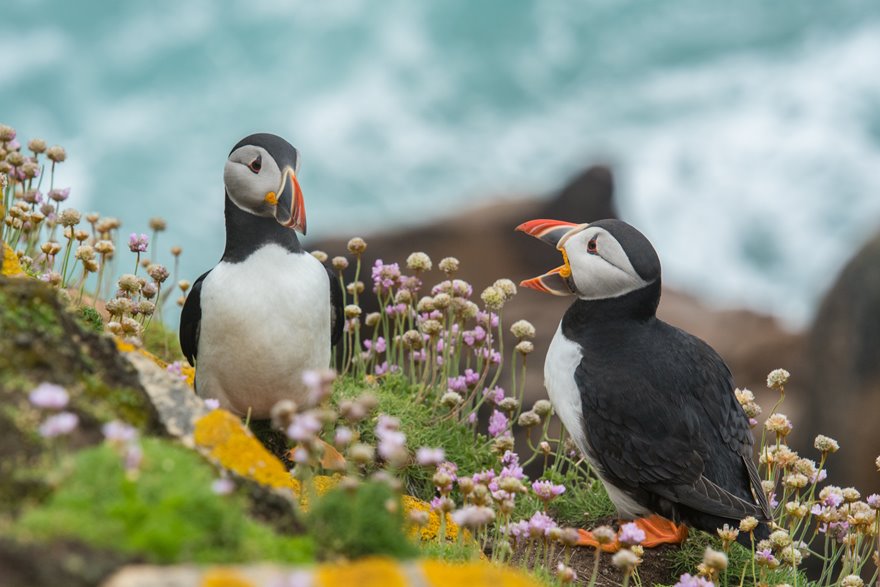 See some Pembrokeshire Puffins on Skomer Island!
Nolton Stables
Why not explore the Sands of St Brides Bay by horseback? Nolton Stables is located right in the heart of the Pembrokeshire Coast National Park and with over 60 horses and ponies, they have something to suit every rider.
Druidston Haven is their main location for beach riding, with just a short hack across the fields to this beautiful location. In low season, they also use Newgale beach, to gallop up and down the surf, as well as across the golden sand. If the tide is an issue, there is plenty of cross country treks that visitors can also experience.
Booking is advisable however, they do accept walk in's if there are scheduled activities with spaces available. For more information and to book, visit their website.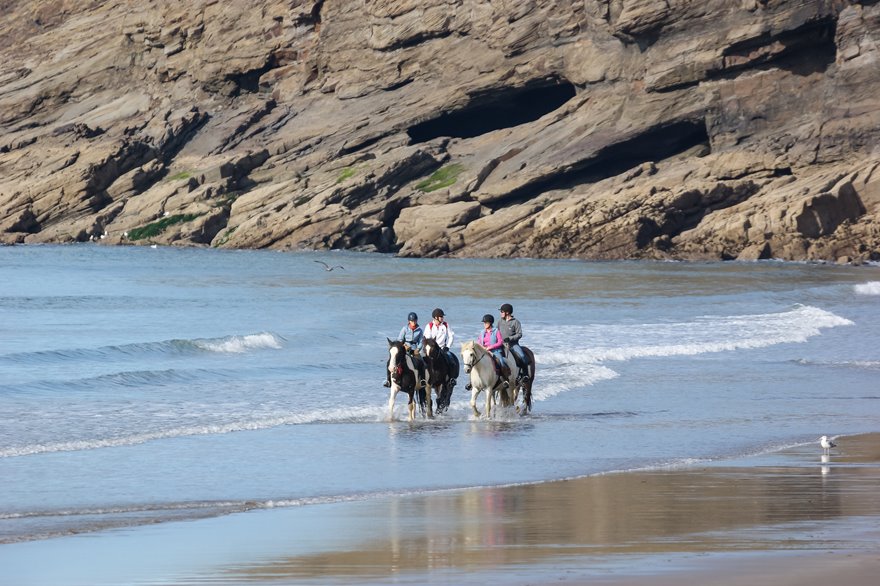 Druidston Beach - Nolton Stables Horses riding through the surf
Picton Castle & Gardens - Secret Owl Garden
Picton Castle is a 13th-century building, located 5.6 miles outside of Haverfordwest. The Castle is surrounded by 44 acres of land, with idyllic gardens - which are carefully planned to provide interest, for each and every season you may visit. There is always something new and exciting to see and do here - it's a great place for a family day out, allowing kids to run free and enjoy the outdoors in a safe environment - no keep off the grass signs to worry about here!
There is a large play area - complete with maze, climbing wall and a jungle boardwalk (great to tire the little ones out!) As well as The Secret Owl Garden (run by Pembrokeshire Falconry), which is open in the warmer months and is a fantastic addition to the Gardens! Here you can visit the owls in their homes located at Blue Bell Walk, watch them swoop around the gardens as they take it in turns to stretch their wings throughout the day - you're sure to find you're flying favourite on your visit!
There is plenty to do and see at Picton Castle & Gardens, it's easy to get carried away with time and spend the whole day here experiencing something new - For example, you can get a tour of the Castle, visit the cafe, shop, or art gallery. Special events are held here regularly - from family fun days to vintage craft fairs you are sure to find something here to suit everyone! To find out more and for the latest updates, visit their website.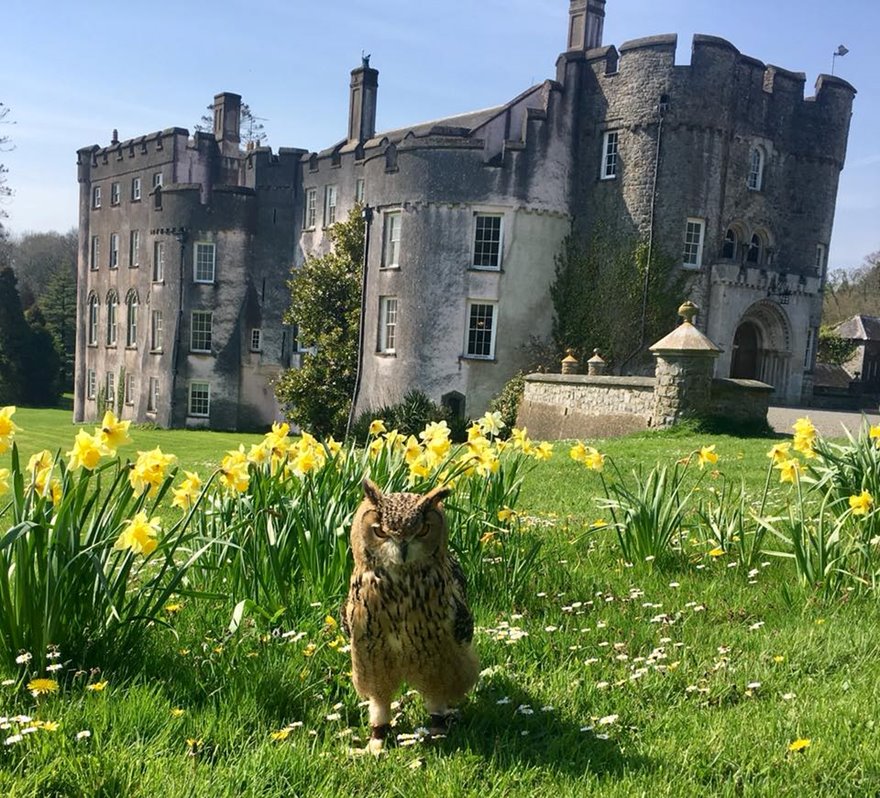 Child-friendly days out at Picton Castle - The Secret Owl Garden
Hanger 5 Trampoline Park
If the weather is on the wetter side, why not head on over to Hanger 5 in Haverfordwest - Wales first trampoline park! Have fun and get fit indoors with around 10,000 square feet of interconnected trampolines, with plenty of added extras such as angled walls, punch bags, volleyball, dodgeball, slams drunk, tricks airbag and basketball!
Fun for all the family, Hanger 5 cater from any age to skill set and ability! There is even a soft play area that's recently been added - perfect for young children! There is a cafe on site that's open daily, serving hot/ cold food and drinks (perfect for those not wanting to get airborne!)
For more information and updates, visit their website.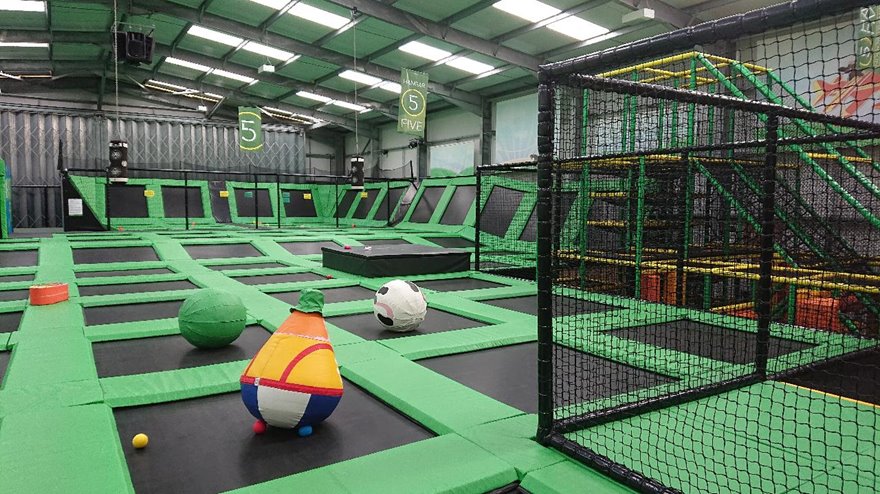 Hanger 5 Trampoline Park - Haverfordwest
West Wales Karting
If you and your family fancy hitting the tracks for a high-speed competitive race (in the ultimate safe racing environment) - head over to West Wales Karting in Haverfordwest aerodrome. Suitable for Children aged 8 and up, this karting experience specialises in the development of young drivers - Cadet Karts fitted with speed controls for peace of mind for parents, so you are able to relax and enjoyed a session here - stress-free! This activity in all undercover - perfect for those rainy miserable days, where you don't fancy hitting the beach!
Soft Play Areas in West Pembrokeshire
For those visiting with young Children, a trip to one of West-Pembrokeshire's soft play centres is a great way to spend a few hours on a rainy day! They are very popular amongst locals with little ones and perfect for the kids to blow off some steam! There are three soft play centres in Haverfordwest - Merlins Magic, The Lions Den and Hanger 5 and one in Milford haven - Pirate Petes (situated in Pheonix Bowl).
Each soft play centre has a cafe on site so you're able to purchase a variety of different food and drink and sit back and relax with a nice cup of coffee, while the kids run wild - in a safe environment!

Hanger 5 Trampoline Park, soft play area - Haverfordwest
Creative Cafe Haverfordwest
The Creative Cafe in Haverfordwest town centre is a great place to bring the family to create their own pottery masterpiece. You don't have to be an artist to enjoy this experience and it's great for all ages, rain or shine! The cafe has a vast range of pottery to paint (or if you're feeling super creative, you can create your own!)...
There is a £5 studio fee that allows you to use all the pottery paints, stamps, stencils, sponges and other materials you might need to create the perfect piece, this price also includes firing in the kiln! The pottery items, however, are an additional cost, depending on what you choose.
If the pottery doesn't interest you, the delicious home-baked cakes just might! The cafe itself has a varied selection of cakes, sandwiches, baguettes, teas and coffees. A great place if you're after a spot of lunch during your visit!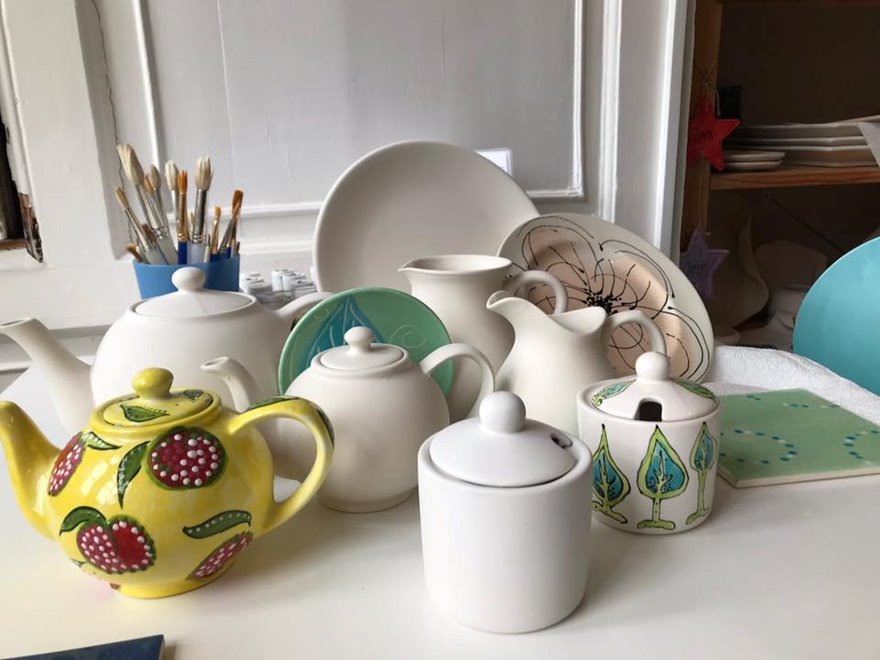 Creative Cafe - Haverfordwest
Haverfordwest Castle
Located in the centre of Haverfordwest is the ruins of the town's historic castle - established during the Norman times and was once an English stronghold, this castle is a great place to visit in you're in the area! During the warmer months, this location is ideal for a picnic with the family, with good parking by the town's museum and safe grounds for the kids to run around unfettered! The perfect place to let the kids imaginations run wild, with great views of the town itself!
Scolton Manor
A delightful all weather attraction that is open throughout the year, Scolton Manor is a traditional country house located 6 miles outside of Haverfordwest. With plenty to see and do here and over 60 acres of land (most of which is accessible for wheelchairs and pushchairs), its a fantastic place to visit and explore with the family!
There is an adventure play park for the children, with picnic benches for the adults to sit and relax! As well as climbing and scrambling walls, a wooden maze, exploration trails and other play activities for children dotted around the park. After exploring why not pop to the tea-room on site for a spot on lunch, that serves delicious homemade cakes, sandwiches and hot drinks.
If you'd love to get up close and see some buzzy fuzzy things - head to Scolton Manor's Beekeeping Centre! Here you can see live bees producing honey (in a safe location) and also buy the locally produced honey in the gift shop.
Scolton Manor, plays host to numerous events throughout the year, from Christmas Markets to Family Fun Days, for more information and updates be sure to visit their website.
Wickley Welsh Chocolate Factory
Have a sweet tooth? Then a trip to Wickley Welsh Chocolate Factory is definitely a must! Located in Haverfordwest (near the aerodrome), this is a great experience and a fun family day out, for any and all chocolate lovers!
Different experiences available to suit all, from Chocolate demonstrations where you can take a sneak peek into the factory itself and learn more about the history of chocolate, as well as 'have a go zones', where you can create your own tasty chocolatey treats - great for little chocolatiers to get involved and do some yummy tasting!
There is a shop here where you can purchase the delicious chocolate that is made on site, as well as a cafe and chocolate deli! It would be hard to resist, to say the least! So if you're looking for the Willy Wonka experience be sure to pop in! To find out more visit their website.
Torch Theatre
The Torch Theatre in Milford Haven has been running for over 40 years and is one of only three Theatre's in Wales, that is a professional venue based theatre. If you're looking for something to do as a family - an evening here, either watching a film, a fantastic show, comedian, singer or perhaps the ballet? Might be something for you? With an ever-changing schedule of productions to see, the Torch Theatre really is one of Pembrokeshire's most beloved places!
In the summer months, The Torch organise 'Sunset Cinemas' around the county. Definitely not something you'd want to miss out on! Bring your own deck chair (picnic blanket…or sleeping bag if it's really chilly) and enjoy the big screen experience outdoors and under the starry skies of Pembrokeshire! (They once played A Knights Tale, in the ruins of Bishops Palace - the perfect setting for this fantastic film to be shown!) The torch really know how to put on a show! For information and for updates on showings, be sure to visit their website.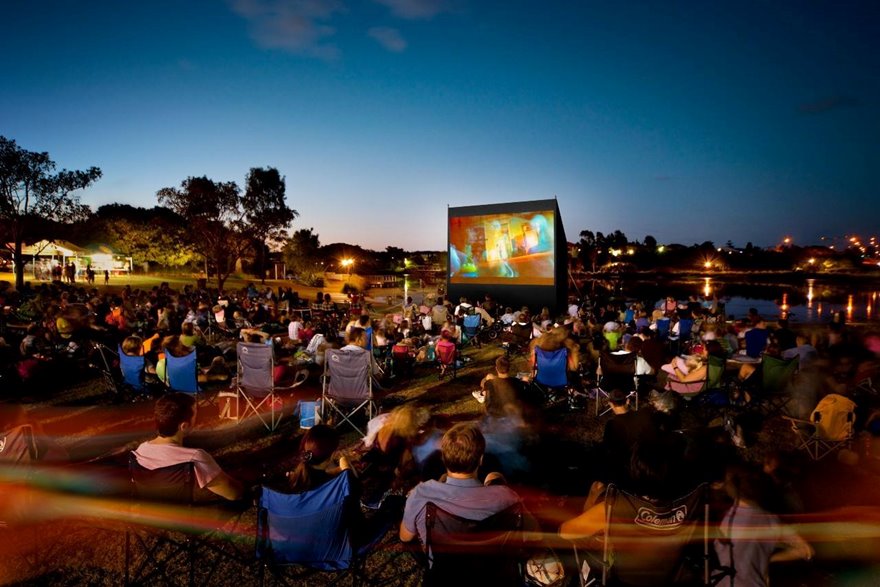 Sunset Cinema, hosted by The Torch Theatre