Lottie Chant, A Pembrokeshire Firefighter
Find out more about being a female firefighter in Pembrokeshire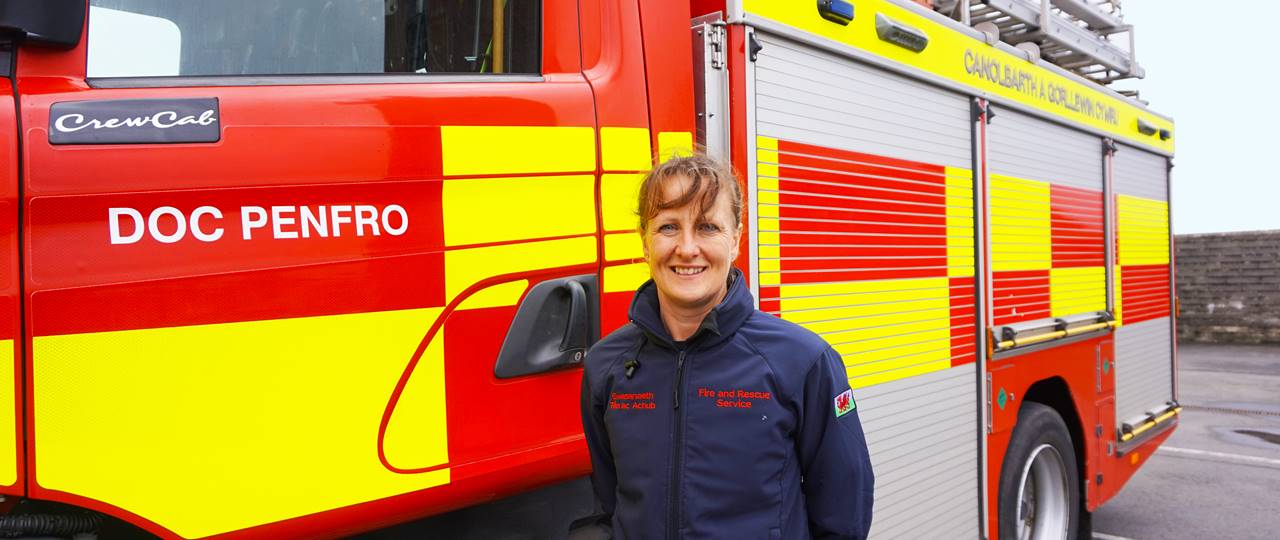 As part of our 2019 International Women's Day (8th March) celebrations, we put together a series honouring Inspirational Women in Pembrokeshire. We've commended Jemima Nicholas – a Fishguard heroine involved in the Last Invasion of Britain), Rt Revd Joanna Penberthy – the first female Bishop of St Davids, and Tania (and Jerry) Rees – founders of the plastic free Happy Planet Green Store in Narberth, and Saint Non - the mother who gave birth alone on a stormy cliffside to Patron Saint of Wales Saint David. 
Next up in the list comes a local female firefighter, Lottie Chant. I met with her on a rather miserable wet Wednesday afternoon, but her attitude couldn't have been brighter. Based in Pembroke Dock, she is the only female member of the station and that doesn't bother her one iota.
Getting into the fire service
When it came time for Lottie to think about forging a career after leaving school, she knew exactly what she wanted to do. She wanted to be a firefighter. Unfortunately, that simply wasn't an option for her during those days – and that's not because of her gender. At the time, there was a height requirement of 5'6 for all applicants, male and female. Unluckily, Lottie measures in at 5'5 so only narrowly missed out. Forced to choose another path, she went off to university in Aberystwyth to study Animal Sciences and Business, before then going on to teach at Pencoed College.
By the time she was teaching at Pencoed, the fire service had altered their height restrictions meaning it was no longer a barrier for Lottie. Despite choosing another career path, the dream of becoming a firefighter was still strong in her mind and she decided to apply. Over the next few years, a number of her applications were unsuccessful but eventually she got herself a place in the Mid and West Wales Fire Service.
From start to finish, the process takes around about three months. If your initial application is successful, you're then put through written and aptitude tests plus an interview. Providing you pass these, you're then put through a medical and a practical test where you're assessed on your physical ability to do things such as carry weights, climb ladders. They also check how you are with things like claustrophobia and heights. Once you've passed all of these stages, you're put onto a sixteen week training course.
Having a better understanding of the application process, I think it's safe to say this is anything less than demanding. Each participant has to meet a set level of requirements to ensure that they can handle the responsibility of the job and that they are physically capable, ensuring they are strong enough to handle the heavy equipment necessary.
Lottie's career
Once qualified, Lottie began her career at an on-call station – these are the generally smaller stations, often only with one appliance (or fire trucks to you and me). The crews respond via pager and you'll find them more in rural areas and the crews respond via pager. She then worked six months at Milford Haven before taking on her full-time position at Pembroke Dock where she is still stationed to this day. Pembroke Dock is what's known as a wholetime station, where there are a minimum of 5 on shift at a time. Wholetime stations are larger stations, usually located within more urban areas, and often have a number of appliances which can include "specials". At Pembroke Dock, their "special" is an environmental unit which is designed to assist with specific situations such as chemical spills and incidents where there is the potential for contamination of water courses etc. Milford Station for instance have a boat for rescues on inland waterways.
Despite working wholetime at Pembroke Dock, Lottie is also a member of the on-call crew at the station in St Davids where she lives. This means when she's not working a shift, she keeps an eye out for a page from St Davids Station. Possessing the skills she does, she said it would be unnatural not to use them. After all, St Davids is the community where she lives and the people there are her friends and family.
What is it like being a female firefighter?
Lottie's response, it's exactly the same as being a male firefighter. Yes she is the only female stationed at Pembroke Dock meaning all of her colleagues are male, but that makes no difference at all to her or her colleagues.
Her male colleagues accepted her into the team as they would any other member of staff. Working in this role has resulted in the team becoming somewhat of a family, with Lottie describing her colleagues almost as brothers. She gives banter just as good as she gets and said if it was ever taken too far, she'd tell the boys to tone it down – but then isn't this what everyone would do regardless of gender?
Society has over time engrained in us the belief that men should be chivalrous; opening doors for women and so forth. As Lottie quite rightly questioned, aren't actions like this simply good manners which we should all be displaying towards one another? But it's been some of her male colleagues left wondering whether they should be offering to lift a piece of heavy equipment; Lottie's attitude is very much to get stuck in and be treated just like everyone else.
In her years working as a firefighter, Lottie recalled various times where members of the public have expressed a certain level of shock when seeing her. Some stereotypes might suggest that firefighters have to be big strong men, but Lottie's passed all of the compulsory exams and has met the required conditions making her just as qualified as the next firefighter – if not more as she's technically a qualified Crew Manager and steps into this role when necessary, for instance when she's on call at St Davids.
Working in the fire service has created some unforgettable experiences for Lottie; she's explored the local refineries and the ferry, and even participated in tank exercises at the firing range in Castlemartin. "How many people do you know who have been in a tank?" she asked.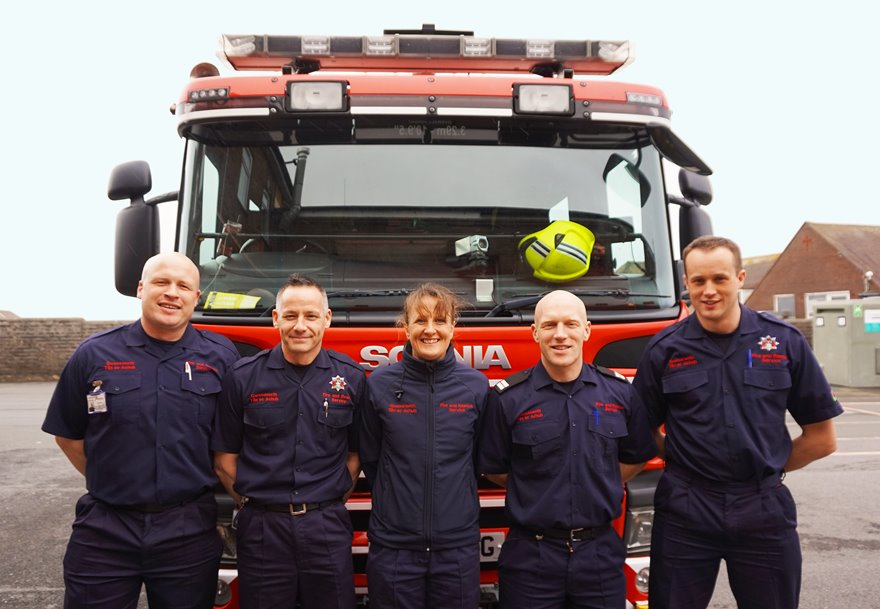 Why apply for the Fire Service?
Without a doubt, Lottie has a passion for the fire service. The shift work enables her to spend more time with her son; when she's not working a day shift she can drop her son off at school and be there to pick him up in the afternoon. Her role allows her to balance work with family life, leaving her time to do fun stuff with her son too – something that a regular 9-5 job might sometimes limit.
She also says it's important to remember that not all roles within the fire service are operational. Being such a massive organisation, the Fire Service still needs employees working in other departments such as admin and finance departments; there are even roles within education doing outreach work with schools.
If you're thinking of applying but aren't quite sure the Fire Service is the right fit for you, sign up for one of the "Have a Go Days" or "Taster Sessions" where you can try out some of the physical aspects of the role and even chat with some active female firefighters with a Q&A session. These sessions will give you an insight into the role and the selection process – ideal if you want to find out more. To sign up, contact Mrs Alison Thomas on 01267 226839 or al.thomas@mawwfire.gov.uk
Whilst there are no wholetime posts available at the moment, you can enquire about joining your local station to join the on-call team. Contact the Recruitment Team on 01267 226832 or personnel@mawwfire.gov.uk
What makes Lottie inspirational?
Lottie was bemused when I explained that this series was focussed on inspirational women in Pembrokeshire. But firefighting is undeniably an inspirational career path to choose.
Think of Lottie's determination to get into the Service, she didn't let an unsuccessful application put her off from applying again and again until she was successful. Her honest account of how she feels successful came not because she fights fires, rescues people and animals (it took her 9 years before she rescued her first cat), and helps out with things like car accidents on a daily basis. She feels successful because she manages to balance a great job with bringing up her son.
Now if that's not inspirational, I'm not sure what is.