Jemima Nicholas, a Fishguard Heroine
This female cobbler played a memorable role in the 1797 Last Invasion of Britain
If you listen to any stories or read any books about the Last Invasion of Britain which took place in Fishguard in 1797, you're guaranteed to hear the name Jemima Nicholas at some point. Although there is some debate surrounding her involvement, there is no denying she has become an iconic character in Pembrokeshire history.
In celebration of International Women's Day 2019, I met with Julie Coggins from the Fishguard Invasion Centre Trust to find out more about Jemima, why she has become so iconic and what makes her such an inspirational Pembrokeshire figure. Quite coincidentally, our meeting took place on March 1st and I happened to spot a Jemima actor in full costume strolling through the streets of Fishguard upon my visit.
So who was Jemima Nicholas?
Whilst many of the stories from this time are somewhat arguable, we have a few sure facts we can share. Thanks to records in the Pembrokeshire Archives, we know that Jemima was the daughter of a Mr Will Nicholas and was baptised on March 2nd 1755.
We also know that she lived on Main Street and died on 16th July 1832 at age 82, after having "followed the trade of a shoemaker" as quoted from a note on the death certificate. This makes her 47 at the time of the Last Invasion.
Pay your respects to the Pembrokeshire hero and pop into St Mary's Church where you can find a memorial stone dedicated to Jemima standing tall outside the church. Jemima is buried in the graveyard at St Mary's but there's no headstone, so this memorial stone was erected as a nod to the historical figure.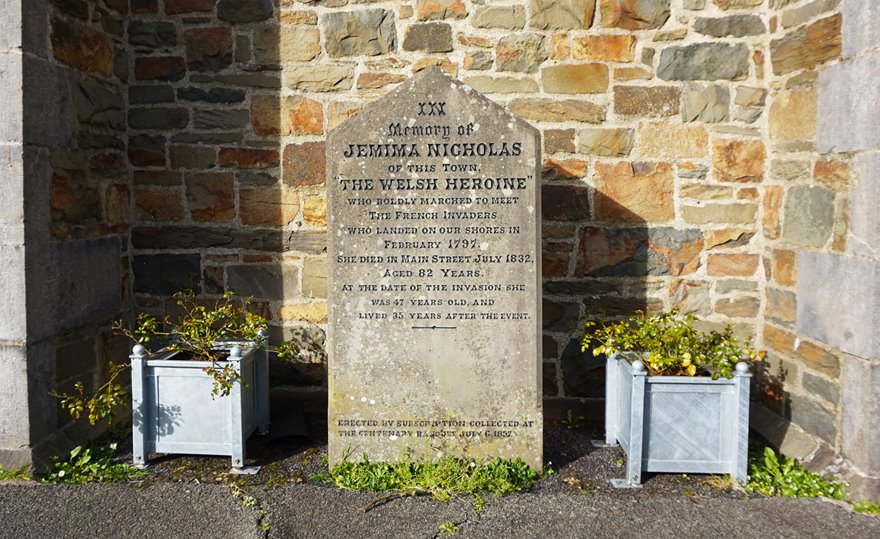 Over the years, Jemima's descendants have spread across the globe with relatives living as far away as Australia. Local historian Edward Perkins recalled meeting a relative recently who had traced her ancestry back to Captain Daniel Nicholas, the great nephew of Jemima who was born at Tresaer Farm in Mathry in 1844.
Involvement in the Last Invasion
The Last Invasion of Britain took place in the late 18th Century during a period of French Revolution. Captain William Tate led an army of soldiers from France in a final endeavour to invade and despite arriving with four ships and 1400 men, the French forces were not successful in their attempt – something which many credit (at least partly) to Jemima.
Legends say that Jemima, pitchfork in hand, led a group of women out into the countryside to confront the invading army. She succeeded in her mission and managed to capture a dozen Frenchmen, before marching them back to the town where she held them captive overnight in St Mary's Church.
Not even 3 days later, the French army surrendered. Captain Tate met with Lord Cawdor (who had rallied together a local army) at the Royal Oak and signed a peace treaty. 
But the rumours question just quite how intimidating Jemima and her women were. Some say the French soldiers had ransacked local farms and houses, a customary practice after sailing across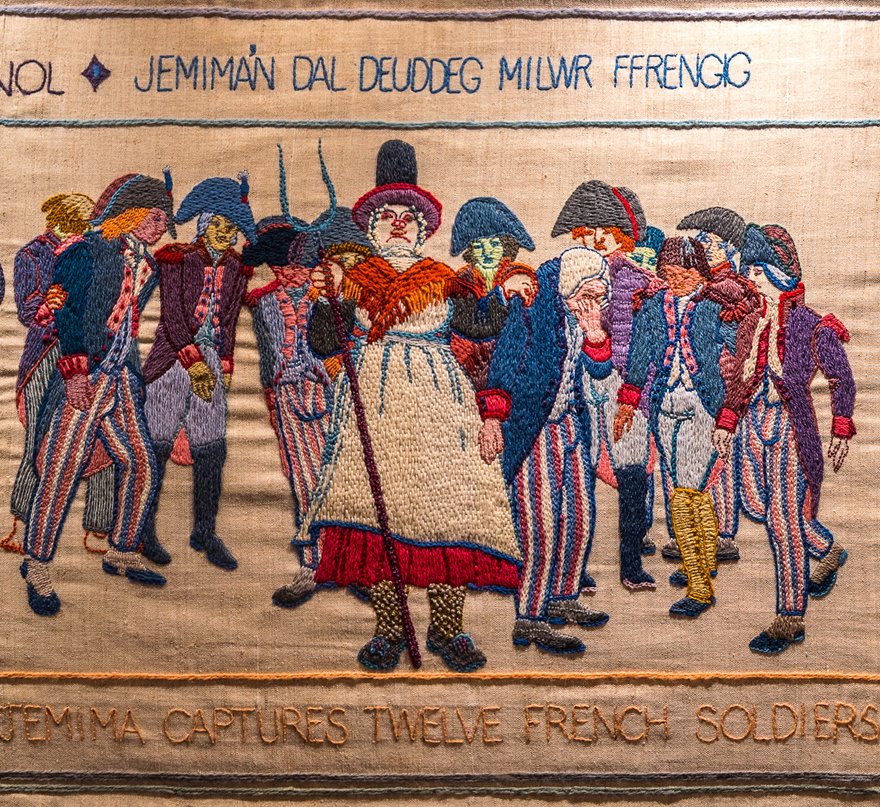 the seas, and that this had left them intoxicated from the stocks of rich food and drink found. In their drunken stupor, they perhaps then mistook the approaching women in their traditional Welsh dress of red shawls and tall black hats for British Redcoat soldiers.
Some also say that the townspeople made an effort to use up all the food and drink before the invading army had a chance, therefore suggesting that Jemima and her army were a little tipsy themselves and were experiencing a bout of alcohol-fuelled dutch courage. 
Modern day Jemima
Nowadays when we remember the Last Invasion of Britain, the character of Jemima Nicholas is at the heart of the celebrations. As part of the Bicentenary celebrations in 1997, the Fishguard Invasion Centre Trust was established and the Last Invasion Tapestry (as pictured below) was commissioned by Fishguard Arts Society.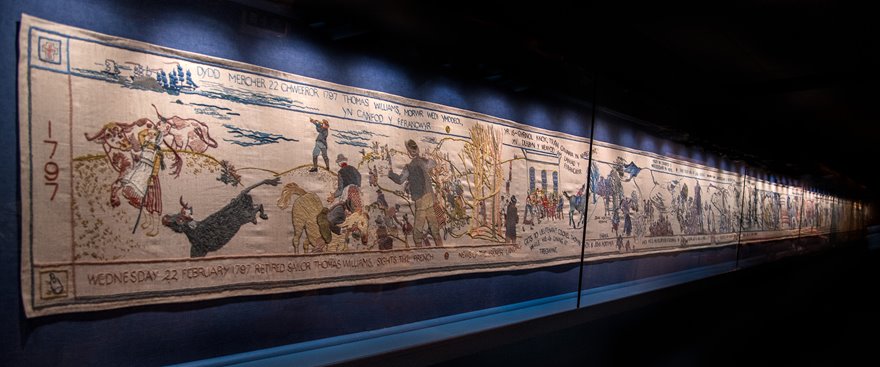 The Last Invasion Tapestry, which used the same format as the Bayeux Tapestry, is a remarkable 30.4 metres in length. It was designed by Elizabeth Cramp and a total of 77 local people helped to hand-stitch it over four years. Within the design you can spot the formidable Jemima Nicholas stood proud with pitchfork in hand, as well as a collection of her army of women in Welsh dress. Visit the Gallery alongside the Library in Fishguard Town Hall, and even book Guided Tours with a member of the Trust (advance booking necessary).
For many years the town had an "Official Jemima" who had been elected as part of the Bicentenary festivities. Played by a local lady named Yvonne Fox, she was an actress who would dress up as Jemima and play the role at local events and re-enactments, as well as visiting schools and groups to discuss Jemima.
Taking on the role of Welsh heroine Jemima Nicholas meant that Yvonne Fox had to be dressed to look the part. Quite incredibly, the town secured famous designer David Emanuel, who designed Princess Diana's 1981 wedding dress, to re-create the traditional Welsh outfit worn by Jemima.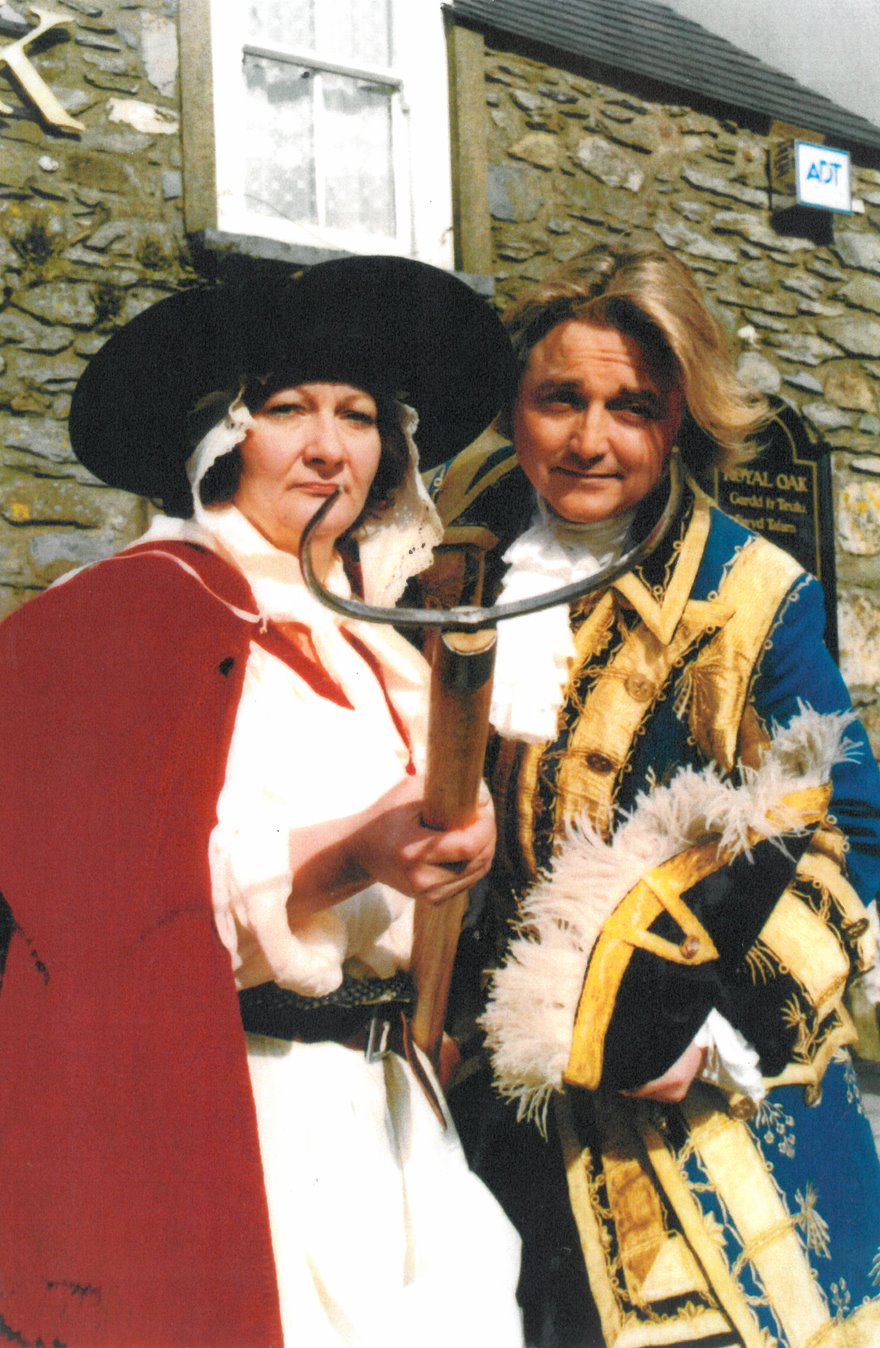 Sadly Yvonne passed away in 2010 and the town has been without an official Jemima for some time, but they are keen to fill the position as 2022 approaches - the year of the 225th anniversary. Julie recalls Yvonne as a tremendous lady who adored her role as the Fishguard icon, and has said it has proved difficult to find someone to match Yvonne and Jemima's larger-than-life characters. Much of the literature you see about Jemima still uses pictures of Yvonne to this day.
If you're in Fishguard exploring the history of the Last Invasion of Britain and Jemima Nicholas' involvement, you might want to call in to Fishguard's independent bookstore. I called in after meeting with Julie, and couldn't resist picking up a beautifully illustrated story book about Jemima. 
So what makes Jemima inspirational?
Whether you believe the rumours or choose to take the original account at face value, there's no denying Jemima was a pretty brave lady. Fishguard Invasion Centre Trustee Julie described Jemima as a large and strong lady who wasn't scared of defending her town. In one phrase, Julie puts Jemima's "sheer courage" as the leading quality which makes her so inspirational.
It's undeniable that marching out into the cold to come face to face with armed enemy soldiers is a daunting task, but Jemima was not to be intimidated and fearlessly did so anyway.
No matter what story you read or who you speak to, there's no dispute that Jemima Nicholas was certainly a force to be reckoned with. Known also as Jemima Fawr, or Jemima the Great in English, she has since become a recognisable figure in Pembrokeshire and Welsh history, and her name now goes hand-in-hand with stories of the Last Invasion.
Read our Inspirational Women in Pembrokeshire series:
Photo Credits: Many thanks to the Fishguard Invasion Centre Trust for the images supplied of the Tapestry and Yvonne Fox as Jemima.