Dog Friendly Holiday Cottages with Hot Tubs
Here we've highlighted some of our quality dog friendly holiday cottages with hot tubs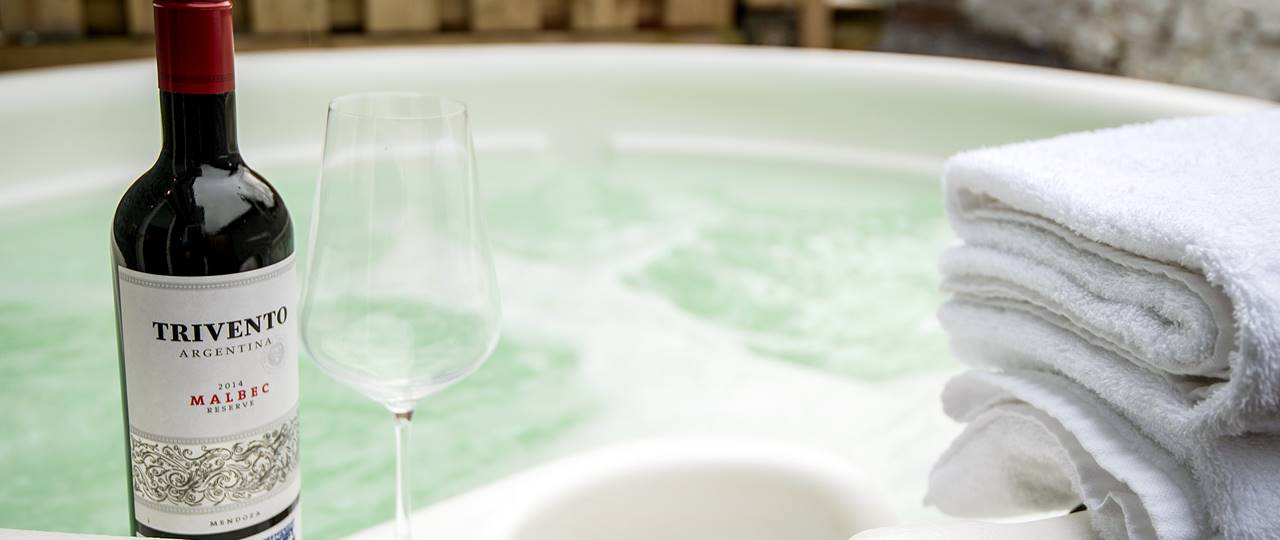 Holiday cottages with hot tubs are a favourite amongst our guests, and we can understand why. Hot tub cottages allow you to go exploring our stunning coastline by day, all the while knowing you can spend your evening relaxing those sore muscles away. Perhaps you have a hectic day-to-day life, or a particularly stressful job? A long soak in the warm bubbling water of a hot tub is the perfect remedy to help ease those tensions away.
"But", we hear you say, "we need somewhere suitable for the whole family – and that includes our dog".
We're a company of dog lovers ourselves, so we understand when your pet pooch simply can't be left behind. But that doesn't mean you need to compromise on your accommodation. Here at Coastal Cottages, we have a number of dog friendly holiday cottages with hot tubs so you really can have it all!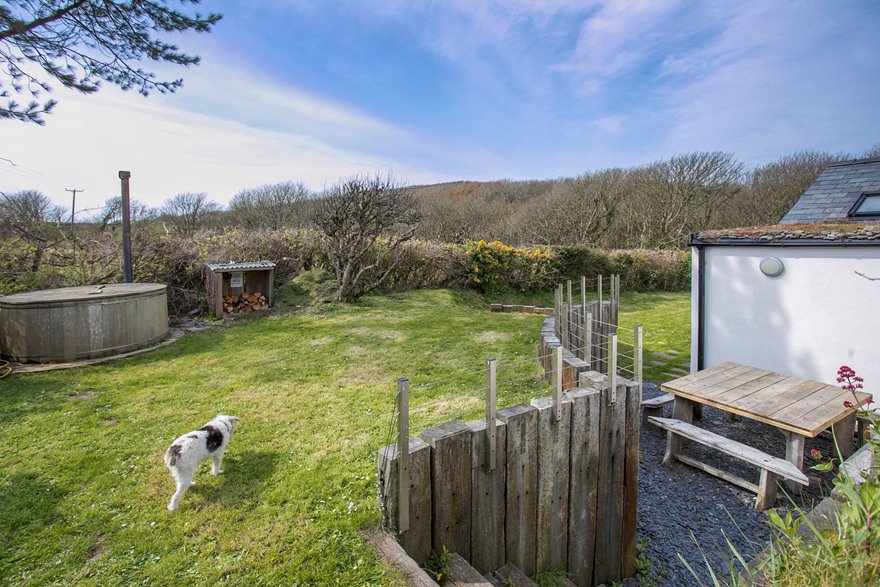 A pooch exploring the garden at Bangeston Farmhouse - notice the wood burning hot tub on the left
Glynmar, Saundersfoot
One of our larger dog friendly holiday cottages with hot tubs, Glynmar sleeps up to 12 in 6 bedrooms meaning there's plenty of room for the whole family plus it accepts not just 1 but 2 pets. A stylish five star property, Glynmar has been renovated in a contemporary design with soothing natural tones throughout.  Spacious rooms, large windows, two sitting rooms and a conservatory create a lovely sense of space here.
Putting a cherry on top, what makes Glynmar even more wonderful is its location. Just a few minutes' walk from the picturesque harbour in the heart of Saundersfoot, this property is conveniently located near to pubs, restaurants, shops and not forgetting, that superb sandy beach. From many of the rooms you can even take in sea glimpses.
Staying in Saundersfoot, you are just a short drive from popular Pembrokeshire locations including Tenby, Amroth and Narberth. You will also find a number of adventure parks nearby such as Heatherton (dog friendly), Anna's Welsh Zoo and The Dinosaur Park.
This property is a Friday changeover. For more details and pictures, click here.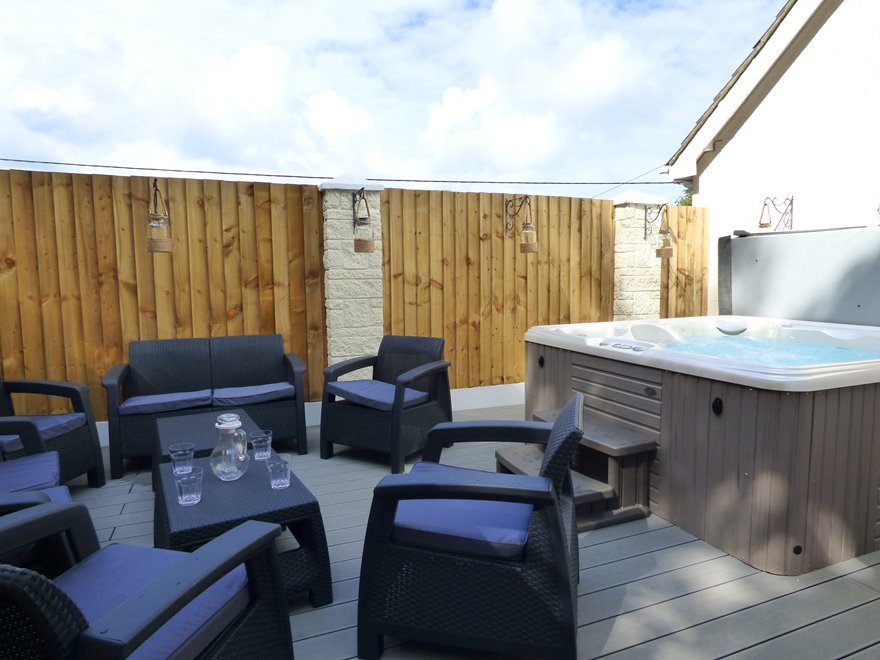 The hot tub at Glynmar holiday cottage, Saundersfoot
The Coach House , Cuffern
If it's a rural retreat you're looking for, The Coach House is an ideal choice. Picture a stone cottage set in a serene countryside location just minutes from the 2 mile long sands at Newgale. Set in a collection of six properties on the Cuffern Manor estate, The Coach House is nearby to the village of Roch with its local pub, village shop, post office and play area (at the village hall); and is around 10 minutes from the larger county town of Haverfordwest where you will find supermarkets, retail stores and pubs.
This 4 star property sleeps 4 people with one pet, and is a wonderfully cosy choice whatever time of the year. This stone cottage is comfortably furnished and well-equipped with an open plan living space and fitted kitchen. If booking a stay here, you're sure to want to make the most of the exterior with its sheltered paved patio and paved terrace with raised lawn.
This property is a Friday changeover. For more details and pictures, click here.
Opt for a rural dog friendly holiday cottage with hot tub at The Coach House, Cuffern
Bangeston Farmhouse, Angle
Quite unlike any of the other hot tub holiday cottages we let, Bangeston Farmhouse has been designed with sustainability in mind. Not only is the hot tub here a wood burning hot tub, the cottage itself is home to a number of more eco-friendly designs than you might see in other properties.
Being a wood burning hot tub, this simply means that the heated water within is powered by a log burner and therefore, there are no jet functions. You will have to set up the log burner some 3 to 4 hours before you wish to step in to give the hot tub enough time to get up to temperature, and then you will have to keep an eye on when you need to refuel. That being said, don't be lulled into thinking that this type of hot tub is any less relaxing than your standard hot tub – in fact, you might even think it's more so! Instead of sitting back into jet streams, focus on that soothing sound of the wood crackling as it burns whilst taking in the view of the beautiful wildflower roof and you'll soon be eased into a state of relaxation.
As for the farmhouse, the boiler is fuelled by wood pellets and the water is heated by solar panels. The rainwater is gathered and harvested for the toilet and washing machine, whilst a heat exchanger circulates warm air throughout.
The eco-friendly aspect of this holiday cottage is just the beginning of how wonderful this property though. Bangeston Farmhouse in stylishly furnished with a contemporary quality retaining original A frame beams and slate floors. Take advantage of the WiFi, garden furniture and BBQ for an all-round fantastic stay. It is located just a short drive from the rural village of Angle where you will find beaches, places to eat and a village shop.
For more details and pictures, click here.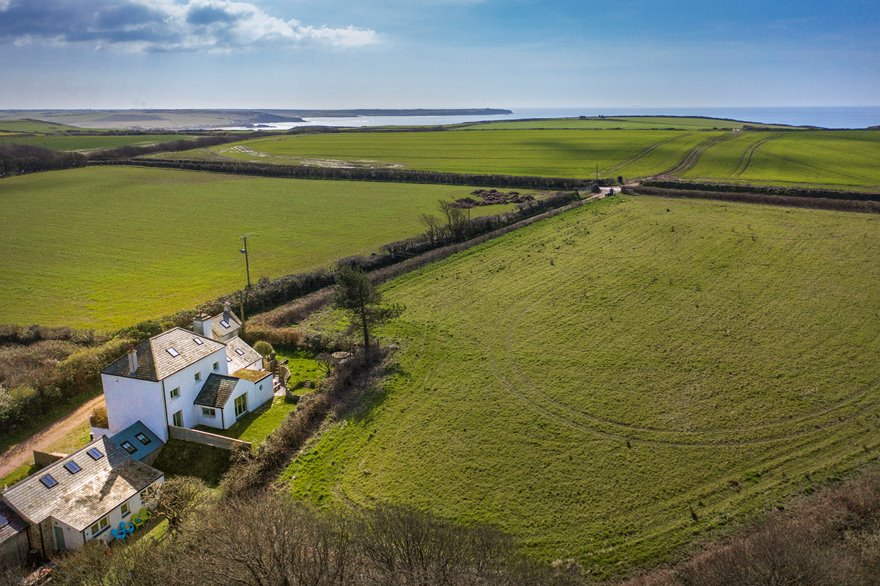 Bangeston Farmhouse is an environmentally sustainable dog friendly holiday cottage with hot tub near Angle
Coachmans Cottage, Nr St Brides
Coachmans Cottage is part of our cluster at Upper Hoaten, a collection of 5 cottages all set within one great location near St Brides on the west coast of Pembrokeshire. A family run venture, the team at Upper Hoaten have family holidays perfected, with communal areas and a communal hot tub on offer for all guests.
Not quite the smallest of the five, Coachmans Cottage sleeps up to 3 people in 2 bedrooms and accepts up to 2 pets – a great option for a couples getaway or small family holiday. Throughout this barn conversion you are spoilt with quality furnishings, exposed stonework and a cosy atmosphere. Curl up on the sofa with your sweetheart in front of the woodburner for an idyllic romantic break or take the short drive to St Brides for a week filled with outdoors adventures.
Coachmans Cottage, along with each of the other properties here, has its own sheltered patio for enjoying a glass of wine on a summer's eve or why not take advantage of the communal areas? There is a games room, a play area, a trampoline, barbecue and of course, the spa hot tub available for your use.
All of the cottages at Upper Hoaten are pet friendly and share communal access to the hot tub, but they all have their own individual charm and vary in size. To see information on all of the cottages in this cluster, click here or for more information on Coachmans Cottage, click here.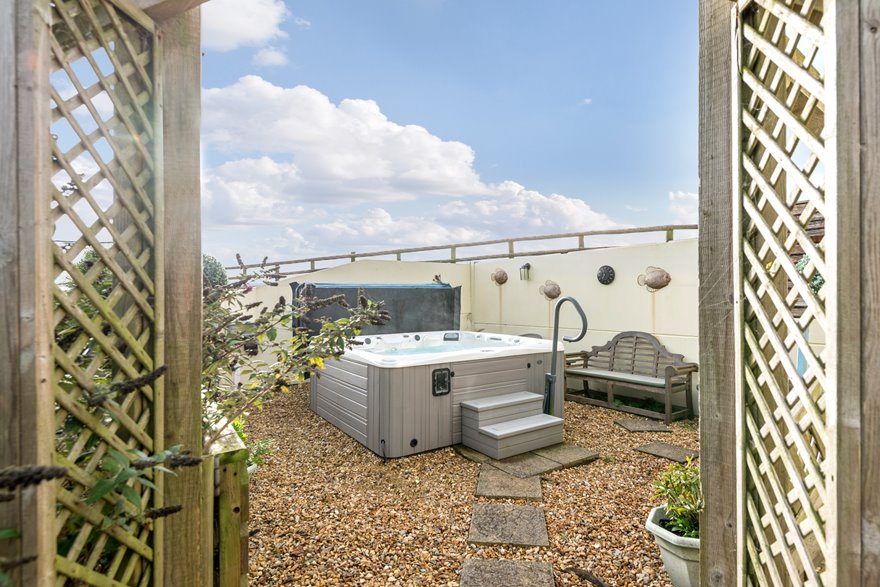 Book Coachmans Cottage alone or alongside other properties at Upper Hoaten