The Pembrokeshire Bucket List
Unmissable experiences in Pembrokeshire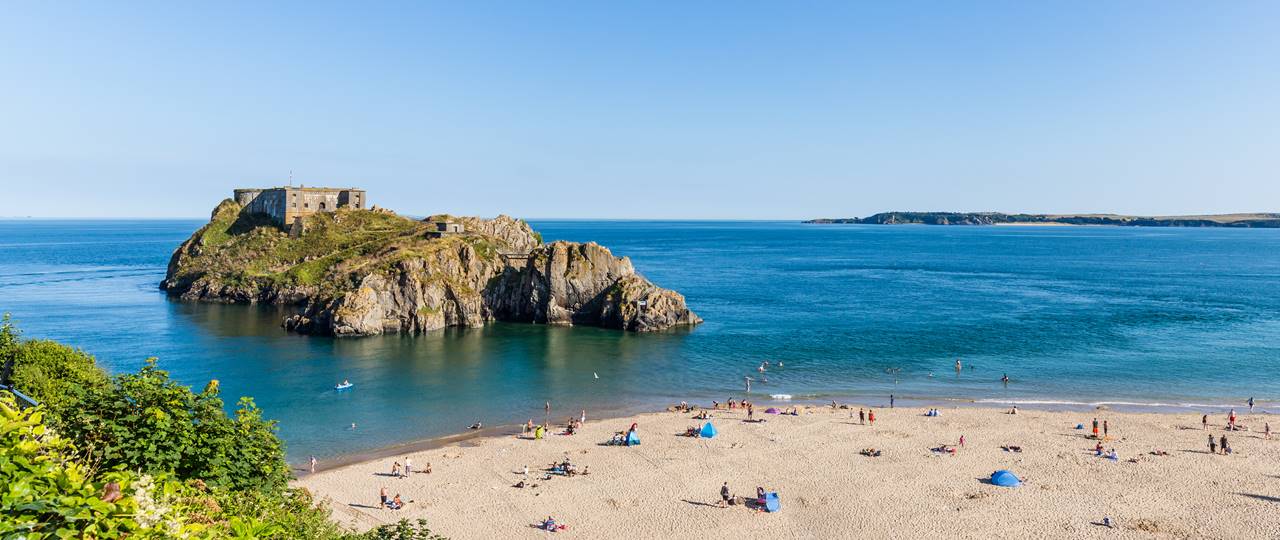 I've shared some Pembrokeshire bucket list idea's below to ensure you get the most from a Pembrokeshire Coastal break! If you have any idea's to add to the list, please get in touch – we'd love to hear from you!
Puffin Spotting
One of Pembrokeshire's most popular seabirds, A boat trip to Skomer or Skokholm island will land you in Puffin paradise! These charming birds with their boldly coloured bills are part of the biggest colony of puffins in Southern Britain. Each year almost 6000 of them return to the islands. Puffins usually arrive in March – Keep an eye out for our first to spot a Puffin competition coming up! If you'd like to visit the famous Pembrokeshire Puffins catch the boat from Martins Haven, Marloes or Dale between April and September.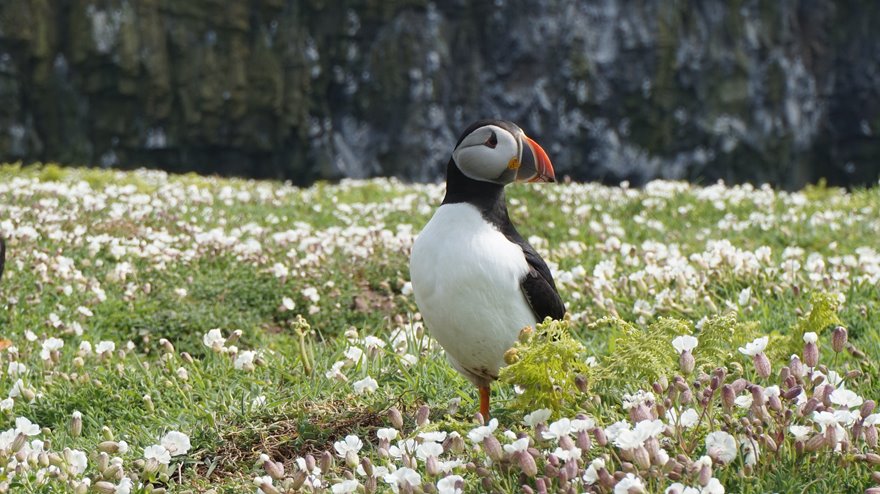 Picnic (or breakfast) at Barafundle Bay
There are so many beautiful picnic spots around Pembrokeshire – Barafundle Bay is always one to come out near the top of the list! Pack up your picnic basket or backpack with your favourite treats, blankets, a flask of tea or bottle of wine to relax and enjoy the stunning views over Barafundle Bay. (I personally think the best time to go to Barafundle is at sunset – the glowing orange sky is simply stunning, don't forget a torch! It may be dark to walk back to the car park afterwards). Alternatively catching the sunrise is equally as beautiful.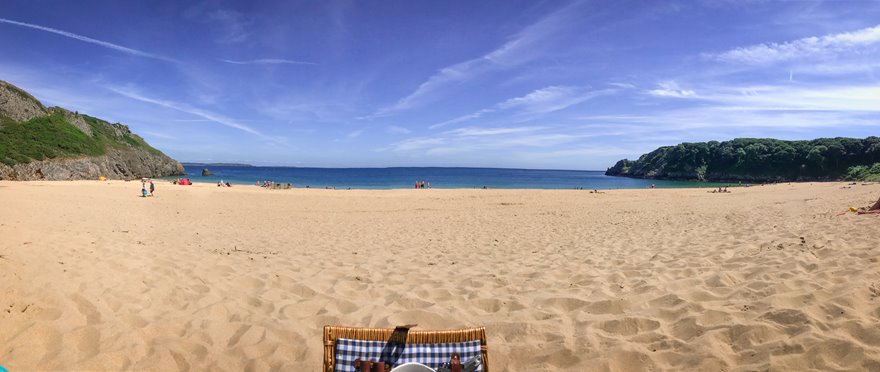 Barafundle Bay Beach
Paddle Boarding
This one is on my personal bucket list – last summer the new craze of paddle boarding seemed to take over the Pembrokeshire shores! Although the Pembrokeshire coastal path takes you around the beautiful cliff tops, it's only in the sea that you'll get to explore the best caves, arches and views surrounding the edge of Wales. If you fancy giving paddle boarding a go with an instructor to get the most out of your experience, contact our concierge team who can book you onto paddle boarding sessions. Click here for more information.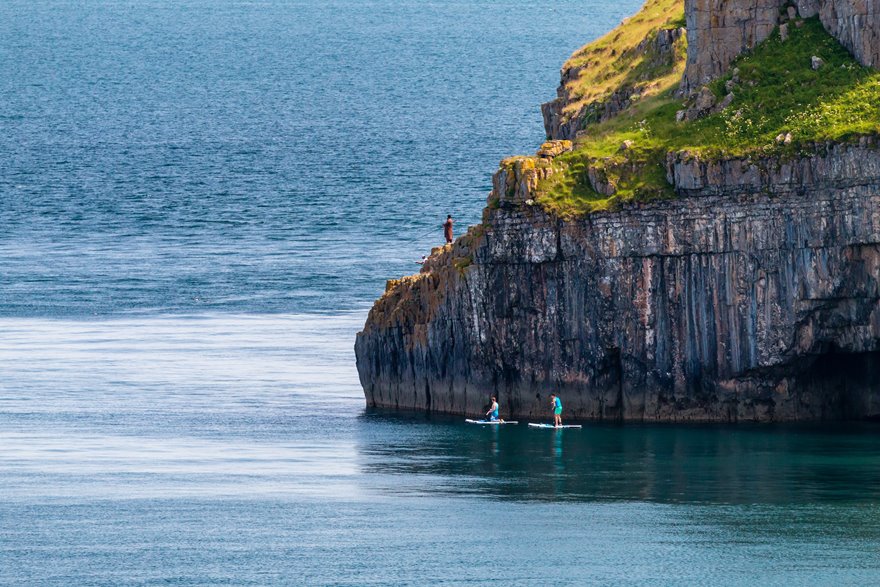 Paddleboarding at Barafundle Bay
Explore Pembrokeshire's Castles
Get lost in one of Pembrokeshire's magical castles. There are 6 main castles in Pembrokeshire (Carew, Llawhaden, Manorbier, Pembroke, Narberth and Haverfordwest), each one offers something completely different and all of them offering a brilliant day out! Take a guided tour around Pembroke Castle and learn about the Tudors home. Wander around the beautiful grounds of Carew Castle, be sure to make a picture stop at the only restored tidal mill in wales.
Sit on Tenby Beach with an ice cream
Spend an afternoon exploring the colourful coastal town of Tenby, a tourist hotspot! The bustling town's cobbled streets are filled throughout the summer with people visiting the spectacular bars and cafés, bookshops galleries and of course the stunning beaches. The golden sands are the perfect place to relax on a sunny afternoon with an ice cream in hand.
Visit St David's – The UK's smallest City
A must visit while on a short break in Pembrokeshire. Explore Pembrokeshire's smallest city St David's. Built upon the site of St David's 6th-century monastery, it has been a site of pilgrimage for hundreds of years. The beauty of this building will be sure to stop you in your tracks. It seems to be one of these places that no matter how busy during the peak of summer, its atmosphere always remains to be peaceful and relaxed. Find the two trumpeting angels and try to find the footprints that the devil allegedly left when he jumped off the top of the Cathedral. Legend has it that if your feet fit, you are his direct descendant!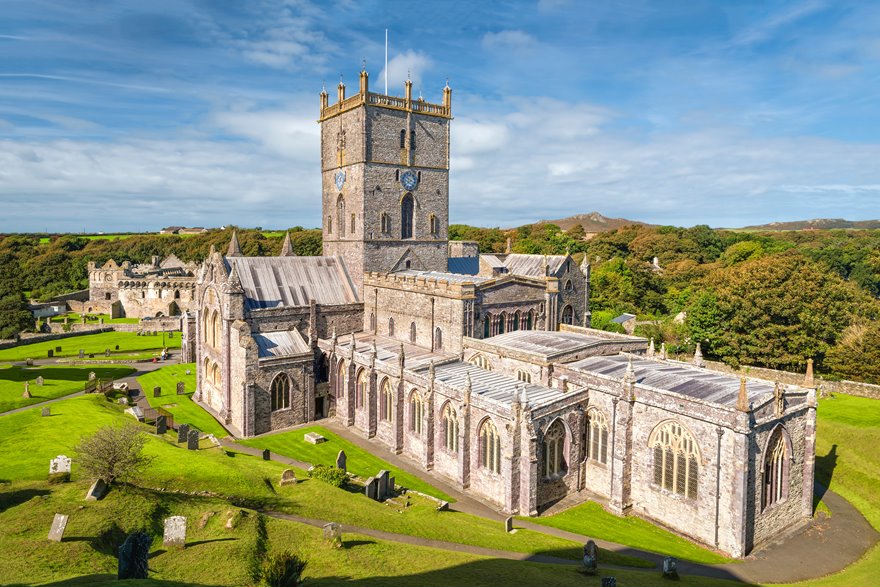 St Davids Cathedral
Stargazing
Although this activity may be weather dependent, on a clear evening star gazing can make a truly magical night that gets you away from the crowds (St. Brides Bay is always a good spot!) Wrap up warm, bring a big flask of hot chocolate and blankets to make the perfect cosy scene for this beautiful experience (let us know if you spot any shooting stars!). If you would like to book a stargazing experience contact our concierge team!
Coasteering at Blue Lagoon
This one is perhaps not for the gentle-hearted! Enjoy an adrenaline-fuelled day swimming and climbing around the rugged coastline exploring caves and coves. With options to jump from frightful heights and chances to spot seabirds, dolphins and seal this is sure to be a day you won't forget! If you would like to book a coasteering experience contact our concierge team!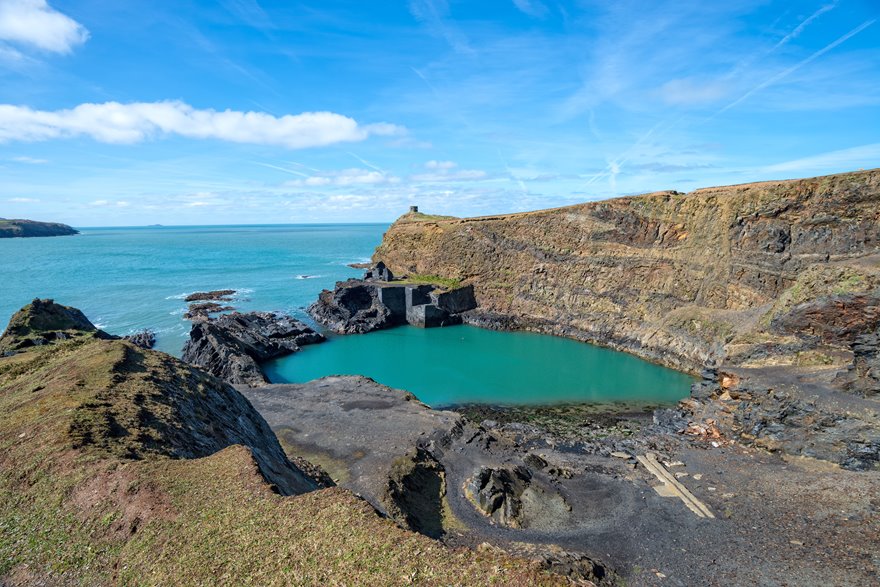 Blue Lagoon - Abereiddy
A stroll around Bosherston Lily Ponds
On a sunny afternoon take a stroll around one of the prettiest walking routes in Pembrokeshire – Bosherston Lily ponds. The three flooded limestone valleys are best known for their covering carpet of lilies (which are best seen in June). Making your way around the winding footpath towards the gorgeous sand dunes banks of Broad Haven South beach, there's a great chance you'll spot swans, wildfowl butterflies and dragonflies along way (as well as some great view picture stops, make sure to pack the selfie sticks!)
Roast Marshmallows over a fire on a quiet beach
Pembrokeshire's stunning coastline is lined with lots of secluded little beaches and coves, outside of the summer months it's highly likely that you'll have these beaches more or less to yourselves! Take advantage of these beautiful beaches by packing up a rucksack with blankets and set up for an evening of roasting marshmallows around a handmade fire to admire the views.
If ticked any of the above off your list, or have some great additions we'd love to hear from you!