Things to Do in St Davids
Plan a jam-packed itinerary for your stay in the UK's smallest city.
You've decided on a holiday to one of the most westerly points of Pembrokeshire, but what can you do once you get there? Well, there's plenty to keep you occupied! Pay a visit to some of the area's most interesting historical locations, wear the little ones out with some adrenaline-filled activities, relax on the sandy beaches or shop til you drop.
For the history buffs
The St Davids peninsula is a land full of legends and mythology, ideal for those of you who are wanting to delve into some of the most magical historical stories of Wales.
Pay a visit to Capel Non, a cliff-side location on the outskirts of St Davids. Here stands the remains of a Chapel named after Saint Non, the mother of our national saint, David. Also on this site, you can visit a well which is believed to have healing powers. This well, marked by a small shrine, allegedly appeared around 550 AD during the thunderstorm which took place when Non gave birth to David.
The unavoidable attraction at St David's is, of course, the Cathedral set in a valley in the centre of the city. Originally the site of a monastery founded by Saint David himself, this Cathedral is often the end destination for pilgrimages as it contains a shrine to him. With impressive architecture and beautifully delicate interiors, St Davids Cathedral is a must visit when in St Davids. Note, the Cathedral is an active place of worship and operates a traditional communion service alongside hosting special events such as the annual Cathedral Festival each May. Admission is free but you are welcome to donate, pray and explore.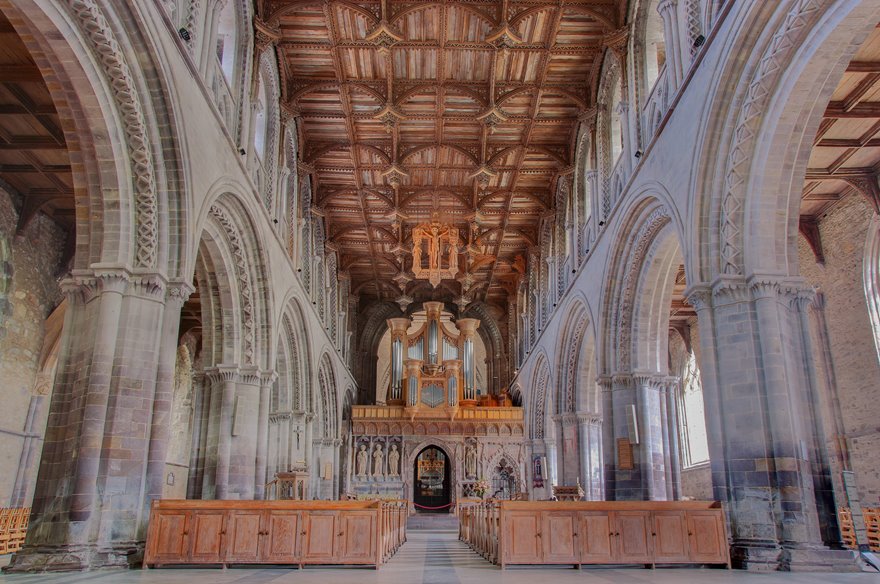 St Davids Cathedral 
Situated just behind the Cathedral you will see the Bishop's Palace. Remarkably maintained, this building was Saint David's original monastery on the site built in the 6th Century. Much of its structure remains although it is now a ruined building without a roof. Pay a visit for an insight into the days gone by or attend one of the open-air theatre performances during the St Davids Arts Festival each summer.
For the walkers and wildlife spotters
Take a boat trip from the departure point at St Justinian's out to the RSPB Island of Ramsey where you can book a guided walk of the island or explore at your leisure. Make sure to take along a camera as you'll see incredible sightings of seabirds, seals and fauna depending on what time of the year you choose to visit. Available through our Concierge team or booking offices in the city centre, you can take a boat around the island or the surrounding coast, or land on the island for the day.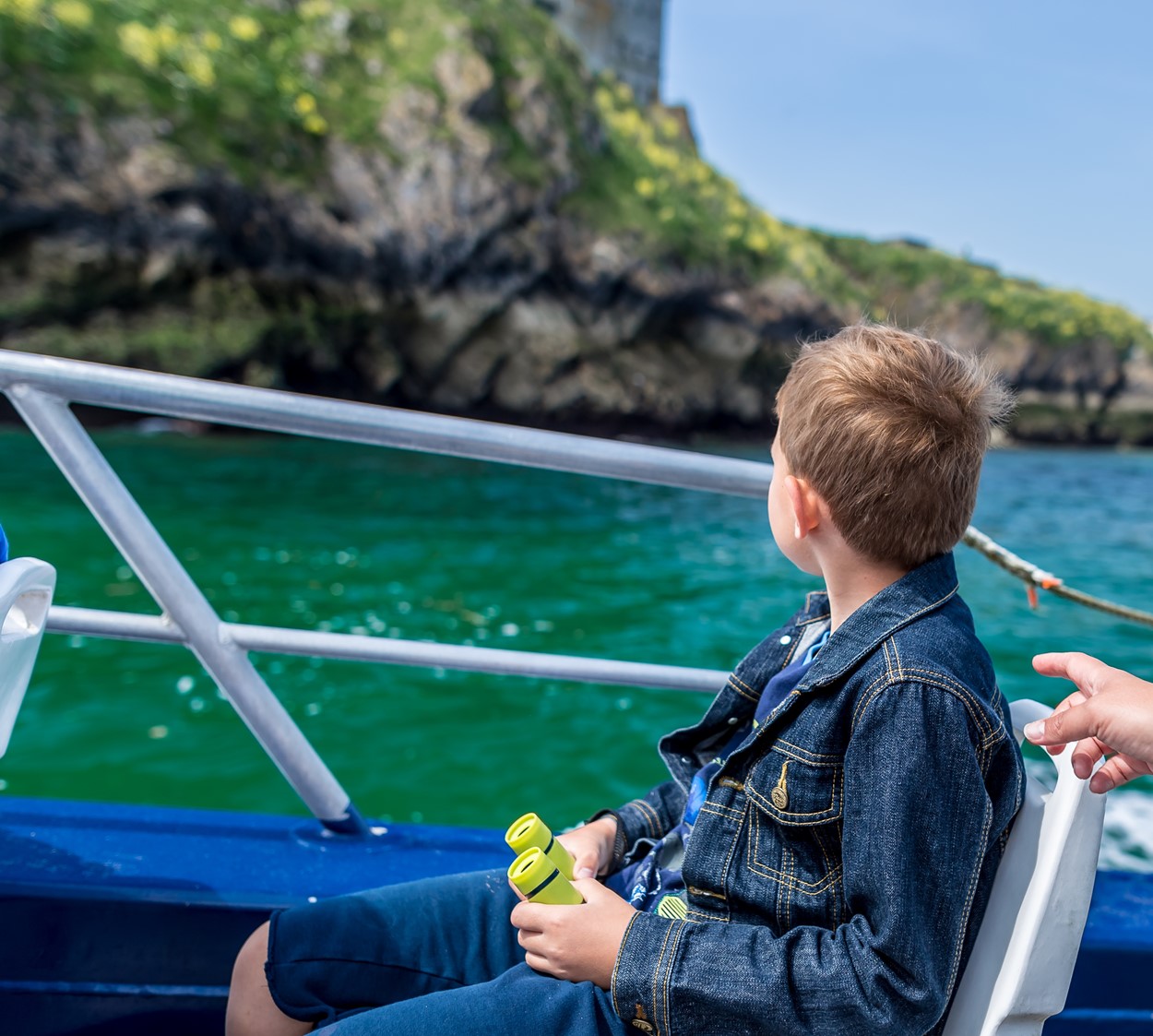 Pembrokeshire Boat Trips
You can join the Pembrokeshire Coastal Path from numerous locations across the peninsula and you're guaranteed spectacular views of the coastline and the local wildlife. Along with this stretch of the Path, you'll pass by smaller coves such as Porthclais, Porthselau and Caerbwdi. You can also access St Justinians, not only the departure point for many local boat trips, but it is home to the past and present Lifeboat Stations of the peninsula.
If you go for a ramble around September when the grey seals occupy many of the smaller coves along the coast to care for their newborn seal pups – just make sure not to disturb them on your travels. Hop aboard the Celtic Coaster or the Puffin Shuttle bus services (dog-friendly) to walk longer lengths of the path and get a ride back.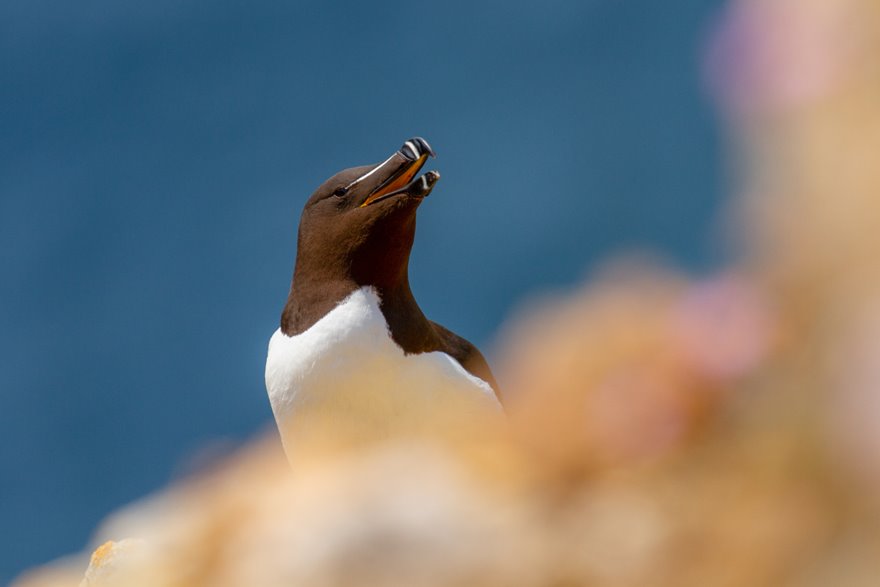 Wildlife on Ramsey Island
For the shoppers
Being such a small city, the streets are sprinkled with independent shops and quaint stores rather than large retail warehouses. Think charming and friendly shops where the store-holders and staff are locals who've lived their whole lives just down the road.
Any book-lover will adore the unique experience of shopping at the St Davids Book Shop just seconds from the Cathedral; picture two floors of shelves bursting with new and second-hand books for you to devour. Pop into Window on Wales on the Cross Square for a superb range of gifts and souvenirs.
For local produce; there's a fruit and veg shop, a family butcher's selling meat, fish and other groceries as well as St Davids Food and Wine, a popular delicatessen selling a mixture of local favourites, Welsh delicacies and more. There's also CK's Supermarket if you want to do a larger shop.
You will also a handful of small delightful retail stores including Fat Face, Crew Clothing Co. and a National Trust shop.
For the sea adventurers
Whitesands is the better known of the beaches in this area. Recently named as one of the top beaches in the world, Whitesands is located just outside St Davids and is regularly awarded a Blue Flag for its clean water quality and convenient facilities. Note, dog restrictions apply during the summer months.
It's a popular location with surfers and families as it is manned by lifeguards throughout the summer months plus the parking (charges apply), on-site café, toilets and equipment hire all add to the appeal. Of course, the views help too. Towering over the beach is the volcanic outcrop of Carn Llidi – stroll to the top for magnificent views across the coast and Ramsey Island.
A little closer to St David's is the smaller beach at Caerfai Bay, this beach is much more enclosed than the mile-long shore at Whitesands making it popular with bathers but less suitable for those looking to try their hand at watersports. During your visit, you'll spot the unusual colouring of the surrounding cliffs. Made of purple sandstone, this material was used to build the Cathedral.
St Davids is home to the founders of the relatively new watersport known as coasteering. A mixture of sea swimming, scrambling and cliff-climbing; this sport was discovered by the team at TYF Adventure and is seemingly ever-increasing in popularity. TYF can take you exploring the coastline with surfing sessions, coasteering, sea kayaking, climbing and more. These sessions are also available to book via our Concierge department.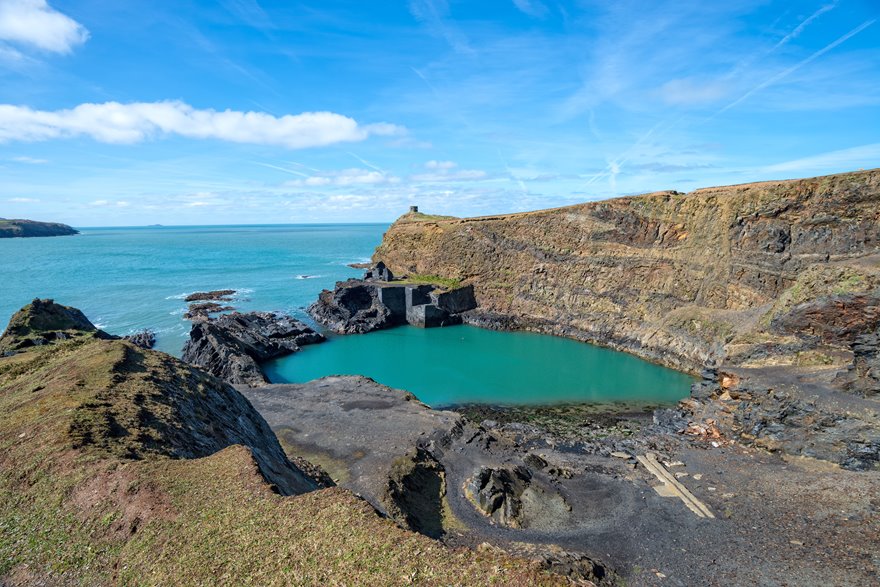 Blue Lagoon Abereiddy
For the family holidays
Just outside of St Davids towards Fishguard, you'll find Dr Beynon's Bug Farm. An exciting and interesting attraction, this Bug Farm allows you to gain a fascinating insight into the world of all things creepy-crawlies. Also a working farm and Scientific Research Centre, this attraction combines activities including a Tropical Bug Zoo and Museum with a Bug Farm Trail and Walled Garden and indoor play area to create a fantastic day out for all the family. You can even visit their on-site restaurant The Grub Kitchen for a spot of lunch – challenge yourself to sample some edible bugs if you're brave enough! To read our article about this fascinating place, click the link below.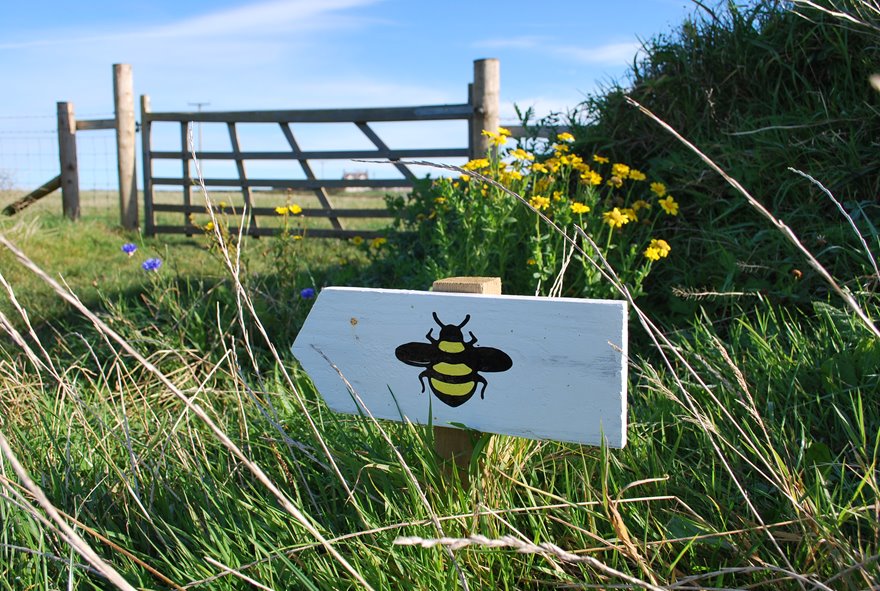 Dr Beynon's Bug Farm
Back in St Davids itself, you can visit Oriel Y Parc which is a visitor centre complete with shop, café, gallery and exhibition centre. Oriel Y Parc often hosts special events such as Easter and Summer fun days, Christmas markets and more.
You will also find a free outdoor play area ideal for wasting away a couple of hours on those sunny days. Take along a picnic or pick up some sandwiches from the supermarket across the road, and let the children play safely on the swings, monkey bars, slide and roundabout whilst you soak up the sun.