Why visit the Pembrokeshire Coast National Park?
Plan the holiday of a lifetime in Pembrokeshire this year
The Pembrokeshire Coast National Park is one of 15 National Parks within Britain but remains the only coastal National Park, making it a completely unique destination. Whether you're a foodie, a history buff, an adventurer or bookworm; there are so many reasons to visit that it is hard to know where to start.
About the Pembrokeshire Coast National Park
The Pembrokeshire Coast National Park was first designated a National Park on the 29th February 1952, so the anniversary is often celebrated on the 28th. Within the Park, you will find several enchanting villages, magnificent beaches and charming harbours. Throughout the land, you will find Sites of Special Scientific Interest (SSSI), Special Areas of Conservation and Special Area Nature Reserves including the UK's only marine nature reserve at Skomer Island.
Wildlife is in abundance here with a wealth of seabirds such as puffins, guillemots, peregrine falcons and gannets with sea life including Atlantic grey seals, porpoise, dolphins, crabs, lobsters and more. Expect to find flora and fauna in the countryside and sea anemones, sponges and reefs under the shores.
Nowadays, approximately 80% of the entire Pembrokeshire Coast National Park is privately owned. Interestingly, only around 1% of the National Park here is owned by the Pembrokeshire Coast National Park Authority (PCNPA), an organisation whose role it is to protect and conserve the Park keeping it safe for those who visit, but also keeping it safe for the wildlife, habitats and industries which exist here.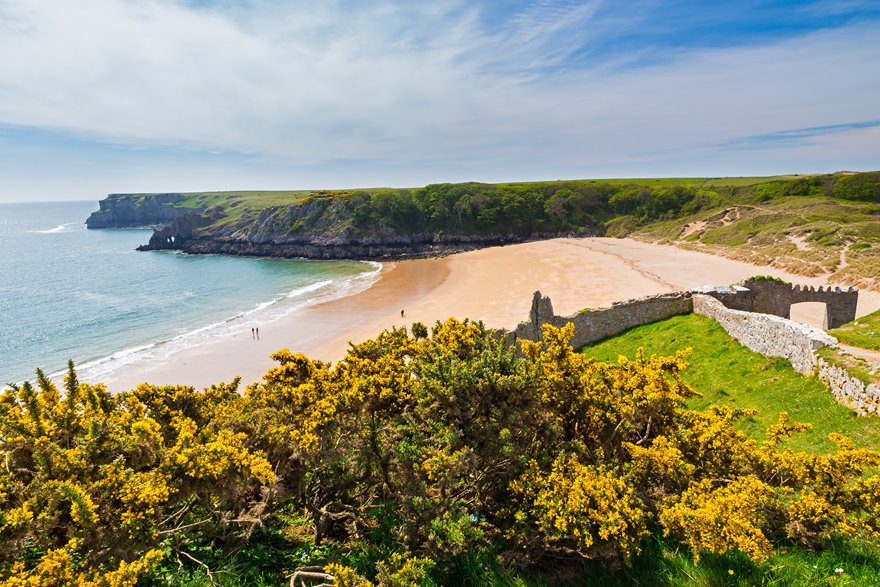 Barafundle Bay, near Stackpole, is an award-winning beach located in the Pembrokeshire Coast National Park
The Pembrokeshire Coast Path
Nearly two whole decades after the designation of the National Park, the Pembrokeshire Coast Path was officially opened on 16th May 1970. With its launch, it became the very first National Trail in Wales and has since become part of the Wales Coast Path; an 870-mile path along the coast of Wales, and the International Appalachian Trail, a worldwide network of walking trails.
The Pembrokeshire Coast Path begins in St Dogmaels in the north and runs right the way along the coast down to Amroth in the south, totalling a remarkable 186 miles or 420 km. Many set themselves the challenge of walking the full length of the Path. If you do so, you can receive a free certificate to commemorate your achievement.
Along the Path, you will see beautiful soft sands at many of Pembrokeshire's beaches such as Broadhaven South; you will pass through picturesque old fishing villages such as Abercastle and you will stroll through some of Pembrokeshire's most beloved locations such as Tenby. You will spot amazing geographical landscapes at Abereiddy's Blue Lagoon and The Green Bridge of Wales near Stackpole, and will enjoy views over the offshore islands of Ramsey and Skomer.
A staggering 85% of the Pembrokeshire Coast Path is located within the Pembrokeshire Coast National Park, and it is no wonder that this is one of the main attractions of the area. If you walk any section of the Coast Path, no matter how short or long, you will immediately notice the unforgettable views across the sea and surrounding coastline.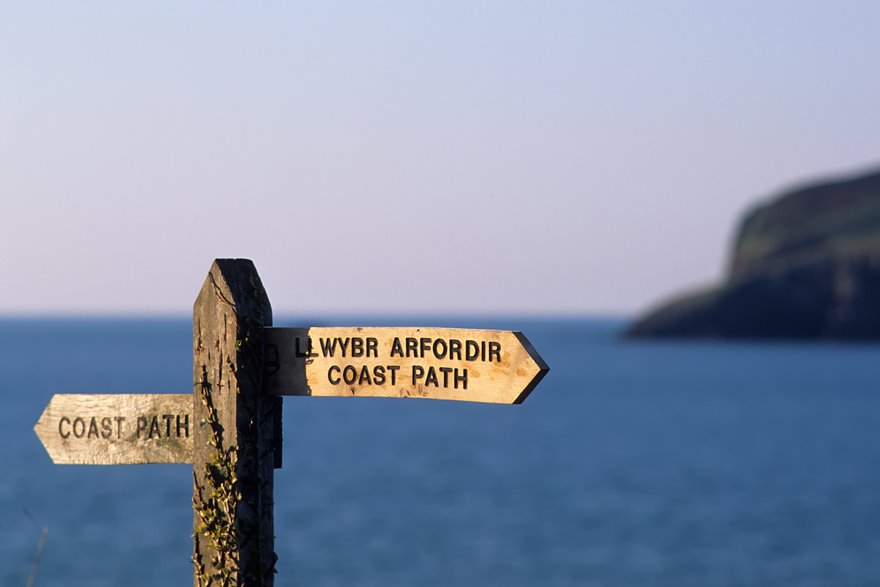 With 186 miles of the Pembrokeshire Coast Path to explore, where do you start?
Location & Size
So where is the Pembrokeshire Coast National Park? It is set in the South West corner of Wales, just a couple of hours' drive from the likes of London, Bristol and Manchester. It's also just a hop, skip and a jump to Ireland via ferry, sail from Fishguard straight into Rosslare. Fly into Cardiff and just follow the motorway west until you reach that wonderful blue sea.
Pembrokeshire spans an area of 612 square kilometres, much of which is made up of rural farmland and small villages dispersed through the countryside. Put this together with a 186-mile coastline, and you have a hotspot for adventure. Water sports enthusiasts will want to try their hands at power kiting, coasteering or surfing in this Welsh wonderland whilst ramblers will revel at the chance to explore the coast path or the inland woodlands. Find the highest point of Pembrokeshire at Foel Cwmcerwyn in the Preseli Hills or spend the day at Tenby South Beach, Pembrokeshire's longest stretch of sand.
As a result of the rural nature here, Pembrokeshire is arguably one of the best locations in Britain for stargazing. The lights you'll find in built-up areas like city centres cause light pollution which affects your view of the stars, meaning rural locations make perfect destinations for stargazing. In Pembrokeshire, you can spot all sorts of constellations and celestial planets, even the Northern lights in some cases.
Did you know? Nowhere in Pembrokeshire is more than 10 miles from the sea
An Award-Winning Location
Wherever you look in Pembrokeshire, you're likely to find an award-winning location nearby. In 2019 alone, Pembrokeshire received 11 Blue Flag Beach Awards, 12 Green Coast Awards and 8 Seaside Awards. Each of these is presented only to locations which boast clean environments, fantastic water quality and great facilities.
In recent years, the National Geographic Traveller magazine online voted Pembrokeshire as one of the top two locations in the world to visit. Barafundle Bay was labelled one of the world's best beaches by Passport Magazine. Pembrokeshire has even been voted as the Holiday Destination of the Year by the UK public in the BBC Countryfile Magazine Awards.
What to do in Pembrokeshire?
As we've already mentioned, the Pembrokeshire coastline is a hub for wildlife activity. Take a boat trip out towards the RSPB island of Ramsey or the nature reserve at Skomer Island, or sail out to Caldey to explore a monk-inhabited island. Walk the Coast Path, hike the Preseli Hills or amble through the National Trust estates of Colby, Southwood or Stackpole.
If you're planning an active holiday, make sure to pack your wetsuit as you'll no doubt want to take to the seas and go coasteering, surfing or kayaking. Power kiters will no doubt want to pay a visit to Newgale Beach for a spot of kitesurfing or kiteboarding. If water sports are not your thing, try horse riding on the beach or plan a bicycle ride to the nearest beach.
Foodies will want to take a culinary journey through Pembrokeshire; enjoy fine dining at Coast restaurant in Saundersfoot, tuck into a lobster burger at Café Mor in Freshwater West or snack on freshly made pizza just over the border into Ceredigion at Pizzatipi. Drink handcrafted Tenby beer at many of the pubs in South Pembrokeshire, sample Ramsey Gin at St Davids Kitchen or sip a glass of Barti Ddi Rum in one of the many restaurants.