Top Cottages for a Stargazing Holiday in Wales
Discover some of the best dark skies in the world with a Pembrokeshire cottage holiday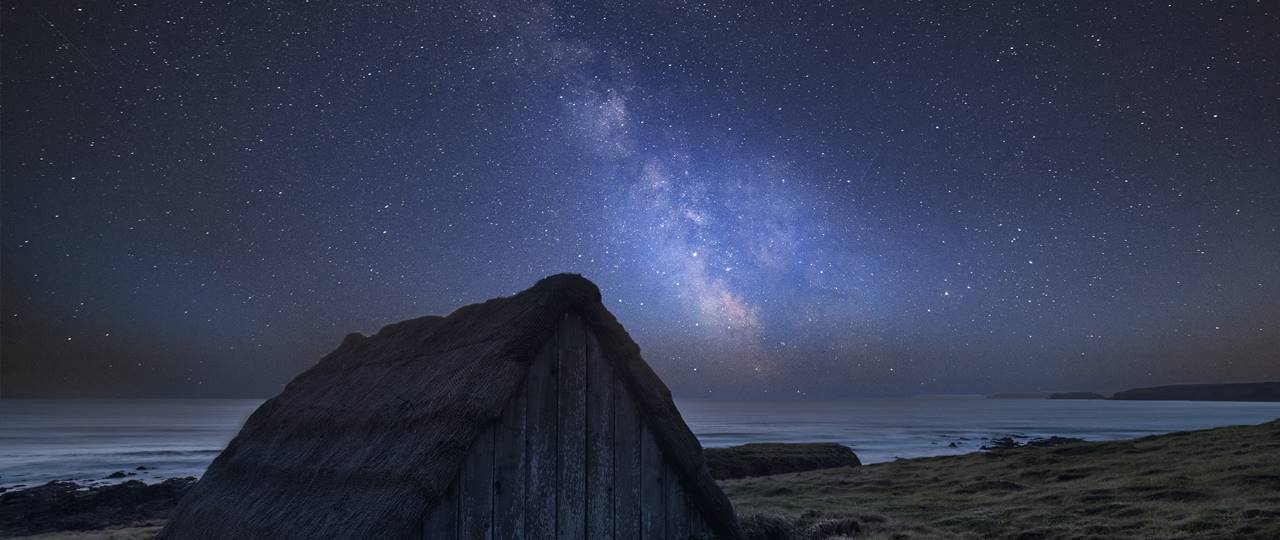 If you're planning a stargazing holiday, a rural destination such as Pembrokeshire outdoes city locations for several reasons. The main issue with stargazing in the city is that all those city lights, (streetlights, vehicle lights, billboards etc.) affect your view of the stars – this is what is known as light pollution.
Another advantage is that rural locations are naturally much quieter than cities as they are less densely populated and have less activity taking place. This calmer way of life makes for a more tranquil stargazing experience; pick any of the wonderful rural locations across Pembrokeshire and you're sure to find unforgettable views of the night sky.
Most of us here at Coastal Cottages have lived in Pembrokeshire all our lives, so we know for a fact that the dark skies here are second to none. That being said, we do not claim to be professional astronomers so it's understandable if you might be a little sceptical to take our word alone, but you needn't be.
Pembrokeshire has a total of eight Dark Skies Discovery Sites currently, as designated by the Dark Skies Discovery programme. Each of these locations has been awarded the title due to the fantastic conditions they offer for an evening of stargazing; they are accessible to the public and importantly, have very little light pollution resulting in fantastic views.
These nationally recognised Dark Skies Discovery Sites in Pembrokeshire are:
Broadhaven South
Garn Fawr, near Goodwick
Kete, near Dale
Martin's Haven
Newgale Beach
Poppit Sands
Skrinkle Haven
Sychpant National Park, Gwaun Valley
With around 500 properties to choose from on our site, we understand it can be tricky to narrow down where the best places to stay for stargazing are. That's why we've put together this list to help you on your way.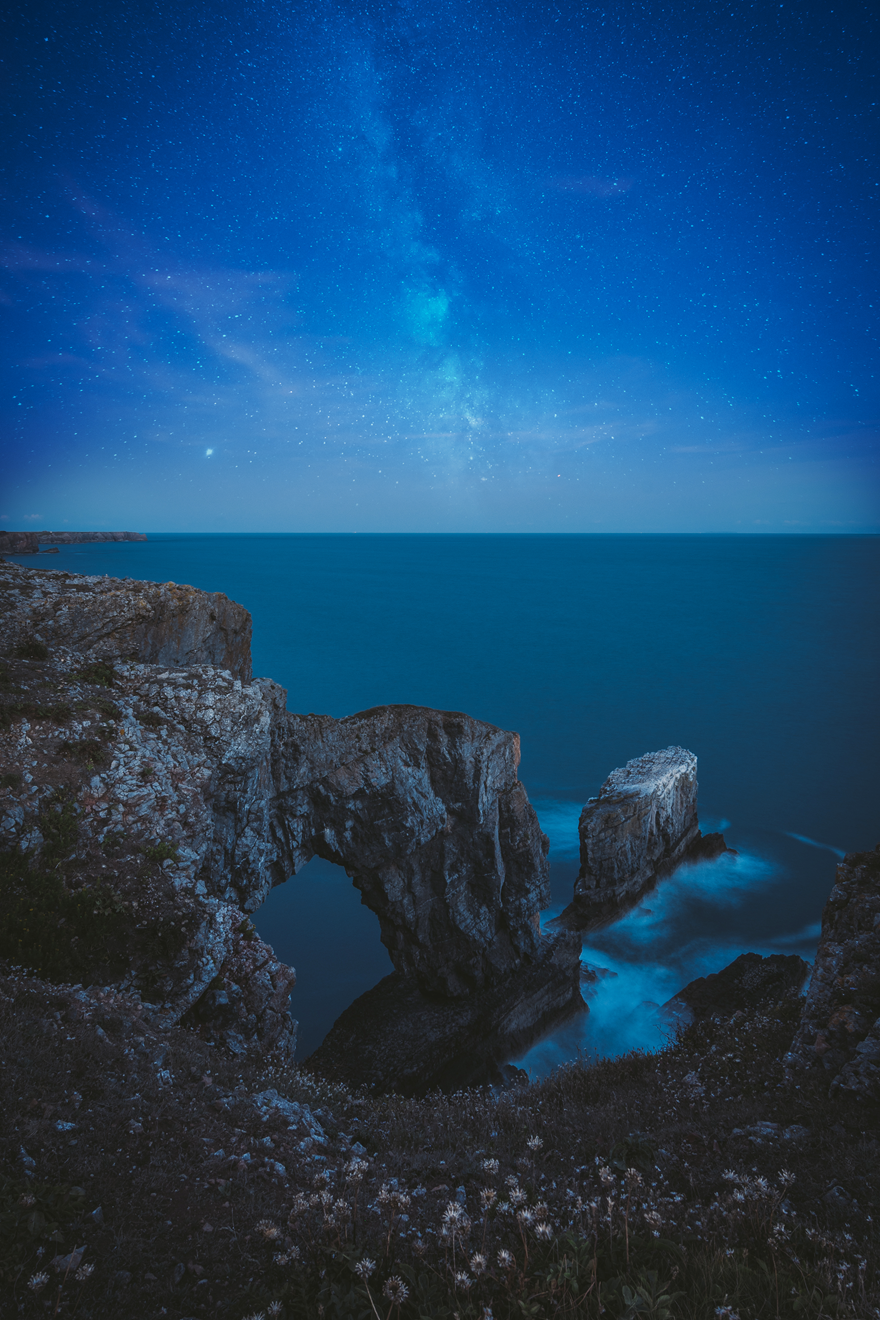 The Green Bridge of Wales
The Dale area in West Pembrokeshire is a Dark Skies Discovery Site, so including Musselwick House in this list was a no brainer. Nestled within 60 acres of farmland, this prominent brick house is set in a designated Site of Special Scientific Interest (SSSI) overlooking Dale Bay.
Its remote waterside location teems with wildlife and birds during the day and becomes a serene haven for stargazing at night. Spend your evenings on the paved patio with your telescope naming all of the celestial objects you can spot, before heading inside to warm up in front of the woodburning stove.
The house itself is a great choice for a family holiday, sleeping up to 8 in four bedrooms and accepting 2 pets. Cook up a family feast in the traditional cottage-style kitchen before settling down at the large dining table to tuck in. Picture feature fireplaces, high ceilings, sash windows and beautiful wooden floors throughout Musselwick House creating a cosy and quality atmosphere throughout all seasons.
If you're planning a getaway for your local stargazers group or are looking for somewhere memorable to house your next family reunion, Penrhiw Priory is the one for you. Once a Victorian vicarage, this impressive property sleeps up to 16 across 8 bedrooms, two of which are in the adjoining Coach House.
This Grade II listed building is positioned in 10 acres of grounds on the outskirts of St Davids and is built of Caerbwdi stone – a tremendous purple coloured stone which you will recognise if you have ever visited the nearby St Davids Cathedral. Inside you will be spoilt with unique suede wallpaper, bespoke artwork reflecting the countryside surroundings and ensuite bedrooms throughout.
French doors open onto the paved terrace complete with outdoor furniture, a recommended spot for a morning cuppa or evening glass of wine as you look to the stars. A real delight for stargazers though will be the wildflower meadow with views across Carn Llidi at Whitesands. Imagine sitting within a field of blooming flowers with the stars sparkling above you.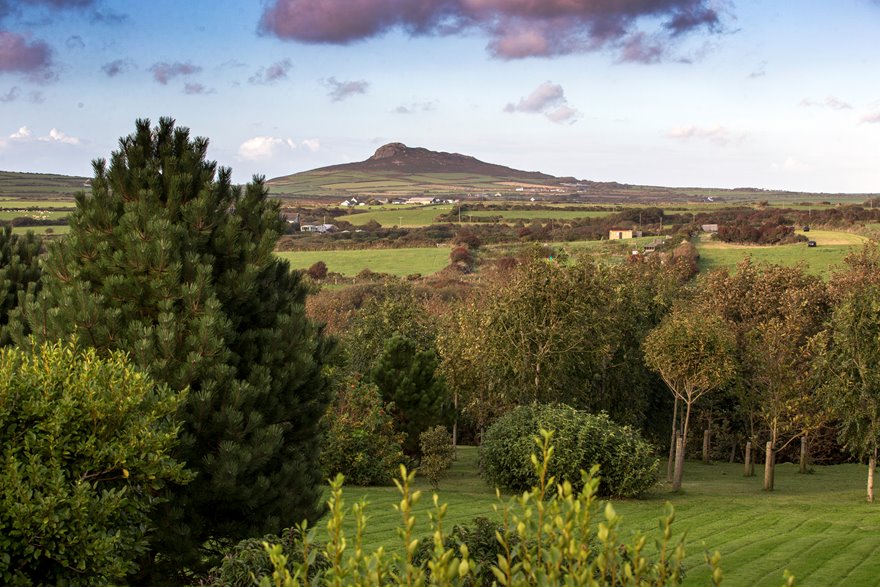 View from the meadow at Penrhiw Priory over Carn Llidi near Whitesands
Perhaps you adore looking at the stars but can't cope with the cold night air, then a stay at Beach View in Broad Haven is just right for you. This five-star compact property sleeps just two but boasts superb skylights in the bedroom making for a truly romantic getaway. Curl up under the covers with your sweetheart and fall asleep under the stars, then wake up to sunlight streaming in and a beautiful beach-side view. (Don't worry – there are blackout blinds if you need them.)
Just a stone's throw from the shore, Beach View is in a prime position for those of you planning a holiday filled with water-sports and beach days. Enjoy a bite to eat at The Galleon Inn or Sunshine Italian Restaurant, before strolling home for a nightcap in the landscaped garden.
For a castle view like no other, book a stay at Gate Cottage in Carew. Situated just opposite Carew Castle and just seconds from The Carew Inn, Gate Cottage is a fantastic family-friendly property. It sleeps up to 8 in 4 bedrooms and welcomes up to 2 pets.
Contemporary in style, Gate Cottage has been finished to a high standard with a first-floor lounge enjoying wonderful castle views. Dine outdoors in the enclosed garden or step through the French doors onto the paved patio. 
If you want to take home enviable stargazing photos, grab your picnic blanket and a flask, and take a night-time stroll around the millpond camera in hand. See which constellations you can spot and try your hand at taking pictures of the bright moon.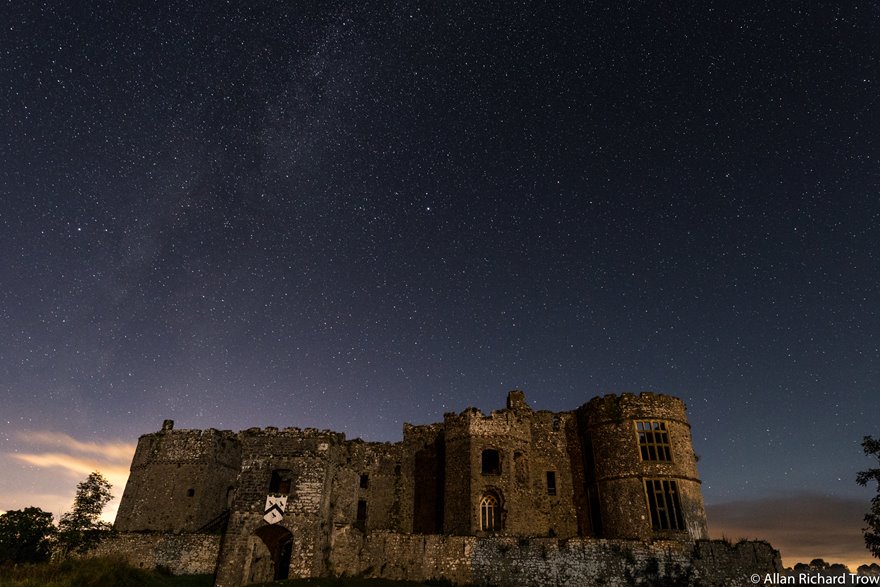 Carew Castle
Burrowed deep in the Pembrokeshire countryside you will find Llandeloy, a small village in an area of Pembrokeshire which is probably as rural as you can get. Hidden in the North West Pembrokeshire hillside, Felin Fach is surrounded by farmland, green spaces and woodlands.
This detached property is an old water mill set down an unmade lane within an acres of restful grounds. Now converted and renovated, Felin Fach is a one-level accommodation with four bedrooms sleeping up to 8. It is also dog friendly accepting two pets.
Enter through the conservatory, a wonderful spot to spend the day reading whilst the children play outdoors in the lawned garden. Make sure to slip off your shoes as you step from the conservatory into the farmhouse kitchen/diner so you can really make the most of the underfloor heating in this room before lighting a fire in the lounge on a winter's eve.
For stargazing, stay indoors and look to the dark skies through the glass roof of the conservatory or venture outdoors onto the lawn.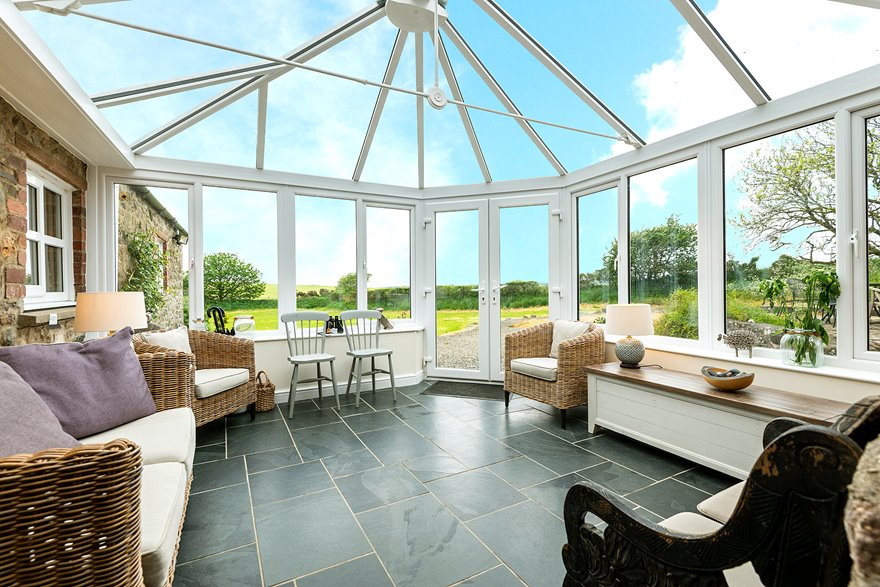 Felin Fach's conservatory is fantastic for looking to the Dark Skies
If you're planning a stay in one of our Coastal Cottages, don't forget to make use of our dedicated Concierge team. We can book you a private Stargazing Experience with a professional astronomer in the comfort of your holiday cottage or chosen Pembrokeshire location.
Find out what celestial objects you can see, discover the mythology behind the constellations and even learn the art of astrophotography. Whether you're a small family hoping to book an overall introduction to the activity or are a larger group of exploring stargazing enthusiasts, we can tailor these experiences to suit you.