Dog Friendly Holidays in Pembrokeshire
Share your unforgettable cottage break with your pets
Planning a getaway to a new destination with your pooch might seem a little overwhelming at first; where on earth do you begin in finding the perfect location for you and your furry best friend? We've got you covered. 
Wales makes the perfect destination with its rugged landscape, spectacular coastal scenery and beaches galore. One read of our helpful guide to dog friendly holidays in Pembrokeshire and you're sure to want to return year after year.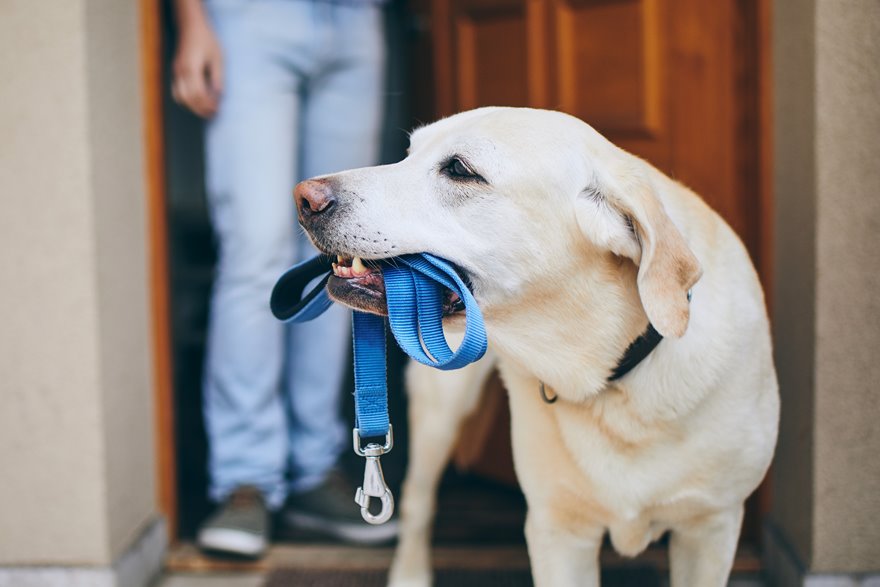 Dog Friendly Beaches
With over 100 beaches in Pembrokeshire, there's guaranteed to be one which ticks all the requirements for a great day out for both you and your dog. Yes some of them do put dog restrictions in place during the summer between 1st May and 30th September, but it's a pretty small percentage in the grand scheme of the county.
So which ones are the best to visit? Choose from attractive smaller coves, vast sandy expanses or the hidden secrets we locals try (but often fail!) to keep to ourselves. Tenby is one of Pembrokeshire's most beloved holiday resorts so if you're thinking of heading there for a summer break, make sure to venture to South Beach for your daily walk. Amble out towards Penally to keep in with the restrictions, and soak in those magnificent views over the sea and Caldey Island.
In the North, you'll want to plan an outing to Newport with two great dog friendly beaches. Visit the shores at Newport Parrog, just a short walk from the bustling centre with shops and restaurants, or take the short drive to Newport Sands for wonderful views of Carn Ingli mountain towering over the coastline.
Let your furry pal paddle in the sea and frolic in the sand dunes at Freshwater West, the home of the award-winning street food shanty boat Café Mor. Ideal for a seaside picnic or a ball game, you might recognise this large beautiful bay from the silver screen as blockbuster films including Ridley Scott's Robin Hood and Harry Potter and the Deathly Hallows have filmed scenes here.
Newgale is another sizeable bay on the west Pembrokeshire coastline you might want to visit. Iconic due to its high pebble bank backing the sands, a small portion of this beach at the North end (near the dog friendly Duke of Edinburgh pub) does put a ban in place during the summer. That being said, the majority of the sands here remain welcoming of dogs all year round.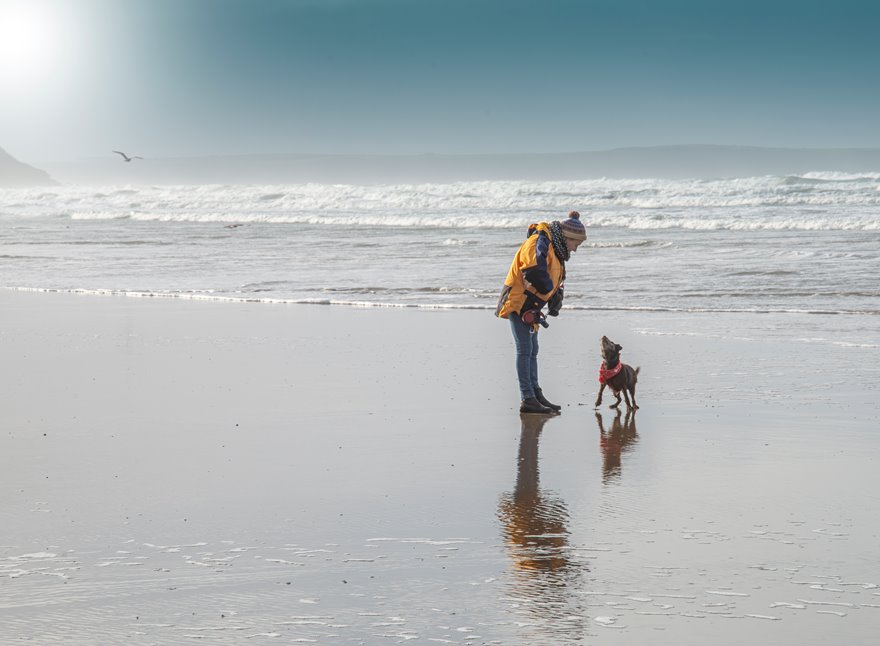 Mel and dog Flynn at Newgale Beach
Dog Friendly Places to Eat
Just because you have a dog in your party doesn't mean you have to miss out on great foodie experiences during your stay. Pembrokeshire has a whole wealth of dog friendly places to eat, it's hard to choose just a few to recommend!
If you're staying in the UK's smallest city, St Davids, The Bishops and The Farmers Arms are two fantastic options. Both are cosy, traditional inns set in the heart of this city, just around the corner from St Davids Cathedral. Winter days should be spent inside in front of the roaring fire whilst summer evenings can be spent in the beer garden watching the sunset. On balmy sun-shining days, you'll no doubt pop into Giannis for an ice cream to cool you down – don't forget to get one for your pooch too! Yes, Giannis in St Davids offers handmade creamy gelato for you and your dog.
Discover a wonderful off-the-beaten-path restaurant in Cosheston at The Brewery Inn. This picture-postcard pub is covered with green ivy and fronted with picnic benches making a delightfully charming place to eat. Expect mouth-watering meals and a friendly welcome here, where your well-behaved dogs are permitted inside and out. Keep an eye on their website for details of their live music nights, summer barbecues and regular pub quizzes.
For Sunday lunch, reserve a table at The Castle Inn in Newport. With two dog friendly bars plus a large dining room, a roast dinner here is guaranteed to hit the spot after a Sunday morning stroll on one of the nearby beaches. The Castle Inn champions local produce where possible and even has a big screen showing many live sporting events.
Attractions to Take your Dog To
Burrowed in the north Pembrokeshire countryside, you will find the one-of-a-kind historical attraction, Castell Henllys. Be transported back in time to the Iron Age as you explore the reconstructed fort, complete with three incredible replica roundhouses. Dogs are welcomed on leads throughout the estate, with the exception of the indoor café, so there really is no need to miss out on any of the terrific family friendly events Castell Henllys hosts throughout the year. With 26 acres to play in, why not bring along a picnic and make the most of the outdoors?
Set on a working farm on the fringe of St Davids is Dr Sarah Beynon's Bug Farm and Grub Kitchen. As the name suggests, The Bug Farm is a Scientific Research Centre and devoted insect attraction. Find out more about creepy-crawlies in the Tropical Bug Zoo and Bug Museum, tour the Bug Farm Trail, see wildlife in the Walled Garden, all before tasting innovative bug dishes at The Grub Kitchen. Children will absolutely adore a day here discovering new creatures and playing in the Indoor Bug Barn play area – you can even book to hold some of the insects! Well behaved dogs on leads are welcome throughout The Bug Farm but being a working farm, certain areas are restricted.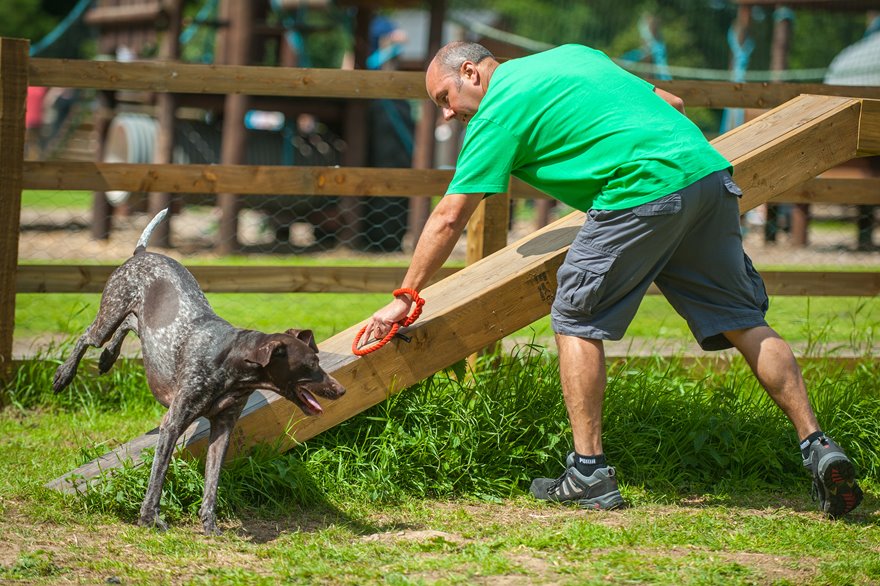 Dog enjoying the agility course at Heatherton
For a day jam-packed with activities, Heatherton Adventure & Country Sports Park is the place to go. Challenge the family to a pistol shooting competition, find out who has the best archery skills, race for the number one title on the go-karts and soak your friends on the bumper boats! Spend your afternoon working your way around the adventure golf course or brave the Tenby Escape Rooms.
To say Heatherton is dog friendly is almost an understatement, visitors are encouraged to bring their canines with them. Heatherton even has a dedicated dog agility course brimming with hurdles and zigzags as well as a bridge and a tunnel to overcome. Water bowls are also available within the park in case your dog gets thirsty after all that work!
For wildlife enthusiasts, look no further than The Welsh Wildlife Centre near Cardigan. This nature reserve is completely free to enter making it not only a great dog friendly attraction but a fantastic choice if you're looking after the pennies. The team at the Wildlife Centre are a team of animal lovers so dogs are welcomed but you must be aware of your surroundings; many of the animals here roam free in their natural habitats so make sure to keep your pooch on their lead at all times. Roam the meadows, woodlands, ponds and rivers taking in sightings of all number of species including dragonflies, water buffalo, otters, red deer and wildfowl.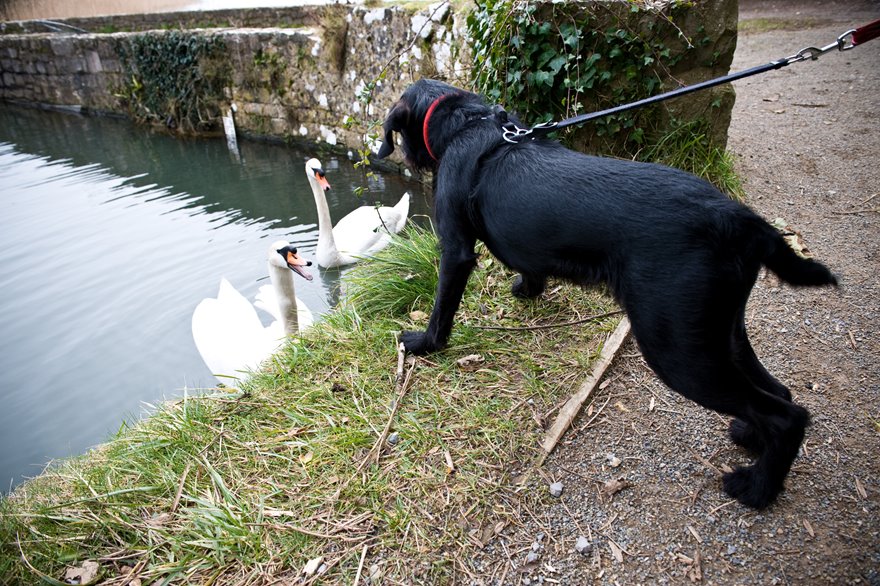 Dog Walks in Pembrokeshire
Undeniably the 186 miles of Pembrokeshire Coast Path is the top choice for a god walk in the county. Choose a manageable chunk for a morning stroll, or pack a picnic and spend the day walking for miles. You can even jump on the coastal shuttle buses with your pooch to extend your route if you want. The hardest decision here is going to be which section to walk first!
Ask any local dog owner where their favourite dog walks are, and it won't be long before someone mentions the Bosherston Lily Ponds. Park up in Bosherston and take the circular walk along the ponds, over the bridge and through the hillside before reaching the soft sandy bay at Broadhaven South. 
Scolton Manor near Haverfordwest is another top choice with a children's play area, a café and plenty of parking. Here you'll find a 60-acre park ideal for a peaceful day out with the family. Bring along a packed lunch and take a seat in the picnic area or enjoy an alfresco afternoon tea whilst the children amuse themselves on the scrambling walls and swings.
For a truly magnificent view, head to Carew Castle and Tidal Mill. This mile-long circular track in Carew follows a path around the castle towards the tidal mill boasting spectacular views over the 23-acre tranquil millpond. Easily accessible, this route is made up of picture stops and picnic areas. Call into The Carew Inn for a light lunch or evening meal where dogs are welcomed in the bar areas.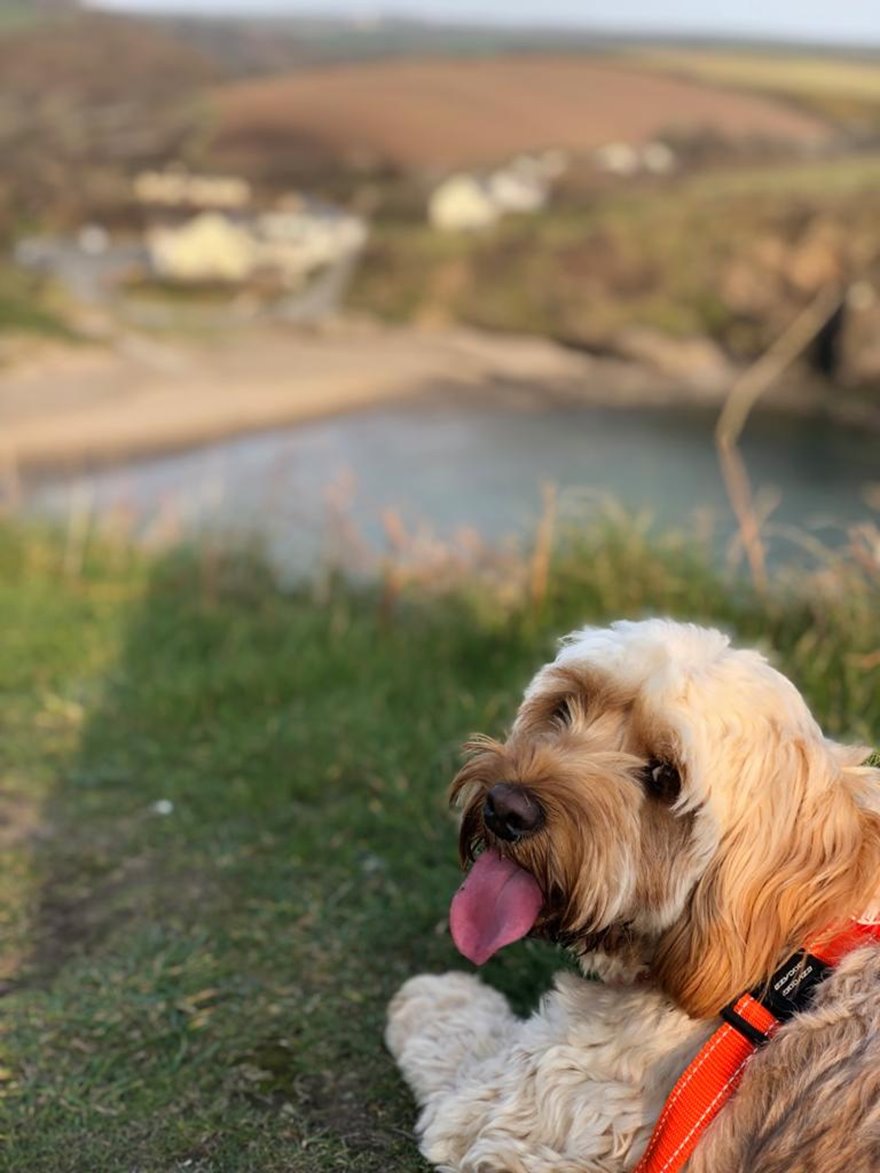 Dog Friendly Holiday Cottages
Here at Coastal Cottages, we have an array of dog friendly holiday cottages to choose from. We even have a specialised Paw Rating system, where you can choose a property based on how suitable it is for the type of dog you have. We know that some dog families require enclosed gardens and some need to be near the sea for those early morning paddles. We also appreciate that you needn't compromise on luxury, so we even have a selection of dog friendly cottages with hot tubs.
Browse our range or call our team with your requirements, and we'll help you find the perfect property for you and your dog.