Exploring Pembrokeshire without a car
How will you travel? By boat, train, bus, bicycle - or maybe on foot?
There are many reasons why you might want to explore Pembrokeshire without a car. Perhaps you don't have a car, perhaps you want a more environmentally friendly holiday or maybe you simply want a week off from driving. Whatever the reason, there is a whole host of car-free travel options for you to discover on your next trip to Pembrokeshire.
With train, boat and bus services, there is also an abundance of places to walk and cycle.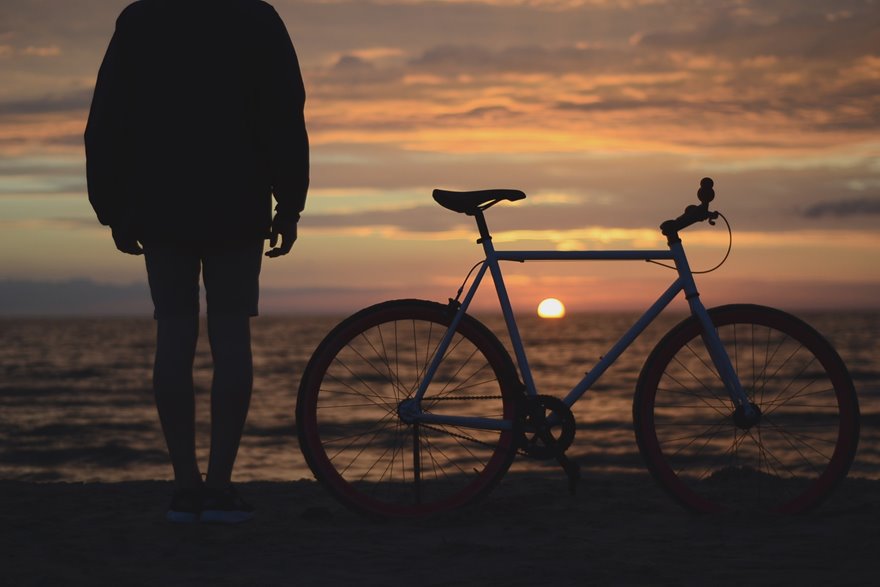 Walking in Pembrokeshire
Starting with the most obvious, exploring Pembrokeshire by foot is a must-do during your stay. Our little corner of West Wales boasts a Coastal Path an impressive 186 miles long. It runs from St Dogmaels in the north all the way along Strumble Head, down to the St Davids peninsula following the sea around the coast overlooking St Brides Bay to Dale. 
It then flows east into Milford Haven then runs out past Angle before passing through popular seaside resorts of Tenby and Saundersfoot before coming to an end in Amroth. Along the way you'll see wildlife in bounds; picture seal pups in September and foxgloves in May. Picture stops along the way will include the lighthouse at Strumble Head and that iconic harbour photo op at Tenby.
Not only do you have 186 incredible miles of Coastal Path at your fingertips, but there are a number of inland walks which should not be forgotten. Explore the lily ponds in Bosherston or see the burial chamber at Pentre Ifan near Newport. Discover the historical wonders by hiking the Preseli Hills; trek to Foel Cwmcerwyn, the highest point in the Preseli Hillside for panoramic countryside views or visit Bedd Arthur, legends say it may be a final resting place for King Arthur himself.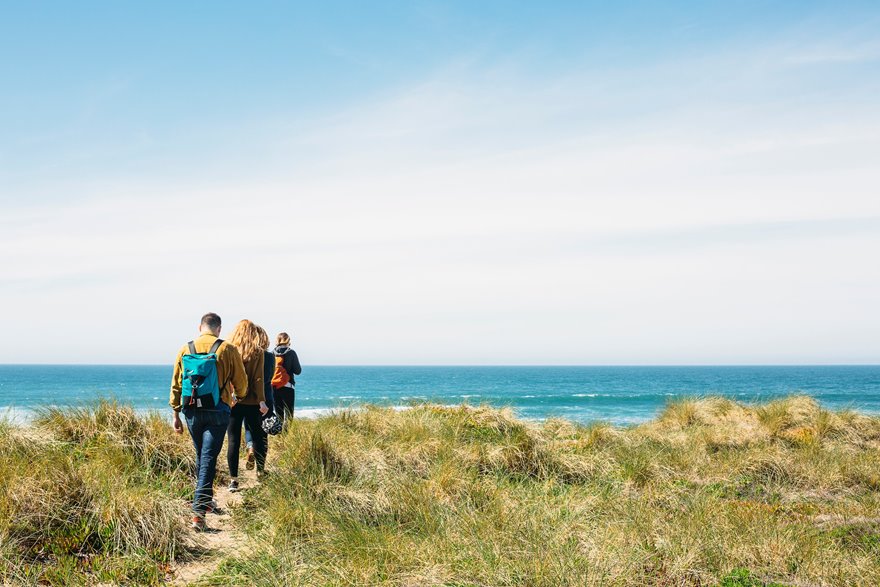 Exploring Pembrokeshire by Bus
An active network of bus services in Pembrokeshire are best paired with the other modes of transport in this list allowing you to get all over the county. As with any county, there are standard service buses throughout the area operating regularly seven days a week. These operate between the major towns making them ideal if you're looking to do a spot of shopping or visit the supermarket to pick up some groceries.
But naturally, in this part of the world, it's the bus services allowing you to reach the more rural, coastal location which is perhaps more useful when exploring Pembrokeshire. If you want to reach the likes of Druidston Haven, Porthgain and St Justinians; your best bet is often the coastal shuttle bus services. These dog friendly shuttles do run all year round but often operate a more limited service during the winter months, so always best to check up-to-date timetables.  You can even make the most of your stay with ranger and rover tickets allowing you to purchase day tickets and so on.
The Poppit Rocket starts off at Cardigan and runs down to Fishguard with stops such as Poppit Sands, Newport Sands, Dinas, and Pwllgwaelod. Covering the North West coastline of Pembrokeshire is the Strumble Shuttle; this will take you from Fishguard to St Davids stopping off at the likes of Llanrhian, Mathry, Croesgoch and Abercastle.
Roaming the St Davids peninsula is the Celtic Coaster; this will take you to destinations including Porthclais, St Justinans and Whitesands. You then have the Puffin Shuttle which covers the West Pembrokeshire stretch of coast between St Davids and Marloes stopping at Newgale, Nolton, Broad Haven and Little Haven to name a few.
For more information on these bus services and for timetables, click here. All bar the Celtic Coaster are fully accessible with low floor buses, the Celtic Coaster can be wheelchair friendly but it's best to book in advance if you're travelling around the St Davids peninsula.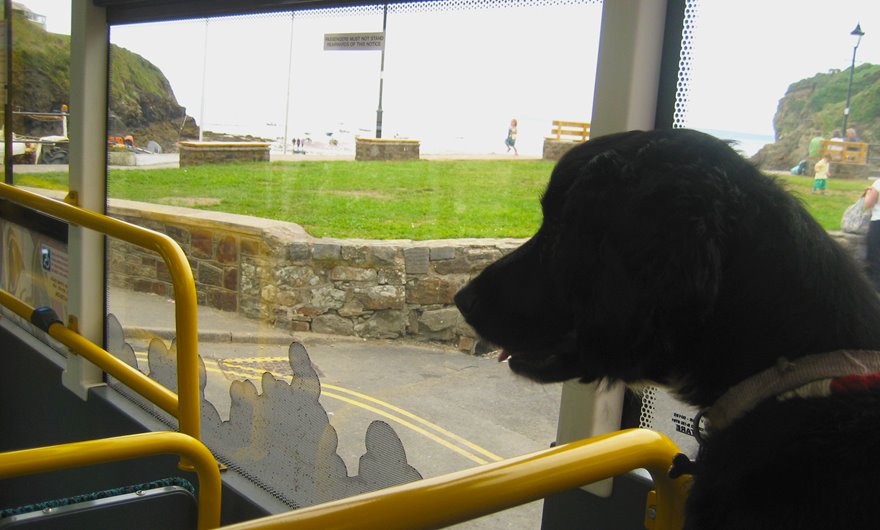 If you're planning to make your Pembrokeshire holiday part of a larger Wales adventure, you might be interested in the TrawsCymru bus service which operates a long distance service connecting Pembrokeshire with popular destinations across the country such as Swansea, Cardiff, Aberystwyth, Hay on Wye, Bangor and Wrexham.
Funded by the Welsh government, you can purchase day tickets and weekend savers (early Friday morning to Monday evening trips). Currently, the TrawsCymru service offers free travel on Saturdays and Sundays – ideal if you're extending your stay in Wales.
You also have a Bwcabus (pronounced book-a-bus) which is a more flexible service offering set routes as well as the option to pre-book a journey specific to your needs. You can also catch the Megabus from Pembroke Dock and the National Express from a number of locations such as Haverfordwest.
Exploring Pembrokeshire by Train
Train stations in Pembrokeshire are less common than our bus stops, but should definitely not be overlooked when considering a car-free holiday in Pembrokeshire. You will find stations in towns such as Haverfordwest, Milford Haven, Fishguard and Tenby.
From here, you can again explore further afield going to Carmarthen, Swansea, Cardiff and beyond. Perhaps you're travelling down from Manchester, Liverpool, Bristol or London? No problem – hop on the train for a stress-free journey which will take you right into the heart of Pembrokeshire for a relaxing coastal retreat. Stations at Haverfordwest and Tenby are set in the centre of town meaning you can easily hop on a bus to continue your journey if need be.
With Transport for Wales, you can see timetables and fares or book your tickets online or via the app (no booking fee). The great thing about these trains is that they are dog friendly, bike friendly (space may sometimes be limited) and even have free WiFi on all trains.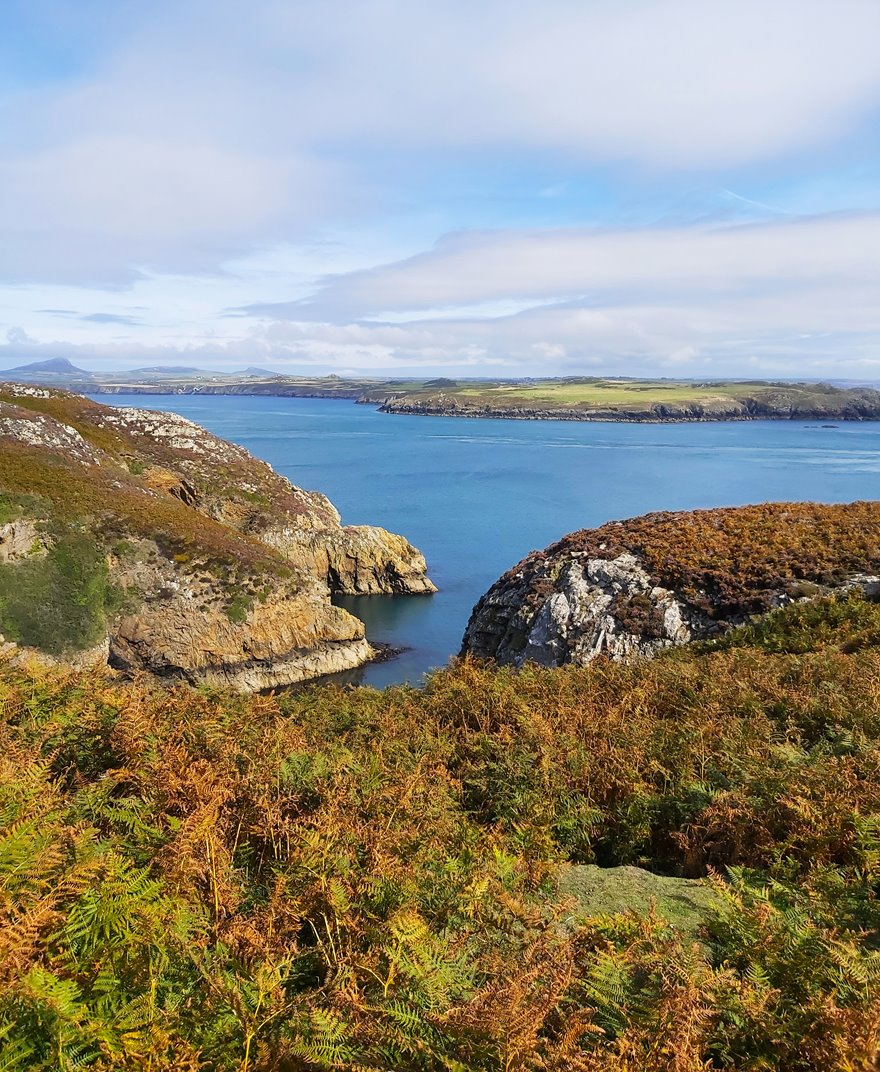 View towards St Davids from Ramsey Island
Exploring Pembrokeshire by Boat
Did you know you can get a ferry to Ireland from Pembrokeshire? Stena Line operates ferries from Fishguard to Rosslare whilst Irish Ferries offer ferry trips from Pembroke Dock to Rosslare. Why not take an adventure from one Celtic land to another and pair your Wales holiday with a trip through Ireland too?
Being coastal, it's no wonder that some of Pembrokeshire's best delights are located out at sea. Take one of our many boat trips out to the neighbouring islands for wildlife spotting or enjoy a sea safari taking in stunning views of our coastline.
From St Davids, you can pay a visit to Ramsey Island where you can even land on the island and enjoy a coastal walk with incredible views over St Davids Head. You can also travel out to the white-washed island of Grassholm, home to one of the largest colonies of the white-feathered gannets. From Martins Haven, take a boat trip to the land of the puffins at Skomer Island or head to Tenby Harbour where you can board the boat for the monk-inhabited Caldey Island.
Exploring Pembrokeshire by Bicycle
If you fancy swapping four wheels for two this holiday, then you are definitely in the right place. Follow a scenic route between Fishguard, St Davids, Neyland and Tenby by following Sustrans' Celtic Trail West, with the option of extending your cycle trip towards the border by continuing on the Celtic Trail East to Chepstow.
A favourite leisurely day ride is the Brunel Trail, an off-road path connecting Haverfordwest with Johnston and Neyland. Mostly flat tarmac, you'll pass refreshment stops and pretty scenes such as the boats moored at Neyland Marina. Another popular route is the Dramway Trail in South Pembrokeshire which explored the disused railway at Saundersfoot to link the harbourside town to the old Ironworks structure at Stepaside. For more information on cycle routes in Pembrokeshire including maps and detailed descriptions, click here.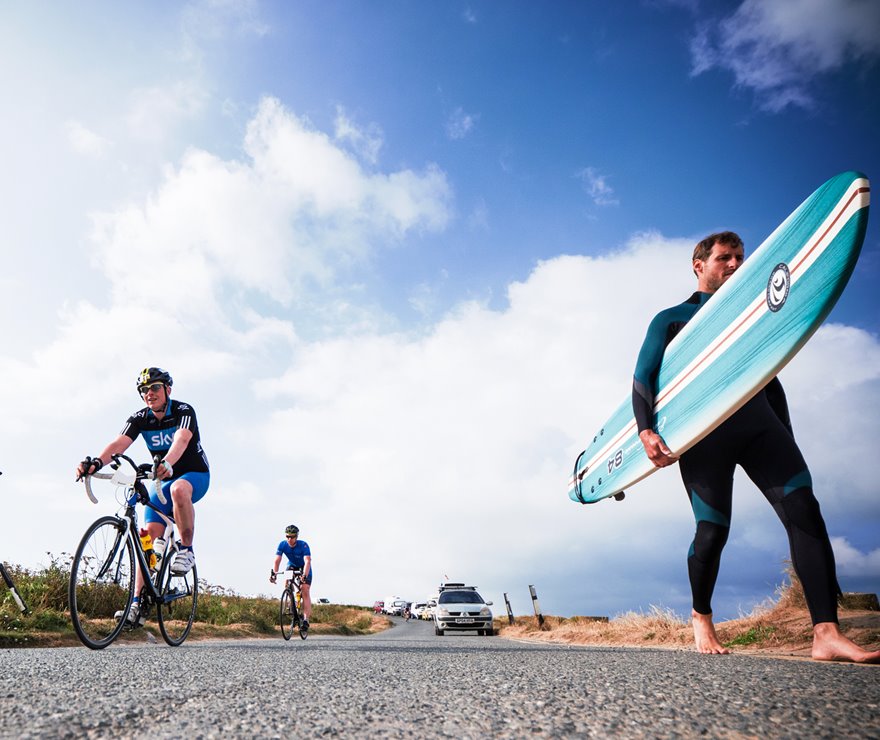 Cyclists amongst you might also be interested in taking part in some of the cycling events such as the Wales Sportive which follows a scenic route through Tenby and Freshwater West or the Tour of Pembrokeshire which offers a number of routes in the North West Pembrokeshire countryside. 
For help planning a Pembrokeshire holiday without a car or to share your top tips for a car-free adventure around Pembrokeshire, call our Concierge team on 01437 772755.