Fishguard & Goodwick Spotlight
Follow in the footsteps of Richard Burton and Welsh heroine Jemima Nicholas by exploring Fishguard & Goodwick
Along the northerly coast of Pembrokeshire you will find the joint community at Fishguard and Goodwick. Located side by side overlooking Fishguard Bay, these two towns are in a fantastic position to explore North and North West Pembrokeshire, and even further afield.
Made up of three distinct areas, you have the ferry-port town of Goodwick, the lower town of Fishguard centred around the charming harbour and then the main town of Fishguard, situated higher in the hills between the two.
It has great transport links - catch a bus to explore the nearby towns of Newport, St Davids or Haverfordwest; jump aboard the train and plan an adventure to Tenby or Carmarthen or even book a ferry and extend your West Wales stay with a few days in Ireland, landing at Rosslare harbour in the south of the emerald isle.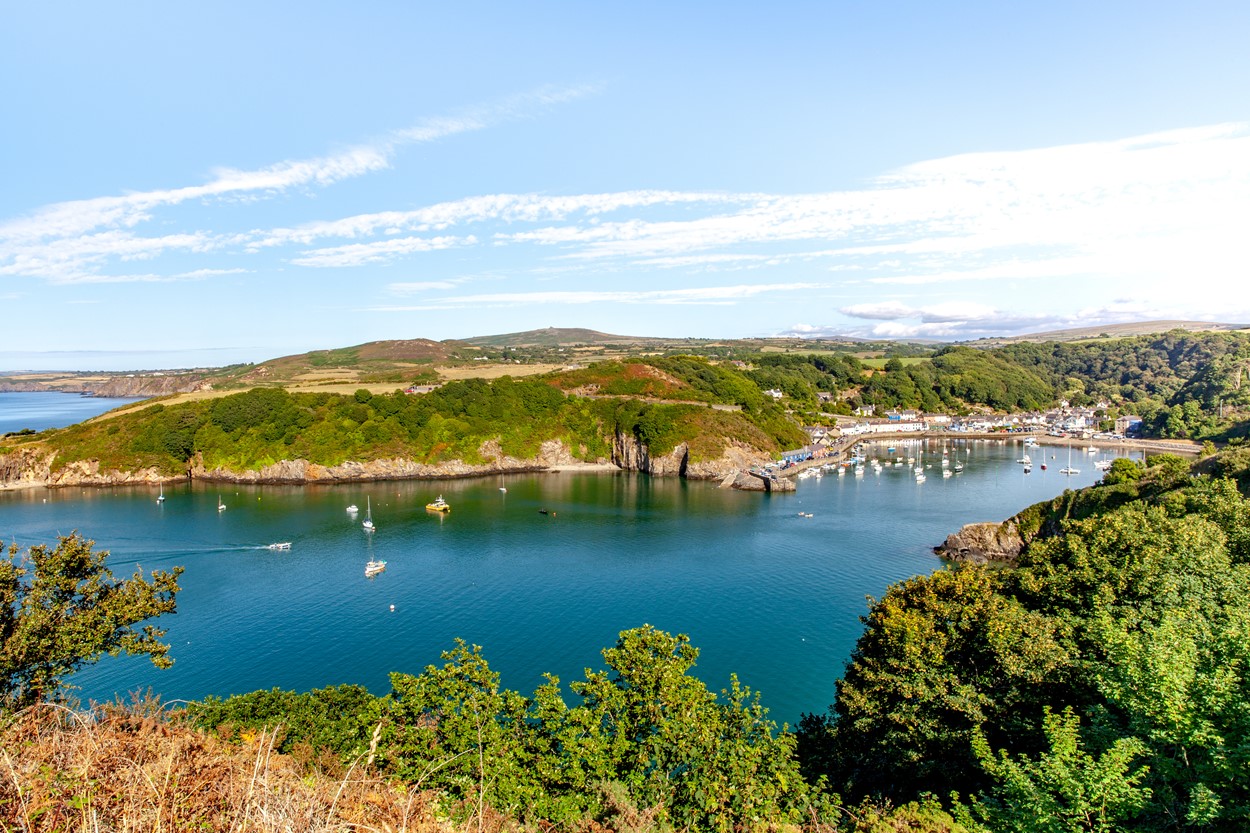 Like many other destinations across Pembrokeshire and admittedly Wales, Fishguard and the surrounding areas have a rich history from which you will spot remnants and relics throughout the town – if you know where to look of course. A good place to begin is the Last Invasion Tapestry Gallery which can be found in the Town Hall on the main square in the main town. (You will also find the local Tourist Information Centre and Library in this building, along with a weekly Farmers Market every Saturday morning).
Way back in 1797, a French army under the command of Napoleon attempted an invasion at Fishguard, which has since become known as The Last Invasion of Britain. Upon seeing the foreign ship approach, locals fired cannons from Fishguard Fort located at the top of the cliffside on the northern side of lower town, and the invading forces instead landed upstream at Carregwasted where the terrain proved more difficult to manage. This combined with a strong arm from Jemima Nicholas who raised an army of local women in an attempt to defend their homeland, the invasion was unsuccessful.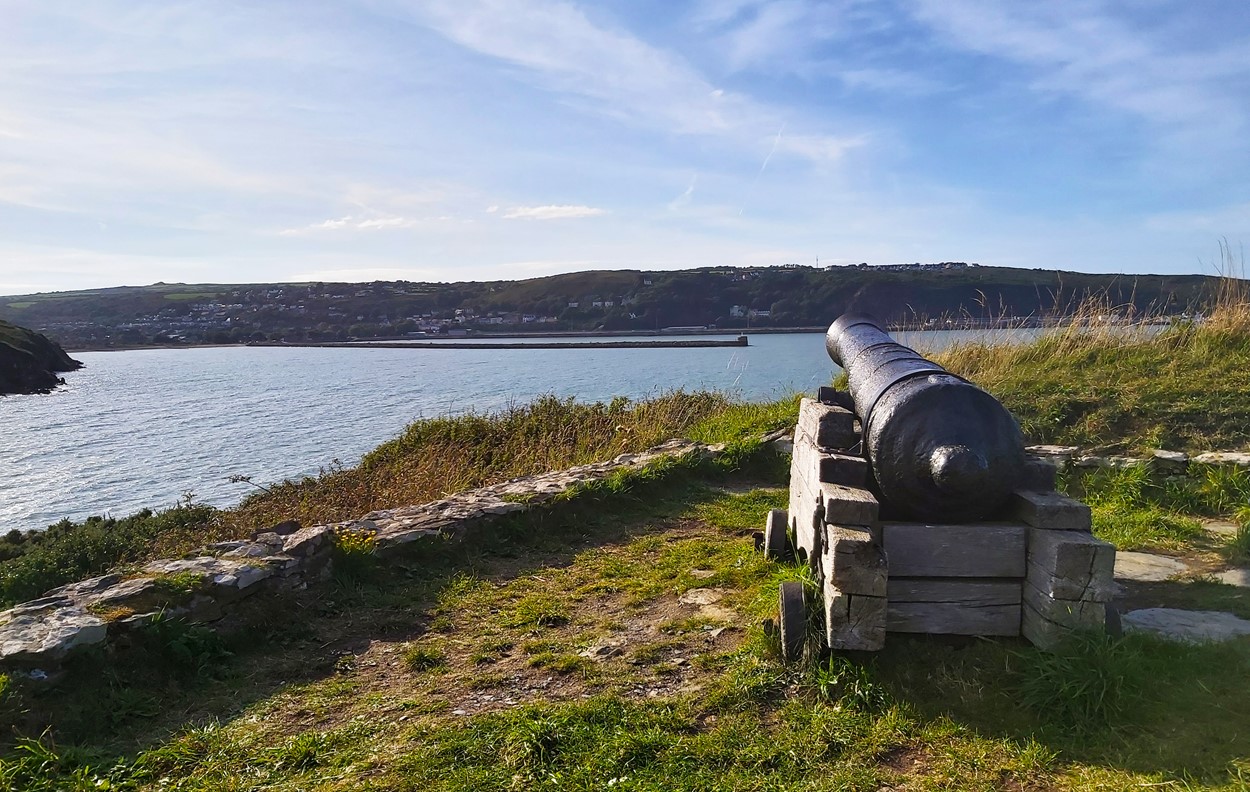 Fishguard Fort
To honour 200 years since this memorable event, a magnificent 30m long hand-stitched tapestry was commissioned which you can now visit during library opening hours. History buffs reading will also be pleased to know you can still visit Fishguard Fort, nowadays complete with four replica cannons – highly recommended for incredible panoramic views over this section of the coastline. You can also pay a visit to the grave of Jemima Nicholas at St Mary's Church just over the road from the Town Hall, and you can enjoy a drink in The Royal Oak, the very same building where the peace treaty was signed bringing The Last Invasion of Britain to a close.
Alongside a rich history, Fishguard has a vibrant culture not-to-be-missed. Pay a visit in August when the town hosts their own jazz and blues festival. Aberjazz, which usually takes place every August bank holiday weekend, takes over numerous venues throughout the town for intimate performances. You might also wish to visit in June for the annual Fishguard Folk Festival where you can catch four days of live folk music from single musicians, bands and more.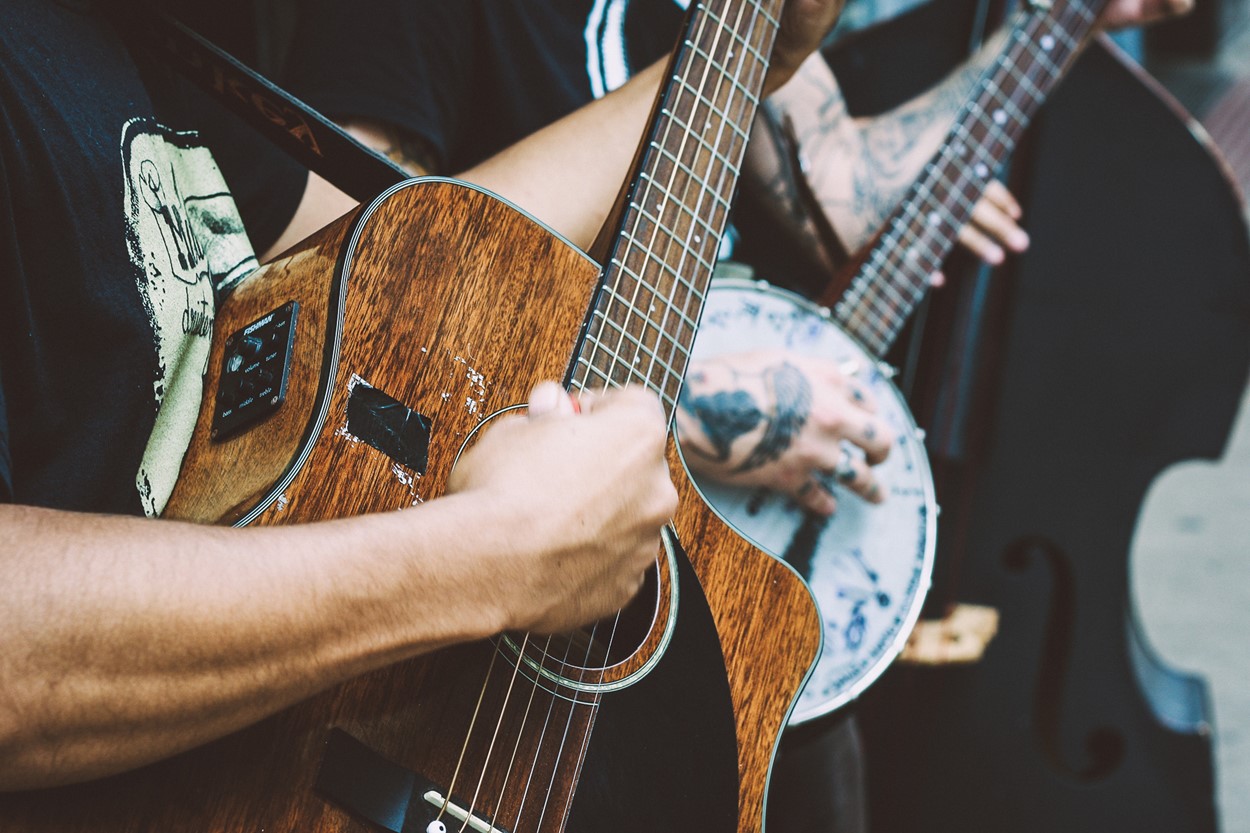 Standing proud on the corner of West Street is Theatr Gwaun, an independent cinema and theatre. First established as an entertainment hall in the late 19th century, it later became one of the very first cinemas in Wales in the 1920s and is still operating today. Don't be fooled by its small size, seating 180 in a single theatre, you can still catch the latest cinema blockbusters here alongside live theatre and dance performances, and live theatre broadcasts. Theatr Gwaun now also has a bar and café, making it ideal for a relaxed get together with friends or somewhere to spend a rainy day with the family.
Did you know? Fishguard served as a filming location for the 1955 movie Moby Dick starring Gregory Peck as well as starring as Dylan Thomas' iconic Llareggub in the 1972 film version of his famous radio play of voices, Under Milkwood with Richard Burton and Elizabeth Taylor. (Note, the nearby harbourside village of Solva on the west coast of Pembrokeshire hosted the remake of Under Milk Wood in 2016 when the famous faces including Rhys Ifans and Charlotte Church took on roles of some of the Llareggub characters).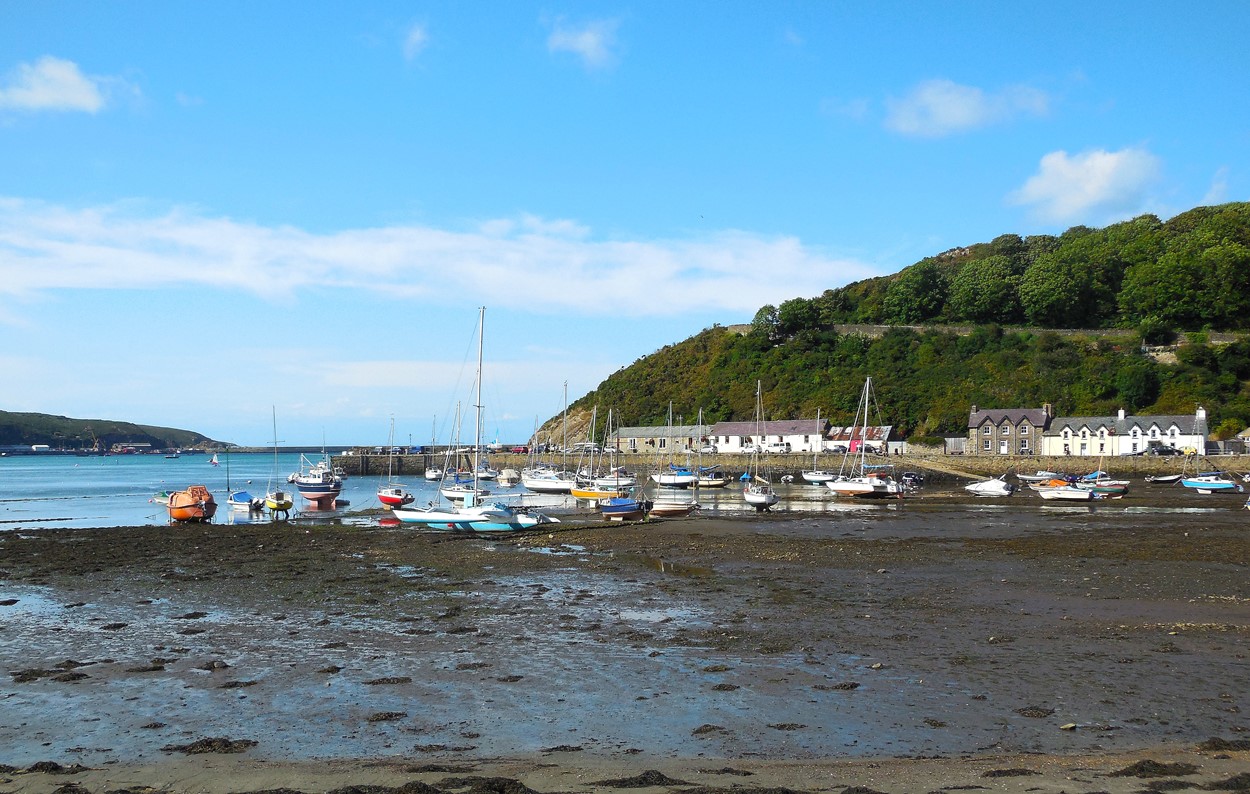 Make sure to pop into Seaways, the local independent bookstore just around the corner from the main square. A small but well-stocked shop, here you can buy fiction and non-fiction books along with local and Welsh novels. Learn more about local history and Welsh legends from the paperbacks purchased in store here.  
Facing out over the water at Goodwick you will find the Ocean Lab. Set up by Sea Trust, a local marine wildlife conservation team, welcomes you to their Lab to find out more about the marine life in Fishguard and the surrounding areas and how you can get involved. Take the little ones along to explore the aquarium, book a guided tour, learn about the local wildlife you might spot on your visit or pop in to record a sighting.
This district might be small but it offers a mighty calendar of events throughout the year, that's on top of the two superb music festivals already mentioned. Athletes come from far and wide in the middle of June to compete in the Wales Triathlon. Brought to you by the founders of the international Long Course Weekend which runs every July in Tenby, the Wales Triathlon is a perfect choice for those just breaking into the world of triathlons or for those who simply fancy a scenic Pembrokeshire day out. With two distances, athletes will take in stunning views on a course route which runs between Fishguard and St Davids.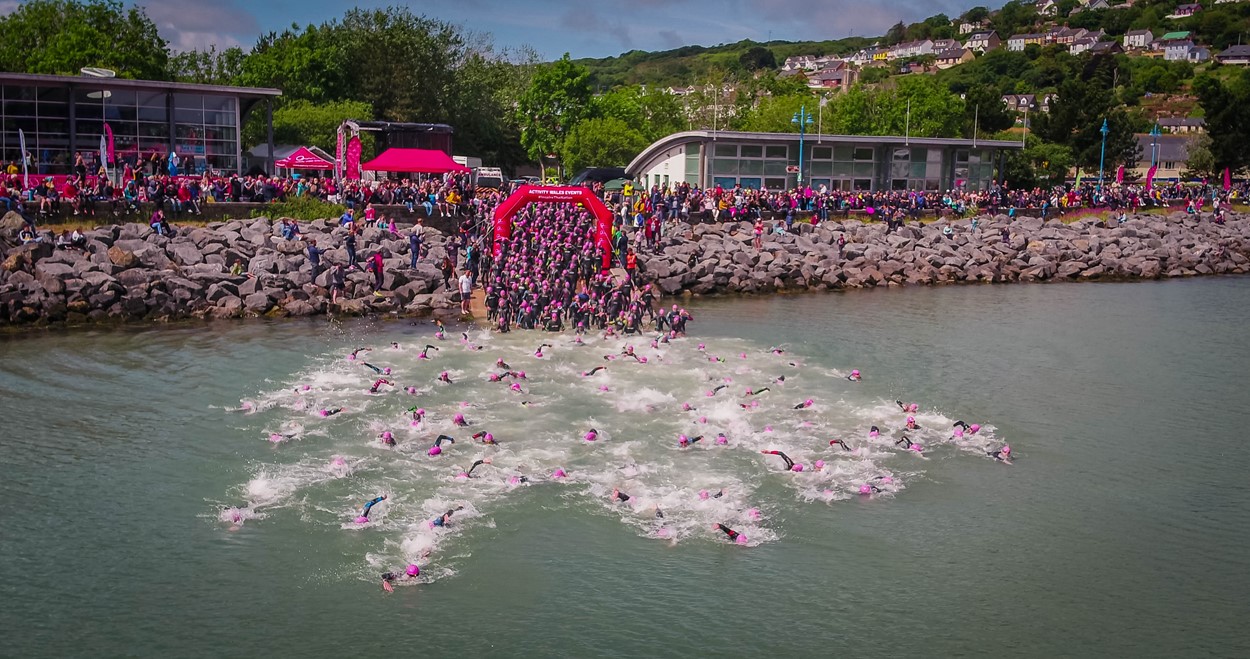 The Wales Triathlon
Plan an autumn holiday to Fishguard and make sure your dates tie in with the beloved Cawl Crawl Challenge which takes place each October. Originally created as part of the Fishguard Autumn Festival which unfortunately no longer takes place, the community simply couldn't resist keeping the tradition of the Cawl Crawl Challenge alive. Venues across the town compete for the title of Best Cawl as voted for by you; buy a bowl and follow the "crawl" throughout the town until you've tasted everyone's recipes before casting your vote for your favourite.
Finish one year and start the next in Fishguard at the Annual NYE Street Party. Largely supported year after year by donations from the crowd, this event is regarded as a must-do for many in the area during the festive season. The main square in front of the Town Hall is closed to all traffic during the evening, and turns into a hive of activity for New Years Eve. A stage appears hosting entertainment and live performances from bands and musicians before the night is completed with a town-wide countdown in the square. Expect happy faces and community spirit at its best.
But where to eat I hear you cry? Well there are options a-plenty in this seaside town. For delicious fish and chips, try Hooked @31 – just make sure to stick around for dessert as they also offer homemade ice cream. Alternatively pop into Ffrwn for a warming cuppa, a hearty soup or flaky pastry. The Royal Oak offers traditional country pub grub and a friendly welcome, whilst JT@3 Main Street is the place to go for quality fine dining. Café on the Quay is a favourite in lower town whilst The Gourmet Pig is a must for all your delicatessen needs; think fresh meats, local cheeses, fine wines and more.